If you live near the county side, natural parks, or at the edge of a forest, deer may be a common visitor. If you're a first-time homeowner, the site of these animals might be pleasing. However, over time the outcome can be devastating. These animals are just like lambs and goats. They can damage your shrubs, grass, garden bed, and other flowers.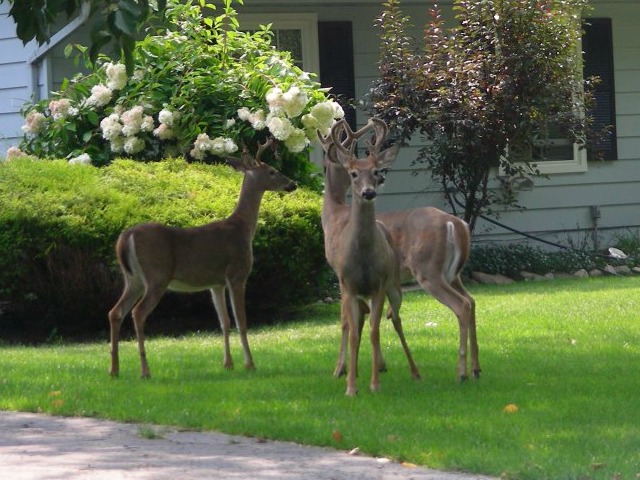 So, how can a homeowner keep deer at bay from their yard or garden?
If you're experiencing problems with deer on your property, below are some top suggestions to help keep deer out of your yard.
Use Plant-Based Solutions as a Repellant
Plant-based solutions are kind to the environment and have little effects on the health of these animals. This method will require early planning as you create your garden.
Some plant-based solutions include:
Thorny Plants: Use thorny shrubs or plants like roses to keep deer away. These plants can be planted as live fences or hedges around your building.
Keep Food Sources Away From The Yard: Plants like tomatoes, some vegetables, and other types of fruits are food sources for deer. When fruits ripen, it's a good idea to pick the fruit on time to avoid attracting deer.
Plant Strong-Smelling Herbs and Flowers: Deer rely on smell to pick the scent of potential foliage. Scents from garlic, lavender, mint, rosemary, or lilies can help mask the scent of vegetables and other food sources. This helps to minimize the risk of deer entering your yard.
Pepper Spray: Pepper is a natural repellant to animals and pests. It has an irritating taste that can deter the deer. Spray a pepper solution around your fence or at the entrance.
Plant-based solutions can prove low-cost options and a permanent solution to this menace.
Use Fencing Solutions
Fences help to keep deer away. There's a variety of fencing solutions available to help in this situation.
Here's some suggestions below:
Electric Fence: Deer can jump across low walls or hedges. If you live too close to a forest, this could be a good solution to keep deer and other animals out.
Tall Live Hedges: Tall hedges are a great option to help reduce the risk of the deer jumping into your yard. Hedges are designed to minimize the deer's sight and smell. This means they won't be tempted by the food sources in your garden.
Wooden or Metal Fences: Other types of fences like wooden or metal fences can be erected at the right height as well. It should be at a height a deer can't jump. You can find quality deer fencing products from companies like deerfencing.com which can help you find a fence to suit your needs.
A fence is a good choice in areas which are prone to deer. Choosing the right fence will depend on the type of weather you have, your location, and the type of soil you have to support the fence.
Chemical or Home-Made Repellants
If you're looking for a quick solution, chemical repellants are available which can help. Chemical repellants use the principal of smell to deter deer and other wild animals. When using chemical repellants, it's important to use as directed to minimize the risk of poisoning.
Another option is soap. To make a repellant use a knife to make soap flakes or chippings. These chippings should be placed around the fence or at the entry points. Like chemical repellants, soap deters the deer with its smell. The smellier the soap, the more success you'll have.
Last, and if you're desperate, you can also train your dog to urinate around the fence. This helps to scare away herbivores from a potential predator. The smell also acts as a repellant to deer, but the downside is the smell can be a little overwhelming at times depending on how much urine is used.
Maintain a Clean Yard.
A garden that's well maintained generally won't be of interest to a deer. Some things you can do to maintain your garden include:
Cutting the grass short.
Make sure plants are harvested on time.
Remove the dead plants.
By doing this you'll minimize the risk of deer entering your garden unnecessarily.
Use an Automatic Watering System
Watering systems can be made to help water lawns or keep away intruders. Acquiring a water system which has a motion sensor helps to scare the deer away. You can position your water system at the key entrance points of your property for the best effect.
Conclusion
Deer and other wild animals can wreak havoc to your lawn or yard. Keeping them away requires a lot of effort.
Planting special flowers, herbs, shrubs, and keeping vulnerable plants away from open areas are some of the top ways of managing this menace. The ultimate solution lies in your unique circumstance, a bit of creativity, and a combination of various methods. Do you have unwanted deer in your yard?