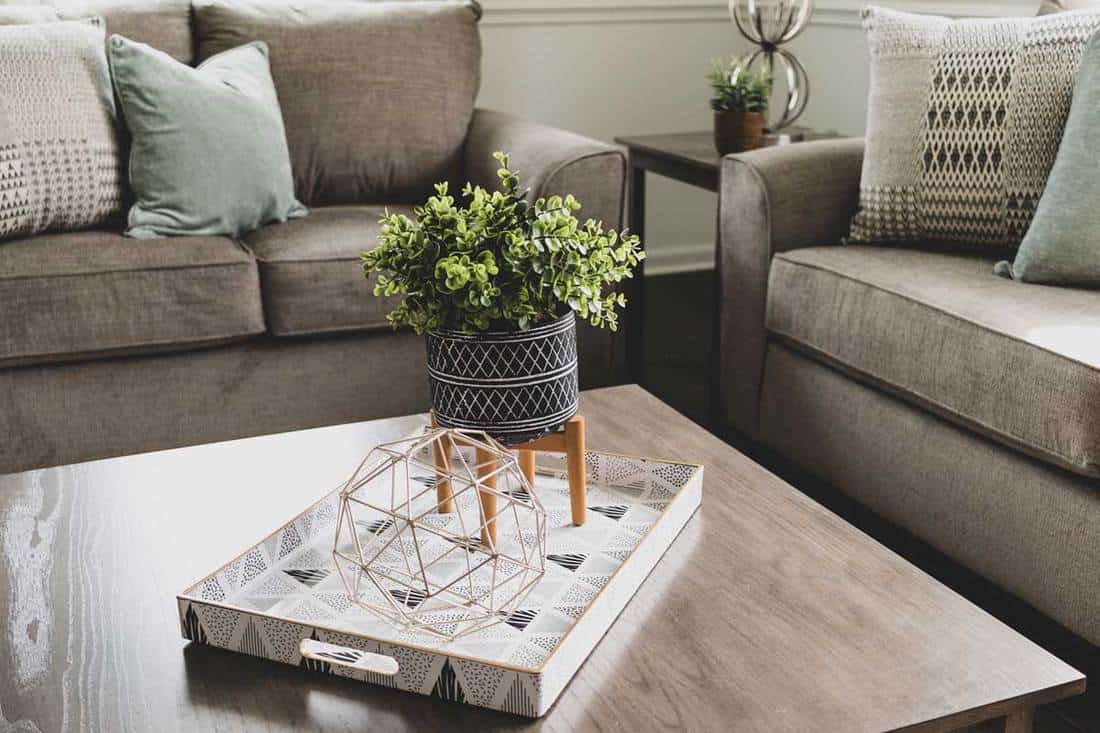 Side tables and end tables might have a lot in common but still, these are two different types of tables. Read this article to get to know which type better suits your needs!
People often use the terms "side table" and "end table" as synonyms. These two types of furniture items have a lot in common — but they are not identical. In this article, we'll analyze the difference between the end table and the side table. You'll get to know the benefits and the specific usage of each type and discover tips on selecting an optimal piece.
The Primary Difference Between the End Table and the Side Table
The main difference between these two furniture pieces is their placement:
Side tables are supposed to be placed on the sides of your living room
End tables are meant to be placed at the end of a couch or beside a chair
A side table can provide you with more storage. Also, it can serve as a surface area for décor and lighting. An end table is perfect for putting your drinks and personal items on it.
How Does an End Table Look?
Most end tables are around 18 to 22 inches tall, which is the approximate height of the average couch's arms. They provide more surface area, especially to those sitting on the couch and in any nearby chairs. You might want to use such a table for the following purposes:
Support standing lamps
Serve as a place for landline telephones
Provide a surface for drinks, remote controls, keys and wallets and other personal items
They provide a place on which you can set anything within easy reach, without having to get off the couch. Some end tables might have bottom shelves and drawers. They complete the interior design and tie the room together. Some couches look odd without them.
Compared to coffee tables, end tables are not that short and can accommodate more items on their surfaces. Besides, coffee tables are typically placed a foot or more away from the couch. With such a distance, people have enough room to sit down — but at the same time, it becomes trickier for them to reach the items on the table. Plus, coffee tables often serve as surfaces where people display things that are dear to them, such as family photos or antiques, which might leave little or no room for anything else.
How Does a Side Table Look?
A typical side table is 2 to 3 feet wide. Anything longer should be probably classified as a coffee table. However, when shopping online and offline, you might come across longer side tables that include a seating area, such as daybeds. We won't focus on this type of furniture in this article.
Unlike end tables, side tables don't have height limitations. They don't necessarily need to be functional — but they need to look stunning and please the eye. Also, they might be more versatile, compared to end tables and more likely to have shelves, drawers and multiple layers.
You might want to use a side table for the following purposes:
Set standing lamps
Place ashtrays and drink coasters
Display magazines, books, fishbowls, houseplants and decor items
Store CDs, DVDs, vinyls, VHS tapes, board games and playing cards
Store your food and pet supplies on its shelves and drawers
Besides, a side table can double as a nightstand if you feel comfortable with its height.
Side accent tables are great for tying the room together. They can break up the space or disrupt competing for "flows" that distract visitors. They can provide you with more surface area and you can use them as accent pieces.
Tips on Choosing and Using End Tables and Side Tables
When choosing a modern end table or a side table, you should make sure that it matches the overall style and palette of the room. Even if you're planning to turn this furniture item into the main focal point, it should nicely fit the overall aesthetics of the space. The only exceptions are eclectic and Bohemian interiors where hardly any two pieces would look alike.
Not all side tables and end tables are designed for indoor use. You can also purchase furniture items of this type for your patio, porch or deck. When choosing one, make sure it can withstand elements and is heavy enough that the wind wouldn't turn it over.
Final Thoughts
Hopefully, this article came in handy and now you better understand the difference between the end table and the side table. The former is placed on the side of your living room and the latter — at the end of a couch or beside a chair. However, if you use the terms "end table" and "side table" interchangeably, shop assistants will still be able to understand you. You can use both types of furniture items for decorative and storage purposes, they can help you to zone out the space and can easily become the focal point of the room.