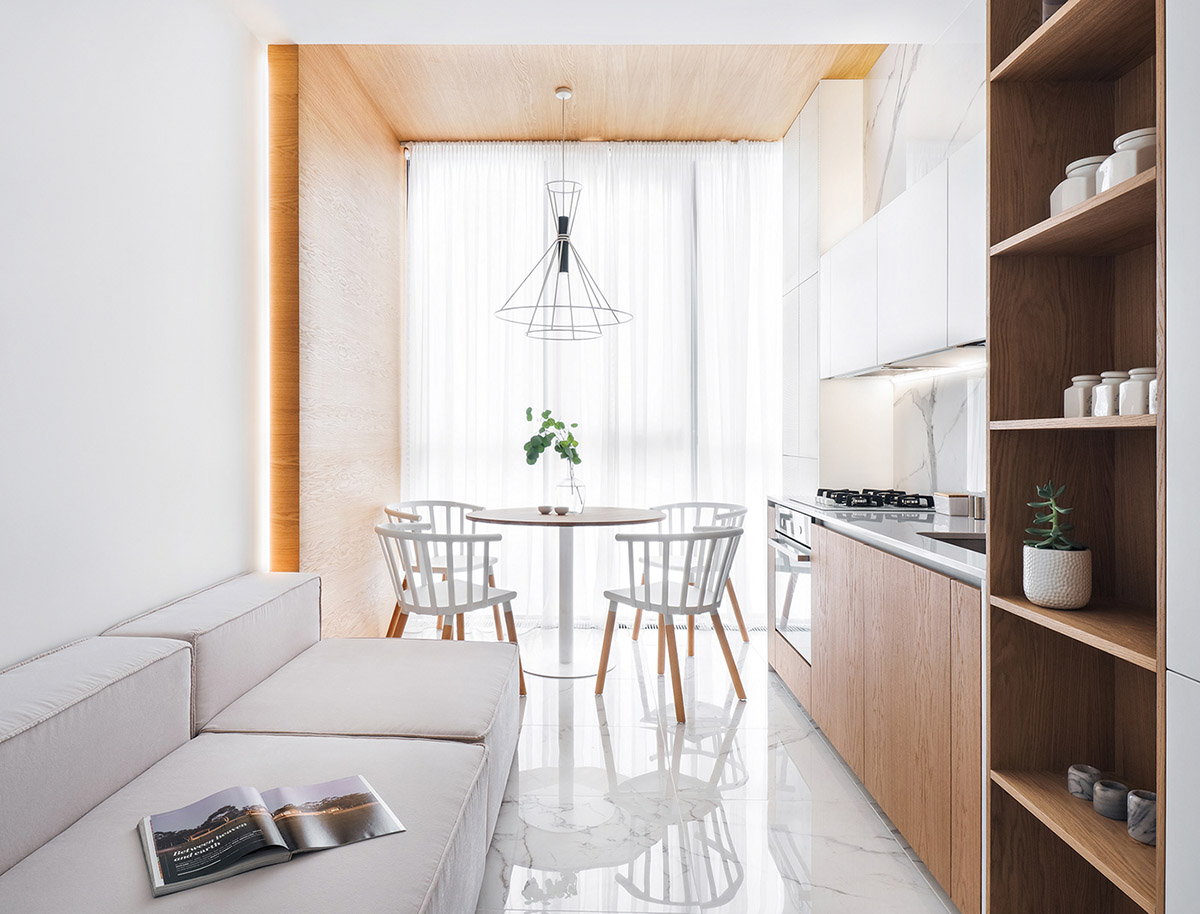 Life is about the small moments as it is about the big ones. Anything, no matter how insignificant it may seem, can be elevated. Fancy dining, for example, shouldn't be a once-a-month type occasion. You deserve to dine in style every single day. Just because your dining room is small in size, doesn't mean it should be small in style. We bring you 5 different ideas to elevate your small dining room.
Small dining room ideas
If cooking is an art, then dining rooms are the canvas. Your dining room might be small, but it doesn't have to be boring. Read on for 5 different ideas to elevate the space.
Play around with furniture
Who said a dining area should look a certain way? Or be of a certain size? Gone are the days when we comply with the take it or leave it mindset. In this day and age, you can be as bold and daring as you want. If your dining space is small, play around with furniture. Instead of the good old bulky dining table and dining chairs, try pairing a bistro table with a leather sofa, installing a built-in bench, using dual-purpose furniture, or opting for space-saving furniture. Get creative with your dining room furniture, but don't give up on the space.
Wallpaper
Adding wallpaper to your small dining room might seem like one of those bold and daring moves we mentioned earlier, but it is not. Contrary to popular belief, adding wallpaper will create a focal point in the room and trick the eyes into believing the room is more spacious. If you're feeling bold, you can express that with your choice of color and pattern.
Mirrors
Hang a mirror or two. It's crazy how a mirror can make any room look instantly bigger, brighter, and airier. A Mirror can also double as a decor piece, which we need in a small space. Get a mirror that matches the vibe of your dining room and watch the magic happen.
Lighting
Nothing can ever beat the power of natural light. If you have natural light in your dining room, capitalize on it. Combined with a mirror in the room, this will make the dining room feel very spacious. While on that subject, hang your curtains above the window. That's another visual trick to make the room look bigger. Besides natural light, invest in a statement light fixture. It will make all the difference for the dining room.
Storage
If your dining room is small, you might want to think of an alternative way to store your dinnerware. The large and commonly-used cabinets might suck up all the extra space and overcrowd the room. Instead, try buffets, open shelves, bar carts, or other creative solutions. The options are endless. For this to work, take inventory of what you own, declutter what you don't want, and only display what you love. Your space is too valuable to waste on unwanted stuff.
More Ideas
It's time to add some final touches to your dining room furniture. Display chic decor, use indoor plants, get a vase of flowers, add a luxurious rug, and light up a scented candle. Do you feel the room coming together now?
Enjoy your meal
Why not give up on the dining room and eat on the couch or somewhere else? The dining room is ideal for the family to gather away from technology, eat together, and discuss their day. Giving up on your small dining room means giving up on precious family time. Think of it that way, and you'll start enjoying your meals and dining in style.
Meta: Just because your dining room is small in size doesn't mean it should be small in style. We bring you 5 different ideas to elevate your small dining room.