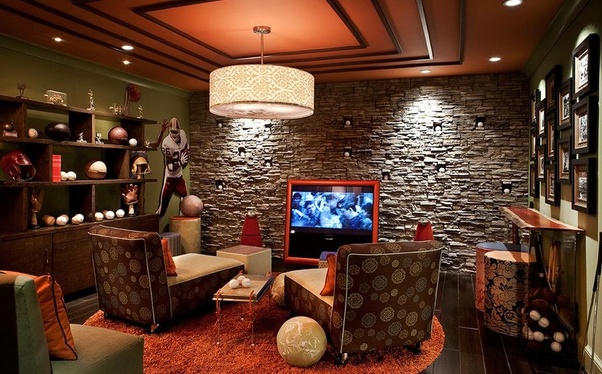 Have you decided that it's time to create the room of your dreams in your home? Are you ready to design the ultimate man cave that is perfect for you and your guy friends? Deciding to create this kind of relaxation space in the home is only step one, since the room will only be as successful and enjoyable as the design. Before you get in over your head, we've got some fabulous design tips that will make it possible for you to put together the ultimate man cave.
Create a Sense of Privacy
Part of what makes a man cave so great is the fact that it is a retreat within your home. It's that quiet space you can go to without disruption and the general chaos of the house. What that means is you want to ensure there is a sense of privacy. Ideally, your man cave will be an entirely separate space with a door so that you can close it whenever you like. If this isn't possible, look for alternative ways to create a sense of privacy, such as bookcases used as walls, privacy screens and creative furniture placement.
Draw Inspiration from Your Favourite Hobbies
Another tip is to draw inspiration from your favourite hobbies in terms of décor, the colour palette and even the artwork you display. Maybe you have a favourite sport or sports team? Well, that can act as your inspiration and influence all of the design choices you make. It will also help to ensure the man cave feels cohesive at the end of the process.
Factor Comfort into the Design Plan
It's also important to factor comfort into every design choice you make. What will your man cave be used for? Maybe you're into video games or perhaps you have gotten quite hooked on the many classic online casino games that feel just like the real thing? Well, if that's the case, you need comfortable seating so that you can enjoy your games for hours at a time. Sure, the furniture should look great and be stylish, but it also needs to be supportive and comfortable.
You Need the Ultimate Entertainment System
If you're like the majority of the guys out there who are designing a man cave, then the entertainment system is going to be the main part of the room. This typically means a big-screen television and a killer sound system. Depending on the sound system you choose, you may even want to have it professionally installed so the sound is perfect.
Don't Forget Snacks and Beverages
And what goes best with relaxing, watching a movie, playing some video games, or chilling with some buddies? Food and drinks of course. Be sure to factor this into the design so you can build some sort of beverage and food station or bar and make sure it's stocked at all times.
Now that you've got all the best tips ready to go, all that's left for you to do is enjoy your man cave.