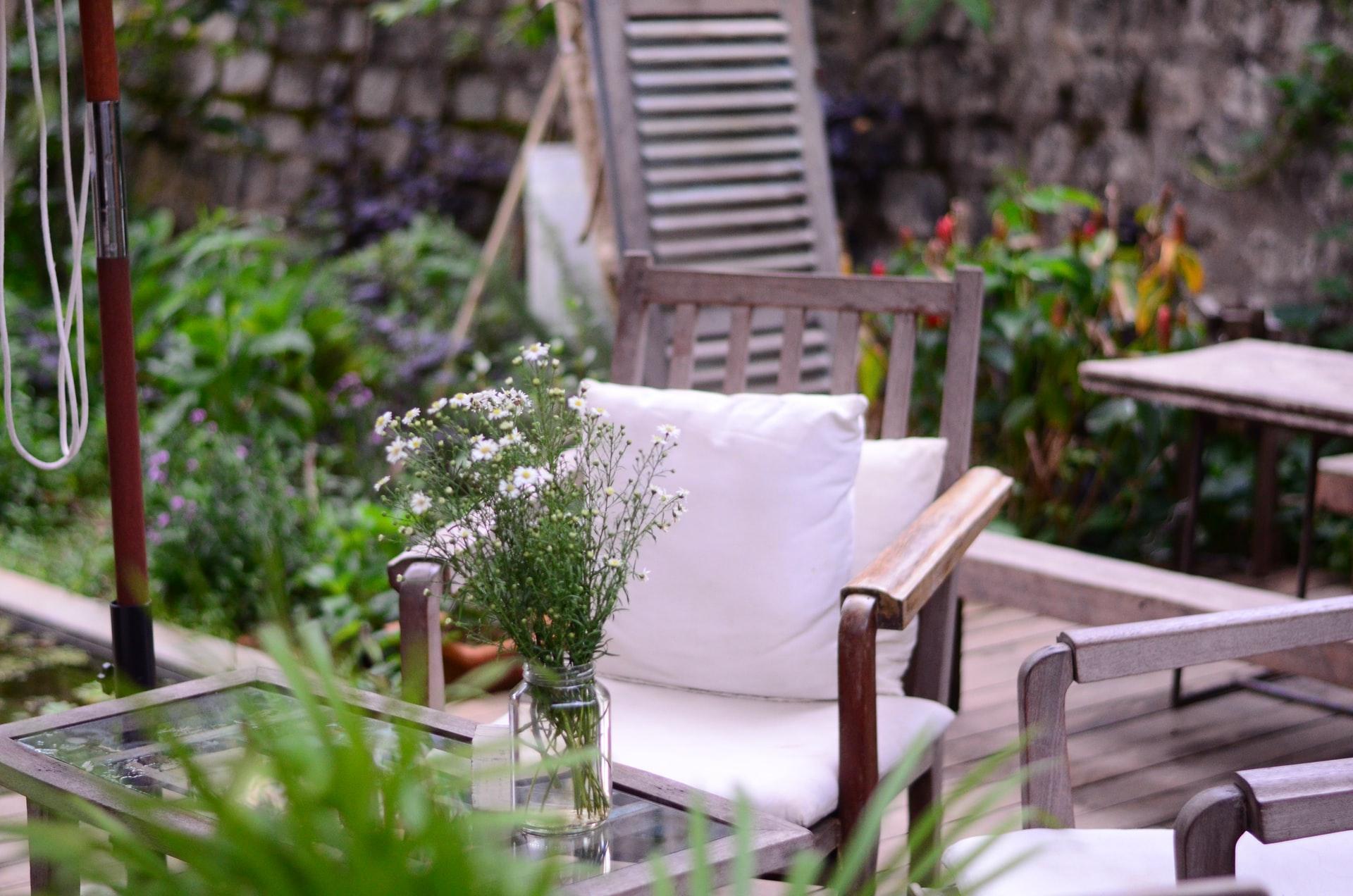 A well-designed apartment patio will make your patio memories even more enjoyable.
However, decorating a patio well requires a certain level of forethought. Even if you don't have an innate sense of style, this guide can show you exactly how to decorate your apartment patio for maximum comfort and attractiveness.
Decide on Your Theme
First, you need to pick a theme for your design. When you select a theme at the beginning of the design process, it will help make the following decisions much easier since you will pick items and placement that fit your chosen theme.
Not sure what theme to pick? Well, know your options. Here are some common themes for outdoor patios:
Bohemian
Industrial
Oriental
Retro
Contemporary
Country
Even if you don't know the different interior design styles, you can create a theme by making some simple, fundamental decisions.
What color story do you want to tell? You can go for bold colors, such as turquoise, and bold contrast or neutral tones. Whatever way you choose to go, pick one or two main colors and build off that. You do not necessarily need to stick to those colors, but you want colors that compliment them.
What vibe do you want to portray? When people walk out onto your apartment patio, you want people to feel a certain way. You can opt for something playful, comfortable, sophisticated, serene, inviting, calm, or energized.
A lot of clutter can create anxiety instead of creating a calming vibe, so you want to minimize clutter for something calming. You can use bright colors and unique seating, such as bean bag chairs, to create a playful vibe. Of course, you can also combine a couple of different vibes that go well together.
Do you want to incorporate specific inspiration? You may have a specific plan to make your apartment patio look like a campsite or a luau. While this can keep you on track, do not mistake this for a theme. Remember to consider the vibe and overall style.
Pick Your Furniture
Start by picking the furniture for your patio. You want to pick the furniture first since it takes up the most space, and you will buy decorations that work around your furniture choices.
This will also make up a large portion of your budget, so you will know how much you have left to spend after you buy your furniture.
What furniture do you need to get for your patio? Well, you have plenty of options. But a good place to start is with seating and one central, round coffee table. Most patio furniture consists of whicker, wood, metal, or plastic.
First, consider how many people will spend time on the patio at once. You want to get enough seating for everyone who will be using the space.
Of course, you want to be able to enjoy it yourself as well on days you enjoy the space to yourself. Don't forget to sit on furniture before you buy so that you know it will be comfortable. This means buying online might not be the best option. If you do, be sure you read reviews about the comfort.
Next, analyze the space you have to work with. Large patios require items that don't make the patio feel empty or unutilized. However, more often than not, you will need to make the most of your space. Buy furniture that doesn't take up too much room.
You can also look for creative ways to create more space on your patio by using stylish and subtle cabinetry or tables with compartments. Good space-saving furniture options include:
benches
benches/tables with storage room
folding chairs/tables
Finally, you want to buy high-quality furniture. It should be strong enough to withstand the elements, especially sun, wind, and rain, so stay away from leather. You also want to choose furniture that's easy to clean. You spend a lot of time on home upkeep, so easy-to-care-for furniture will offer a bit of relief.
Don't forget to bring cushions and anything that might get damaged inside on days that call for rain. If the furniture is light and may blow away in heavy winds, you want to bring it in, too.
Choose Your Decorations
After you pick your furniture, you need to pick your decorations. Patio decorations to consider include:
throw pillows
rug
lights
plants
lawn ornaments
You want decorations that fit your theme and match your furniture. For example, a garden gnome probably won't work well if you want to create a sophisticated patio.
On the other hand, a piece of art may give the feel you are going for. However, don't be afraid to deviate a little bit. Try unusual color and pattern combinations. You can always change the decorations if you decide they don't work.
One of the more important pieces of your patio is your outdoor area rug. It's crucial you pick a good outdoor rug that's the right size and matches your theme.
Decorations should be installed with additional security to ensure they don't fall or get damaged by using extra nails and hooks and placing them on sturdy bases. Keep decorations low-cost in case they don't hold up to the elements.
6 Apartment Patio Ideas
Here are 6 apartment patio pattern ideas to use for inspiration for your own patio design project. Take what you like and make it your own. You can always incorporate your favorite moments from different ideas to bring out the best of each design.
1. Inviting and Comfortable
Inviting and comfortable, a small group can create some great memories on this patio. Cozy seating for two on the sofa is perfect for an intimate cup of coffee. When guests come over, the straw poufs provide additional seating. Of course, they also match the neutral green, tan, and white color scheme. The rug adds style, but it can provide seating as well. The wall planters and floor plants add style and pleasant smells while the string lights provide a guide on those extra dark nights.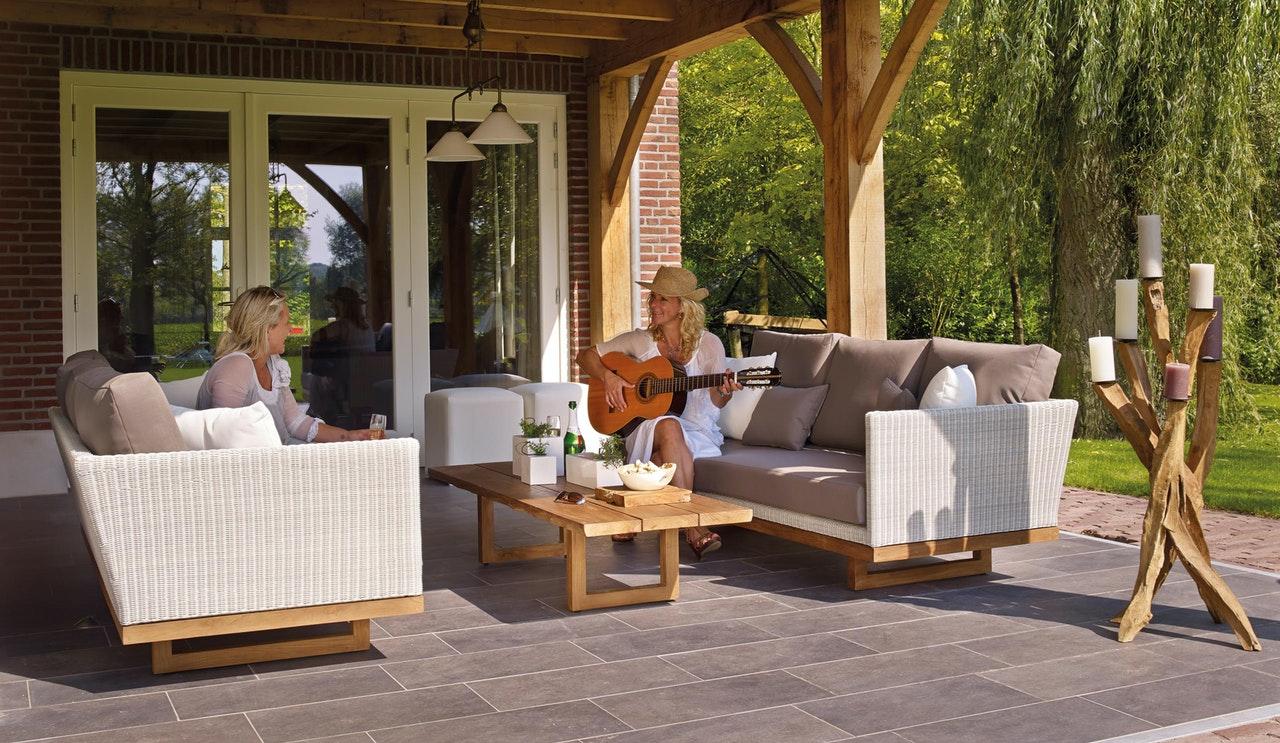 2. Peaceful and Simple
Peaceful and simple, this design works best for small spaces. A table and matching chairs offer a comfortable place for you to enjoy a nice book or glass of wine. You will feel like you are in your own, special hideaway. The splash of pink on the chairs create something visually interesting, and they match the pink flowers perfectly. The green floor contributes to the look of the plants.
3. Sophisticated and Warm
Sophisticated and warm, this space works as a great place for a bachelor or a young couple. The dark colors instill a masculine vibe. The couch and table are simple and functional while also stylish. They would be appropriate in the living room, making the space appropriate for different types of gatherings. The candles on the table can create a romantic ambiance. However, this design adds a bit of whimsy with the Mismatched patterns and designs and the fun lobster throw pillows. The minimalist style doesn't overwhelm, and it won't require a lot of upkeep.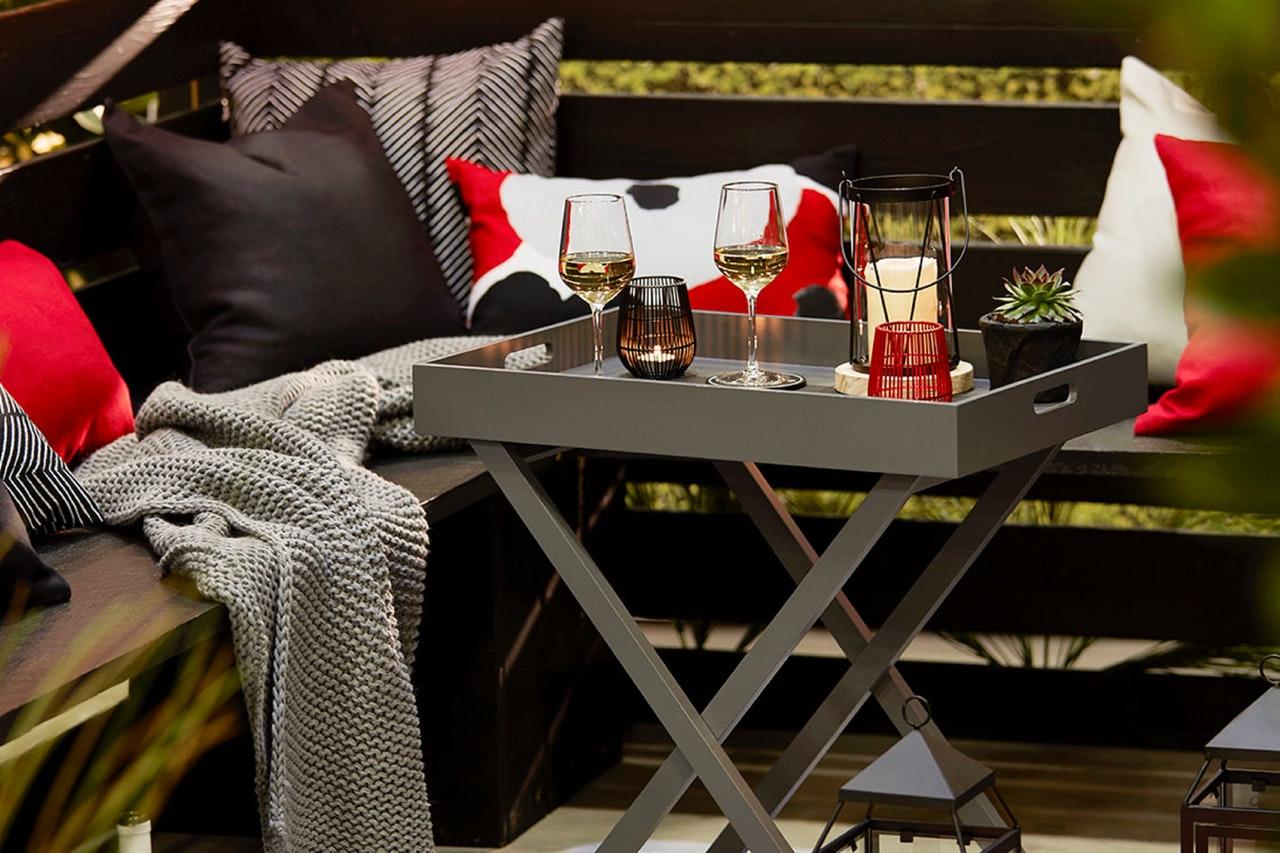 4. Lively and Unique
Lively and unique, this patio makes the most of its interesting privacy screen. The cutouts create unexpected lighting effects that you can't match with traditional lighting. The wicker furniture seems to stay in line with the style. To make the space truly unique, the designer used bright colored furniture. This works well since the rest of the patio doesn't have a lot of color to it. Plants go well with the wicker furniture and get plenty of light, even through the privacy screen.
5. Tropical and Laid Back
Tropical and laid back, the designer creates a beachy vibe with the hammock right away. To accommodate guests, comfortable cushions litter the floor. Tiki torches enhance the beach theme. Finally, the blue and white color scheme also fits the theme perfectly. This space doesn't make a great work space, but it's the perfect space to unwind in the fresh air.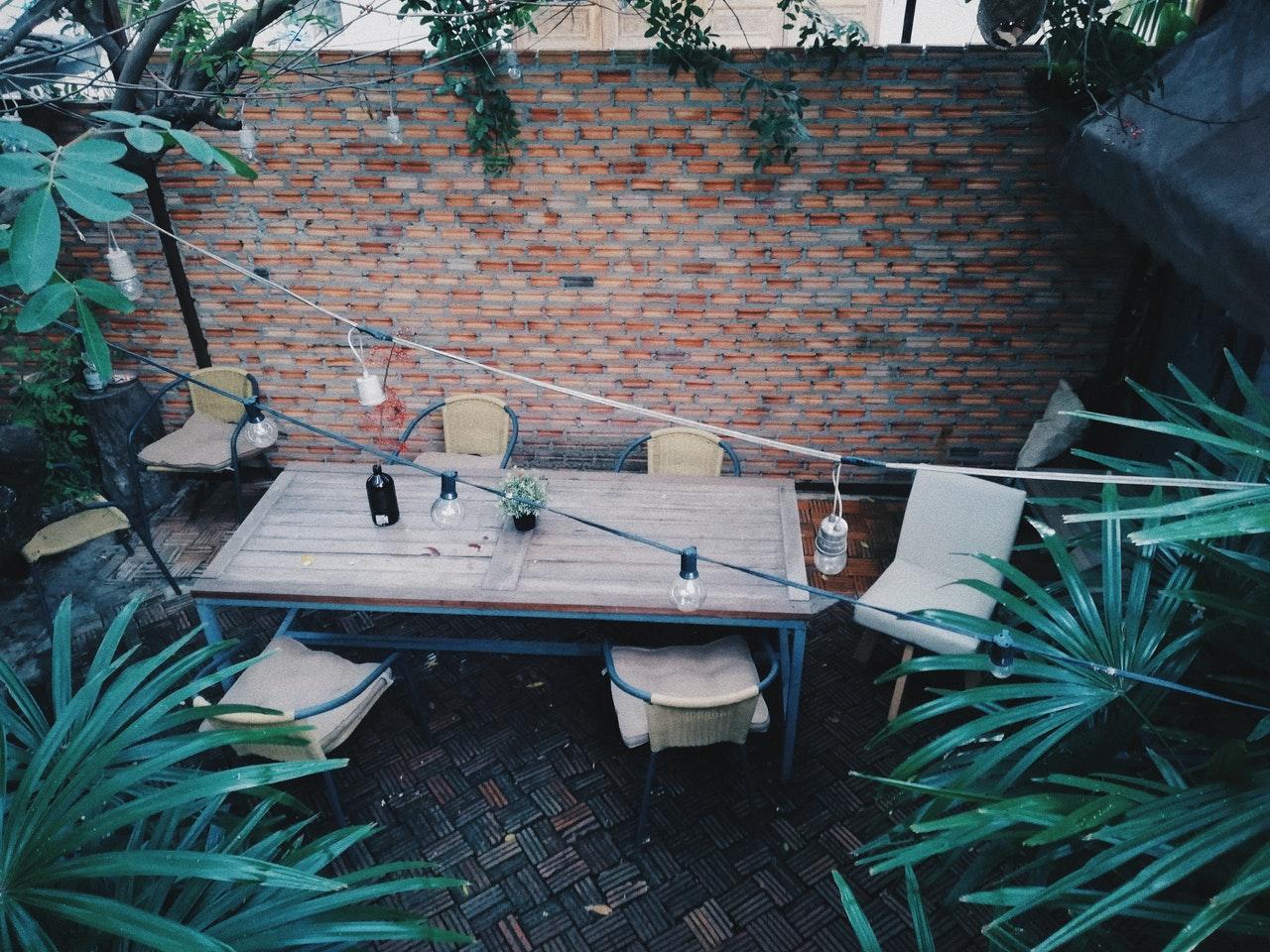 6. Functional and Simple
Functional and simple, this patio prioritizes purpose over style. A wooden shelf (that matches the wooden floors) saves space for patios that don't have room for a table. People can place their food and drinks on the ledge without worry. Instead of a table, you can put a grill in its place. Minimal design leaves room for someone to cook. Simple folding chairs allow other people to keep the chef company and even enjoy dinner together outside.
Enjoy Your Patio
An apartment patio offers a lot of opportunity, and you will make the most out of the space if you feel comfortable there. If you are ready to turn your apartment patio into something that represents your style, start by getting inspiration.
While looking at inspiration, consider your unique design aesthetic as well as how you plan to use the space. Establish a theme and start looking for furniture items in your budget. Next, pick decorations that strengthen the theme and match the vibe you want.
Finally, enjoy your space. You worked hard to make it wonderful.
Author Bio: Brooks Manley is a marketer by trade, but an aspiring home designer on the side. He loves designing and redesigning new spaces in his home. You can learn more about Brooks and read his writing at Fifti Fifti Design.