With the right material, your kitchen can easily boost its aesthetic value. It's the first thing people would see when they step into your kitchen and can leave a lasting impression with positive expectations for what lies behind your cabinet doors.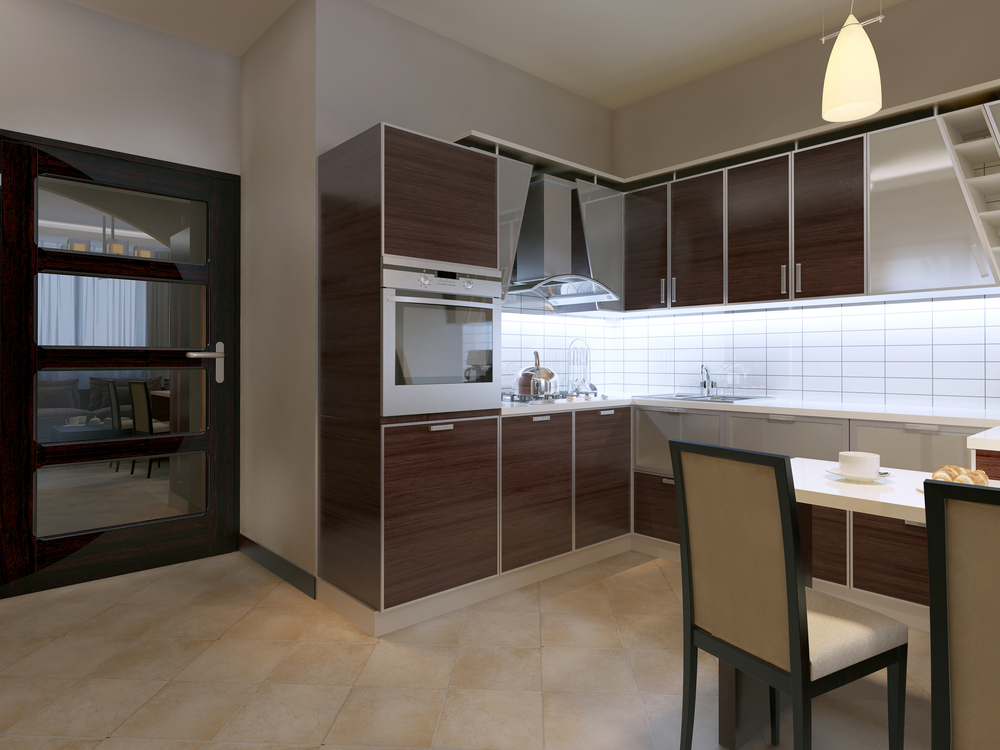 Cabinetry can be a defining feature of your home kitchen. While the door fronts might seem like a superficial element, they can take up a hefty portion of your remodelling or construction budget. The choice of material will not only affect its look but also the functionality of your kitchen.
If you want to have a kitchen you love to spend time in, it's only imperative for you to do research on the materials and identify the perfect one for your space.
Cabinet finishes are the final application of colour or laminate on your cabinet doors and surfaces. As the finishing element, they can make or break your kitchen's entire vibe.
It's recommended to order a few samples of your top choices before deciding on one. This way, you'll have no regrets!
Types of Kitchen Cabinet Door Finishes
Natural Finish
A natural wood finish does not use paints or stains, or other materials. These finishes are typically clear so the wood maintains its natural colour beneath the protective layer.
Your cabinet door's durability will depend on the species of the wood used and not the finish. One thing to consider is that this may not result in a uniform look across your kitchen.
Waterborne Finish
This finish is scratch-resistant, formaldehyde-hazard free, and low in Volatile Organic Compounds, making them a safe option while also minimizing your carbon footprint. They are made by dispersing them in water and can be used shortly after application.
They offer the highest standard of performance with a minimal environmental impact.
The aesthetic mimics that of painted, varnished, or stained kitchen cabinets.
Stained Cabinets
Stain is applied on wood to change its colour. The colour options are fewer than painted cabinets but with different parts of the wood soaking up the stain differently, you have a markedly unique look.
Applying stain on cabinets can also enhance the grain or protect them from damage. Cabinets made of other wood materials can easily resemble pecan, walnut, or oak with the right stain!
Painted Cabinets
Cabinets can be painted in any colour imaginable. As expected, the paint will cover the natural characteristics of wooden cabinets. If your cabinet doors are made of other materials, this might not be a concern.
Pantone colours are a great starting point for choosing an ideal shade. Painted cabinets are then painted with a clear varnish for durability.
Paint is one way to ensure matching colours throughout your cabinetry. They may chip or dent in frequently used areas over time, and would need to be retouched.
Glazed Cabinets
A glaze can change your cabinets' colour and texture as a faux finish. It can be applied on top of stain or paint to highlight details in wooden cabinet doors. They add a visual depth to stained cabinets and may be transparent or semi-transparent. Varnish is often applied as a top coat to increase durability.
Varnished Cabinets
Varnish provides cabinets with extra durability and heat resistance. Most manufactured cabinets already come with a polyurethane catalyzed varnish as a topcoat. If you want an all-natural cabinet, it's best to have at least a varnish topcoat so it stays sturdy and aesthetically pleasing over the years.
Like paint, it's susceptible to the usual wear and tear but resists yellowing, heat, and corrosion.
Distressed Cabinets
A relatively new painting technique, distressing cabinets can give new furniture an aged look. If this is the aesthetic you are going for, feel free to try it. For cabinets painted with a single coat, it is sanded or scraped while the top layer of double coated paints is immediately wiped away.
Color variations can add personality to your cabinets and reflect in your entire kitchen.
Acrylic Finish
Acrylic kitchen cabinets are a great way to update an old kitchen or brighten up a new space. The glossy sheen will instantly make your kitchen more vibrant, spacious, and welcoming for years to come.
You can have an entire cabinet door made of acrylic or apply an acrylic finish to your material of choice. Acrylic facing doors are more affordable although the method of application is a bit more complicated. Like painted finishes, you are free to select from a wide variety of colours. This can highlight a modern aesthetic or unique personality.
Pros of Acrylic Finishes
Aesthetics – Your kitchen will have an ultra glossy, welcoming appearance that's more appealing than a laminate or membrane finish.
Durability – Acrylic easily resists damage from UV light, scratches, and moisture. If you're looking for a finish that will survive wear and tear, acrylic is for you.
Variety – Customize your acrylic or acrylic-faced door based on your personal tastes, choosing from a wide range of colours.
Longevity – Other than its functional durability, the colour and look of this type will be retained for years to come. If you don't see yourself remodelling your kitchen in a few years, it's a great option you don't have to touch up or replace often.
Easy Cleaning – Just clean with mild soap and water or a mild disinfectant of choice. Accidents happen but acrylic is a more forgiving material.
The easy cleaning is also helpful as fingerprints and small stains may appear easily on the glossy surface. It would require frequent cleaning but it's not as difficult as other cabinet finish types.
Of course, acrylic door cabinets don't come cheap. It is considered a premium finish compared to others but because of its durability, it's a solid long-term investment. It's also non-toxic, which makes it a great option for households with children.
Acrylic cabinet doors are great for upper cabinets that usually get highlighted by most lighting but can be used throughout your kitchen.
Other than the finish, your cabinet door can be made of a variety of materials. These include wood, medium density fibreboard, plywood, particle wood with melamine, stainless steel, or solid acrylic.
Your choice depends entirely on your budget, taste, and use. Cheap but sturdy materials can be used for the main structure of the door but the finish will surely define your kitchen's appeal.