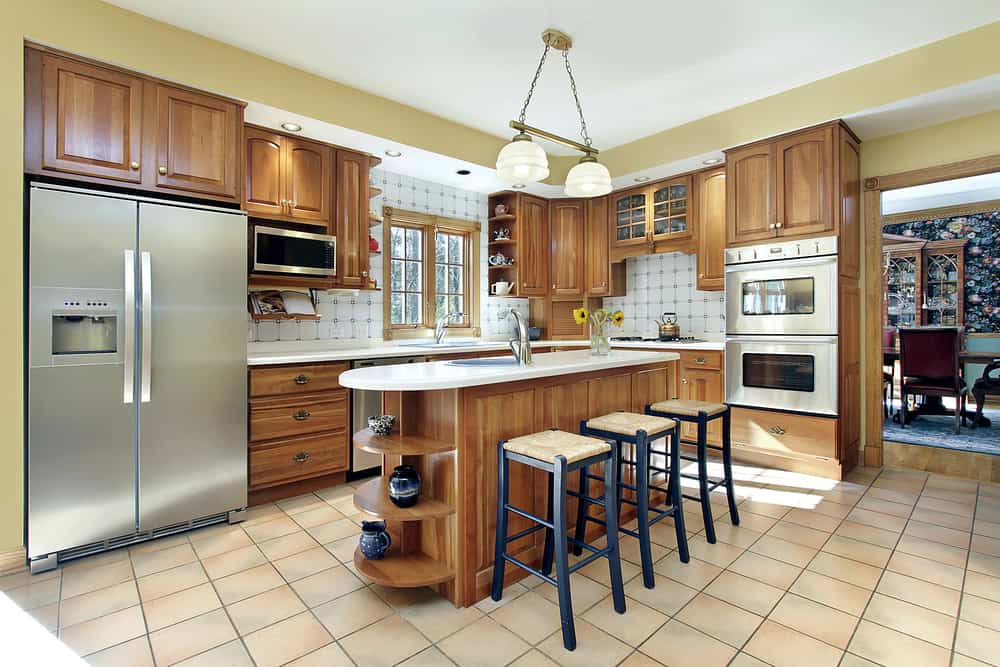 Tired of your kitchen's boring appearance? We understand that kitchen remodeling is expensive, but the good news is that it is now easier to give the cooking area a new appearance and feel with a fresh coat of paint. We present some of our favorite paint colors that go great with oak cabinets, such as blue, gray, and green.
Check out some great paint color ideas to build the most stunning best color countertops for oak cabinets below!
What are the best colors to pair with oak cabinets?
One of the most important places in a home is the kitchen, and it should reflect the homeowner's personality and style. However, so much of the look depends on the selected paint colour. Paint is one of the most affordable ways to transform a space completely, so choosing the right color is key. The oak cabinets will look amazing with these five wall colors:
#1 Warm white
Looking to spruce up the kitchen? Before tearing down walls, changing layouts, and buying new appliances, start with a fresh coat of white paint.
White is the most simple and classic color to use on the kitchen cabinets; it brightens up a room, makes it look larger, and works well with various countertops and flooring options – plus, it'll never go out of style.
What's more? White kitchen cabinets give the illusion of a bigger and more spacious kitchen, and they also go with almost any kind of color scheme used throughout the home. Especially with honey oak cabinets.
However, the quality of the white paint can make a big difference in how the cabinets look, so always ensure to ask for an off-white or cool white rather than one that leans toward yellow.
#2 Warm gray
Looking for a trending color to update the oak cabinets in the kitchen? Consider painting them with a warm gray shade. Gray is a color that has been taking center stage lately in many homes as it is modern and fresh — and an excellent alternative to white — but isn't so threatening that one gets sick of looking at it after a while. Warm grays are especially appealing because they pair well with both traditional and contemporary styles.
Further, this color gives a sophisticated and clean vibe to any space. It doesn't compete with either warm or cool tones in other parts of the space, so it fits well into any design scheme. We're sure that there won't be anything to regret about this upgrade.
Explore the best colors for oak kitchen cabinets with Caesarstone. It is among the largest manufacturers of premium quartz worktops, offering luxurious and durable surfaces. Their design team has curated a collection of the best colors for oak kitchen cabinets to inspire homeowners.
#3 Lime green
It's a misconception that painting the walls a pale lime color is a weird choice. In the right context, this actually works surprisingly well. In fact, in the list of the best color countertops for oak kitchen cabinets, lime green can be on the top position.
A little lime will brighten up any space, especially when paired with eggplant purple. Alternatively, one can use a light lime shade to highlight an aqua wall in the kitchen — the key is just to treat the lime wall as a highlight and not the main color. Finally, finish off the look by choosing hardware that complements the appliances and paint.
#4 Warm beige
The warm glow of orange can look great when combined with the right color. Picking a neutral color like beige for the kitchen walls will downplay the orange hue in oak cabinets while still offering a general warmth to the kitchen. Beige can even have a little yellow or pink undertones, so it's best to try a few samples before making a final decision!
#5 Mint green
Love pastel colors but tired of the usual baby blue, baby pink, and pale yellow? If yes, consider mint green.
Mint green is unique and offers some visual interest and a pop of color to the home. Oak is a warm wood that looks great with mahogany floors. With both working together, the kitchen will feel bright and airy.
#6 Stone beige
Stone beige is a preferred choice for those who love old-world charm. Combining a stone beige color with warm gray tones, this textured wall looks like bricks covered with whitewash.
Brick and stone beige makes homes feel like they belong to an old European village. Something about the natural color palette is reminiscent of simple, humble life. The kitchen will look cozy and inviting with exposed wood beams and hanging warmth lights. The darker island brings the attention directly to the centerpiece in the room.
#7 Goldenrod
Love bold and modern design? Why not try it out in the kitchen?
Do the old oak cabinets look weird now? Try embracing the color scheme with a goldenrod backsplash. With its buttery gold tones, this traditional scheme can help bring out the best look of high-quality oak. It's very bright and cheerful, even to the point of actually sparking hunger!
This is the perfect choice for the best color countertops for oak cabinets. The color tone here is bright and happy while making the entire kitchen feel inviting. It's a little bolder than some of our other color choices on this list, but still it is easy to find a palette here that will be flexible to particular taste and style.
#8 Light peach
Light peach is more than just a paint color for any kitchen. It's a sign that the latest wallpaper trends are exclusive to one's kitchen. There are no other colors where homeowners can have this confidence level, except perhaps bright yellow or royal blue. Because the peach shade isn't quite as bold, so they can invest in a wide range of accents without coming off like it's too much.
Plus, light peach is a surprisingly versatile hue for the kitchen, especially when the cabinets are oak. With golden undertones that pair beautifully with the warmth of oak, light peach keeps the kitchen looking bright and lively. A perfect match for tropical themes, it's also great for kitchens decorated in an Italian or Mediterranean style.
#9 Blue gray
In the world of kitchen design, the color combination known as "bluetral" has been grabbing attention. This bold color play on natural joints between blue and gray has become a popular choice for those homeowners who are ready for something different when it comes to neutral colors.
This blue-gray and yellow combination brings a modern flair to the traditional oak cabinets. The yellow tones in the wood are toned down, giving it a more refined look and making it less likely to clash with other colors in the kitchen. A lighter gray patterned backsplash adds diversity to the kitchen. With this color choice, homeowners will likely want to stick with white countertops, or perhaps ones of a very light granite or marble.
Conclusion
Choosing the right paint color for the kitchen is important as it plays an important role in creating the right mood and feel. As oak wood cabinets are known for their rich, warm tones and grains, a cool colored paint will help balance out the wood and brighten up a room. Using lighter shades such as beige, cream, or lighter browns should create a pleasant contrast.
Use this guide to make the best color countertops for oak cabinets!