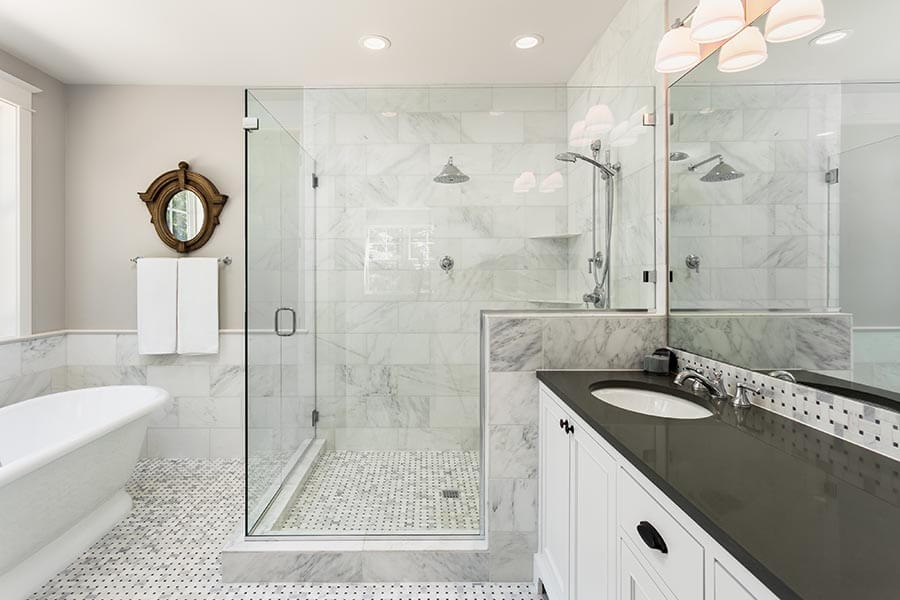 Bathroom remodeling is NOT at all simple – it comes in all kinds of shapes, colors, and sizes. We get it, eventually, bathrooms get old and outdated, and whether they still function well or not you need an upgrade. A bathroom needs to not only suit all of your needs but do so with a pleasant atmosphere and aesthetics that you can at least bear to be with for somewhat extended periods of time.
It's important that you have a very detailed and precise plan BEFORE you do a single thing involving bathroom remodeling. A lot of things are solely up to you and change nothing about the function of your bathroom like color – but we know of a lot of common mistakes that occur in bathroom remodeling jobs. As with all things, mistakes happen during bathroom remodels whether you do them yourself or hire professionals, though if you hire professionals the chances of anything going wrong go down by an order of magnitude.
Lacking a concise and clear plan
It's okay to have big dreams and want very unique styles and patterns in your bathroom remodel just as long as you're willing to sit down and really plan out every little detail. The worst thing you can be told is no! Failure to take the necessary amount of time to do proper planning and just not considering last-minute changes with enough detail can lead to disaster and that's guaranteed to cost you a lot of money any way you slice it.
The good news for you is that when you do make the smart choice and work with a team of bathroom remodeling experts, they're going to work out all the fine details for you and with their experience and knowledge, ensure that all is going to go properly before a single tile is even torn up.
If any of your remodeling plans are going to require actual plumbing to be moved it is so important that you enlist the expertise of a plumber from the beginning. Doing this later or in the middle of the project is going to lead to a whole lot of money and time wasted because that stuff has to be set up perfectly before anything else can happen.
Drainage and Water Flow
It's so critical that you pay attention to things as seemingly simple as the angles your bathroom drains towards – you don't want to flip your shower at an angle just to find out that oops, your water is completely not draining anymore. You need to consider things like the placement of your shower head – make sure it isn't in the way of your shower door or in a place where it's going to hit you in the head. It may seem silly but you've got to think about these things.
Leave Room for Future Accessories
While you're doing all this work why not go ahead and install functional but safe features in your bathroom that will stand the test of time if you end up living there for a long time – things like non-slip mats in your tub floor and outside of it, handles in any places you may need to grab on to something or hang up a towel, you'll thank yourself later on when you have all these sweet features. And if you don't want to install things like this now – at least do yourself a favor and make it easy to do so in the future when the time DOES come.
Low-Quality Materials
Using the right materials during any and all of your bathrooms remodels is as important as making sure you have good bathroom remodeling experts handle all of your work. There's a lot of materials out there that look good but just don't function well and will all but fall apart in due time. Bathrooms, as you could assume, go through lots of drastically fast temperature changes, and certain materials are going to retain a lot more moisture than you want them to. You need to work with someone local to you, someone that knows what your bathroom will go through in your given climate.
Poor Ventilation
Excess moisture and water is going to lead to a lot of excess issues with mold and mildew in the not-so-distant future, that stuff grows quickly! You have got to make sure you have an exhaust fan, and it needs to be powerful enough to cover every single square inch in your bathroom. A lot of people get these little tiny cheap vents that sure they run, but they remove hardly any moisture whatsoever. Without it, you are just trapping in humidity and spurring the growth of mold & mildew. Besides just mildew, you can expect all of your nice metal features to start rusting far sooner!
Poor Install of Features like Towel Bars
Poorly installed towel bars and handles are a common issue in bathrooms – and are extremely hazardous. If they aren't anchored properly they're going to pop right out of the wall and not only hurt you but likely bust a pretty big hole in your wall! Reinforcements need to be added UNDER your drywall to give you good secure anchor points, yet another one of those little things that need to be considered early on.
Insufficient Lighting
Everyone loves a nice attractive lighting system. Until you drop something on the floor and look down to realize that your bathroom is actually extremely dark and your fancy light source is hardly putting off any light, not nearly enough to be a useable bathroom. The wrong lighting can make you look WAY worse in the mirror than you really do, and that's no fun! Talk to an expert and don't sacrifice your lighting!
Don't Underestimate your Budget
Listen, costs add up. The little things, things as simple as smart lightbulbs, could end up costing you a few hundred dollars all together and that is just one very tiny piece of the overall puzzle. Don't go into the bathroom remodeling process all alone, make sure you have a team of professional bathtub installation charlotte nc company behind you.