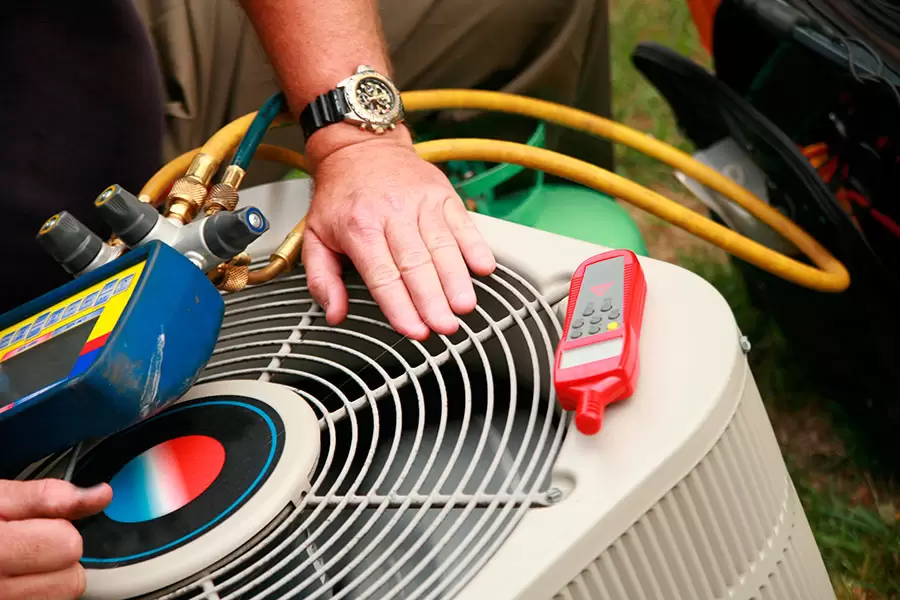 Your heating, ventilation, and AC system must work efficiently to ensure that you breathe clean air and live in comfortable temperatures indoors throughout the year.
To enjoy this conducive indoor atmosphere, you need to have an efficient and durable HVAC system. A high-quality HVAC system lasts for 15-25 years. So, to maximize the efficiency of your system over this period, you need to maintain it to keep it in excellent working condition constantly; and routine maintenance is only possible with the help of an HVAC maintenance plan.
What is an HVAC Maintenance Plan?
An HVAC system maintenance plan is a routine checkup of the whole heating, ventilation, and air conditioning components. It ensures that the entire system is in excellent working condition. Regular maintenance involves system servicing and repair.
What does an HVAC maintenance plan cover?
Different HVAC companies offer various services in their HVAC maintenance plans. Below are some of the standard services a maintenance plan covers.
· Cleaning of filters and coils
· Cleaning fan motors
· Thermostat calibration
· Refrigerant charge
· Oiling and lubrication
· Testing of the pressure
· Replacement of filters
· Inspecting outdoor HVAC components (Clearing of debris around outside units)
· Check furnace and thermostat
· Tighten electrical installations
· Check refrigeration system
· Checking of condensate
Are HVAC maintenance plans worth it?
The fact is that your HVAC system will break down at one point in time. Another fact is that you can delay its failure or breakdown by having it routinely checked, repaired, and maintained.
The best way to keep your heating or cooling system running efficiently is to catch potential problems before they start with timely inspections. This is why a HVAC maintenance plan is worth it. It ensures that your system gets routine checkups and fixings, thereby functioning well throughout the year.
If you hire different technicians to maintain or repair your heating and cooling systems every time they get an issue, you may end up spending more money on HVAC maintenance. Every technician has a different price. When you add up your yearly maintenance costs, you may find that they are more than what you could have spent on getting a maintenance plan.
If you think that an HVAC maintenance plan is costly, then put it in the same category as your car or home with insurance cover. While you may never use it (sometimes it takes five years for you to make use of the plan), you'll probably breathe a sigh of relief knowing it's there if you ever need it.
Verdict: HVAC maintenance plans are worth having in the long run.
Below are some of the benefits that show you the worth of HVAC maintenance plans.
Benefits of having a good HVAC Maintenance Plan
It helps you to plan well
Having a scheduled HVAC maintenance plan helps you know of the fixed costs in advance, which helps you plan for them in time. On the other hand, if you contact an HVAC technician or service provider suddenly, they will most likely charge an amount you don't have at the moment.
Planning ahead of time (getting a maintenance plan) also puts you in an excellent position to ask for a discount.
It gives you peace of mind
Scheduling a maintenance plan comes after a thorough investigation of your HVAC system's current state. A professional HVAC company like Anderson Air will only make a maintenance plan after a proper system analysis.
In-between HVAC maintenance, you rest assured that your AC or furnace system will work efficiently until the next scheduled day of routine maintenance.
You get expert help
When a specific HVAC company routinely familiarises itself with your heating, ventilation, and cooling systems, they come to understand your system in-depth. And this helps them make well-informed decisions concerning it. They become experts at checking, repairing, and maintaining it.
Professional services
HVAC plans are worth it because you get consistent professional services in the long term. A company that schedules maintenance plans for you will do everything to maintain and promote its name in the HVAC maintenance industry.
It saves on your energy bills
Today more than ever, a functioning heating, ventilation, and air conditioning system is of foremost importance in a home. But these systems consume more than half of total household energy consumption. On top of that, they cost a lot of money to replace.
Keeping an HVAC system in good condition is a great way to save money on monthly energy bills and stave off the high costs of repairing or replacing the system.
It uses qualified or trained HVAC technicians to inspect, maintain and repair your AC and heating systems. It will ensure that everything is above board.
Maintenance of warranty agreements
After new installations, most companies give you warranties and maintenance contracts that always last for about two years or more.
So, if an HVAC company offers to maintain your system for a given period, take it up. Doing this saves you the hassle of finding a different company to do your HVAC maintenance.
Convenience and priority service
You are as good as sorted once you sign the HVAC maintenance plan. It saves you time and money.
As a maintenance plan client, you are given prior time over those clients who do not have a plan.
Prolongs the lifespan of your HVAC system
An HVAC maintenance plan ensures that your AC and heating systems are serviced regularly. And this keeps them in top shape, preventing sudden breakdowns and thereby prolonging your HVAC system's lifespan in the long run.
Conclusion
HVAC plans are worth it. To get a budget-friendly plan, shop around for the offerings of different HVAC Maintenance Companies or contractors and choose one with a plan that meets your HVAC needs at the most affordable price.
And in whatever you do, do not leave your HVAC system to the mercy of amateurs. This will endanger your system and the health and lives of your loved ones. Get an HVAC maintenance plan that has value for money with Anderson Air.