Imagine that you have just invested in your dream home. You enter the apartment and let your gaze wander over the rooms. You enjoy the ceiling height and stucco, the original fittings on the cabinets and the herringbone-patterned parquet floors. The kitchen is newly renovated with Italian mosaic and you think about how wonderful it will be to stand by the teppanyaki stove and prepare a romantic and tasty meal. But wait here… In the sink is a greasy coating, and in the waste grinder there are remnants of something that looks like minced lamb. It smells a little strange. In the fridge, something yellow has run along the back wall and isn't the handle a bit sticky? When you stroke your hand against the beautifully renovated balcony door, you realize that the inside of the strip is thick with dust.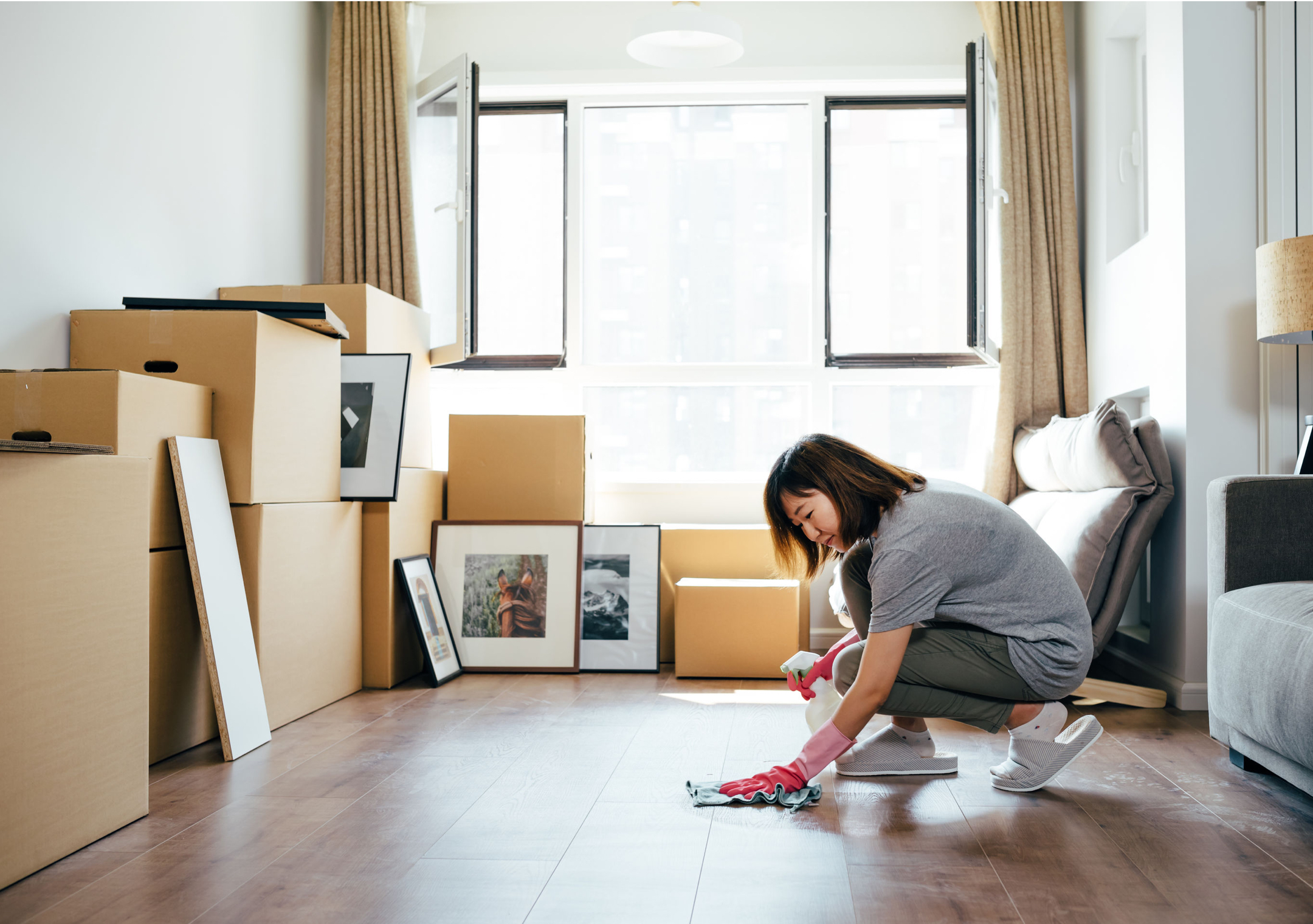 Yes, that's the reality, unfortunately. Today, moving cleaning is an all too common conflict between the old and new apartment owner. Maybe because the person leaving their old home is already on their way to their new one, or because cleaning is so much more boring than dreams and interior design. Out with the old, in with the new, is the slogan of many. Getting into a dirty apartment, however, is the last thing you want to happen. As a buyer or new apartment owner, you should expect an impeccable home, where you just have to come in and knock down the living piles. It is also good tone to leave the last roll of toilet paper, and light bulbs in spaces such as bathrooms and kitchens. It does not have to be more difficult than that to leave an apartment behind, avoid conflicts and add a little good atmosphere in this world!
Plan well in advance
A move takes time. The larger the furniture and surfaces to be moved, the more work is required, and therefore also planning. Maybe you should leave a large house and move to a smaller apartment and need to decimate your household goods, or you should bring all the children, the dog and a set of golf clubs. Logistics and packing are both time and energy thieves, and moving cleaning requires forethought. Unfortunately, we often think that we take the cleaning when we are done with everything else. With good planning of what to do and when, your home will be spotlessly clean the day the new owners or tenants arrive and you avoid disputes and dissatisfaction. It is a better idea than having to pay for a cleaning that the new buyer or tenant chooses.
This is what you should do
Go through the apartment and all spaces room by room. Kitchens and bathrooms are often rooms to check extra carefully – in wet areas bacteria thrive and there are many nooks and crannies here. Here the requirements for freshness are extra high. Do not forget all the hidden spaces. Clean behind the stove and elements, fan and fan cover as well as fridge and freezer. The front of the bathtub must be cleaned, as well as drains, and if necessary, the toilet seat and washbasin may need to be whitewashed. A tip is to have the Swedish Brokers' Association's recommendations on hand before a moving cleaning. There they list all the important pieces to keep in mind for each room, as well as the garden if it is a villa.
Checking hidden, concealed spaces is important in any room. Do not forget surfaces inside cabinets, moldings and stucco, electrical outlets and door handles. Unfortunately, there are far too many real dust collectors in most homes. If the apartment or house comes with an outdoor space, it is important not to forget it. Balconies, garages and gardens must also be carefully inspected. Sure, it's great with a conservatory, but things like dead plants and broken pots are not very nice. Scrap and construction waste must be removed. As usual, the basic rule is to leave the space as you wish to find it. If the home comes with a balcony, it should in principle be treated as an extra room. Everything must be wiped off: railings, windows and pipes. If the balcony is glazed, the windows are washed.
Windows are a chapter in themselves. A newly cleaned apartment has clean windows, but it is not always the easiest to arrange on your own. Hiring a window cleaner is a good idea, which saves both time and energy. Who has not tried to clean large windows yourself, armed with newspaper, with dull, flaming windows as a result? The weather is often a problem – sometimes it is too hot, sometimes too cold, the sun should be right and the moon should go down in a sack – but for an experienced professional it is not a problem. Choose your battles! Put energy into the right things when it comes to moving! There are many things you who move have the right to receive deductible help with.
You can get help with this – deductions for household services
Unlike relocation assistance, spring clean Brisbane gives the right to a window deduction. It can be a good idea to hire a professional company that takes care of all aspects of moving cleaning. It is possible to reduce taxes for costs for both moving cleaning and moving-in cleaning, which can be good to remember if you are unlucky enough to move into a dirty home.
The tax reduction is allowed with half the labor cost and with a total of a maximum of SEK 50,000 per person and year. The person who performs the work, in this case the cleaning company, is the person who applies for your preliminary window deduction and requests payment from the Swedish Tax Agency. On their website, you can also easily check how much deduction you have used preliminarily during the year. All conditions for the box deduction can be found on the Swedish Tax Agency's website. As a buyer, you are responsible for ensuring that all conditions are met. You should also check that the company holds an F-tax certificate. You must also make sure that you have enough tax to use the box deduction. If you are unsure of the time and costs involved, it may be wise to request a quote before starting work.
Even if you hire a company, planning is A and O. A move often involves many overheads, which become more expensive the longer it takes time. A common mistake is to think that it is possible to postpone. As always, the basic rule applies: do today what you can do tomorrow.
Summary
But, take it easy. Moving cleaning is not that complicated really. It's just a matter of being out in good time, disposing of the hours well and remembering to hand over the home in the condition you yourself had wanted to find it. Make both your own and someone else's dream come true.
What does a moving cleaning cost?
The price of an ordered removal cleaning varies, but the surface is in principle always used as a starting point. Contact one of our recommended companies, and they can help you develop a price for your home.