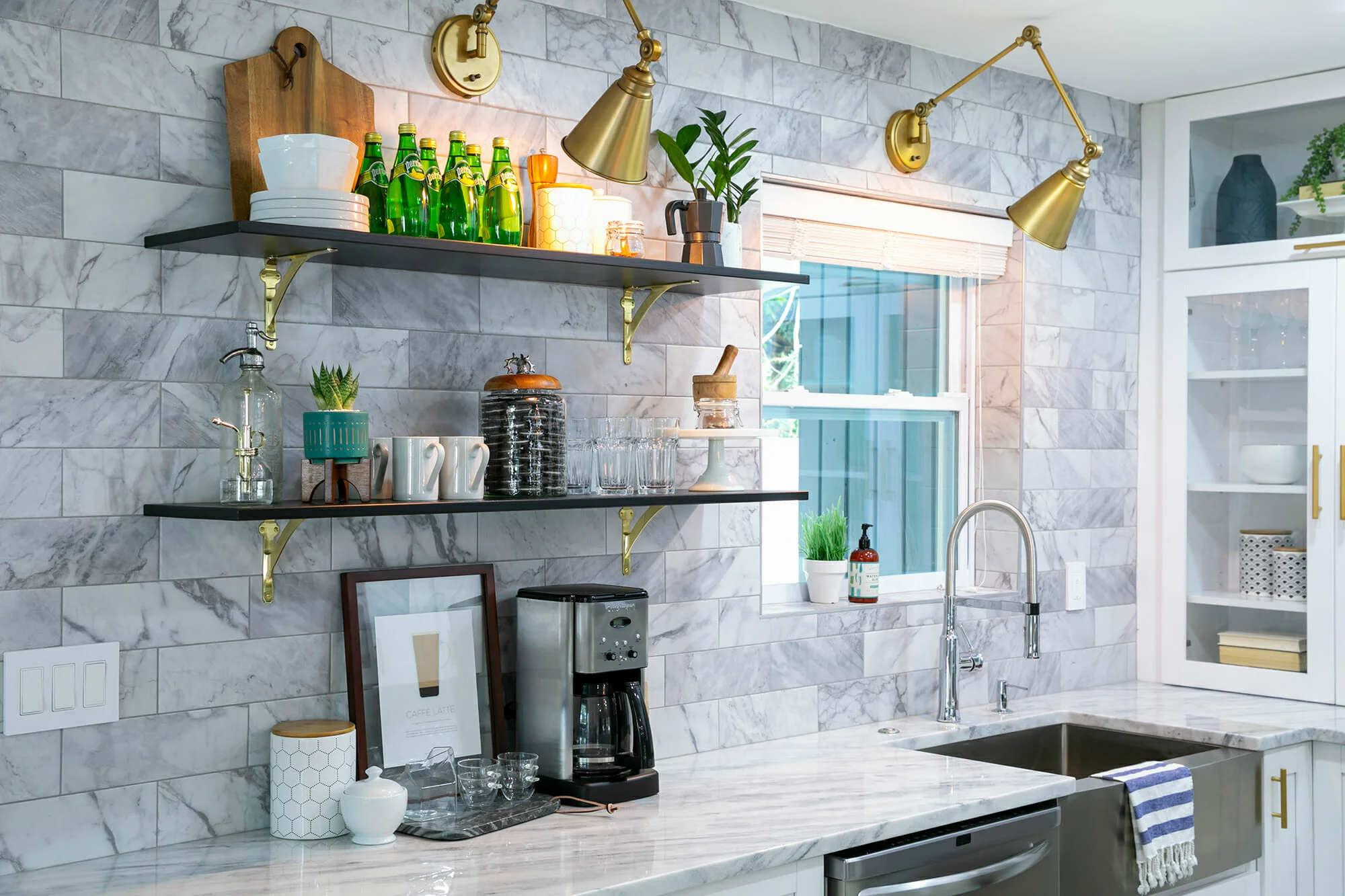 Ever thought about how to make your home "look" expensive without completely wrecking your pocket or savings? It is not impossible to decorate your home even when you are on a tight budget.
The trick is to know a few secrets that are to make your home look elegant and "rich". You will find these hacks to be simple yet useful!
Choose a Decorative Color Pallette
When you don't want to spend too much decorating your home, a smart move would be to opt for colors that fill the room so you don't have to invest in accessories. This shouldn't necessarily mean you have to go for a bold palette.
Soft, understated hues can add a lot of volume to the room and make it look like you have done some work on the interior of the house. Couple this with elegant wallpaper preferably on one side and VOILA!
Another hack that I read about online was to go for darker colors for the doors. These look expensive and the contrast with the walls can add a nice touch to the overall design.
Budget-Friendly Window Treatments
Done with the walls? Now let us talk about how important window treatments are for the finished and expensive look of your house.
Window treatments are available, on cheap prices, at a number of stores. You also have a lot of options to choose from so be smart. Typically, lined draperies look more expensive than they are as compared to see-through material that is uninteresting and not very durable.
Moreover, the addition of fabric like natural silk and linen can add further elegance to the windows. The point is to dress the windows in the best manner possible while avoiding any material that might give the walls a cheap finish.
Trust The Boldness of Striking Curtains
Light hues for the walls are preferred as they make the room look bigger. However, if you are of the view that bigger might mean "boring", a simple fix is to use bold-colored curtains instead.
To save some extra dollars, you can go for non pleated curtains as they require a minimum length of cloth. You can order through "made to measure services" that can stitch your order to perfection. However, make sure you look into multiple options to get a better idea about market prices before placing the order.
Interesting Lighting Can Make a Huge Difference
Don't have enough to invest in a fancy chandelier? You don't need to!
A number of surveys point out that small, cozy lighting within a room not only makes it look more welcoming but also is quite affordable.
You can find a number of relevant stores online that you can purchase on discounts for the items that you are looking for. You would be surprised to find out that not all "high-end" looking lightings come with a "high-end" price.
You can also fund unique sets or antique pieces at second-hand stores. A bit of buffing here and there and you can use them in your house for just a few bucks. Add table lamps, hanging lights, and fairy lights to enhance the look further.
Don't Underestimate The Power of Hardwood
Buyers have always been inclined towards installing door-to-door carpet because it looks more "elegant" and "expensive". However, the truth is that carpets are difficult to maintain. Phew! Who wants to do that much vacuum cleaning?
Hardwood can make the room appear elegant as well and that too at an affordable price. Another advantage is that hardwood floors last longer if you can only laminate the surface. They are easy to clean and look plush, shiny at all times. Top these up with a few fancy rugs and you are ready to rock the new interior!
Go For Furniture That Is Classy and Affordable
Contrary to popular belief, furniture can be quite affordable as well. There are many stores online that accept payments via checking account and even let you clear the bill in installments so you can buy that dining table you always had your eyes on.
Consignment shops or second-hand stores often have an interesting collection of furniture that is available at discounted prices. You can choose the products that go with the walls and rugs in the room while staying within your budget.
Whenever Possible, Go Green!
Having some plants in the living room not only uplifts the overall look of your interior but also brings the whole room to life. You can choose colorful pots or scented plants that add freshness and novelty.
Oh, here's something interesting! If you have saved a few dollars from the purchase of furniture, you can spend it on buying an indoor fountain to go with the plants setup. Complete the look with accent lighting and you won't complain about your living room looking boring ever again!
Personalized Creativity Is Always a Big Yes!
Now let's step away from all the purchases and items available in the stores and think instead about what you can do by yourself.
You don't have to hire an artist or a painter to add some details on the wall. You can get imaginative and dress up the walls with easy DIY projects. Remember it is YOUR personal space and you can decorate it as per your liking.
Take-Home Tip! Maintain an Overall Theme For The House Decor
Interior designing and decoration of the house does not need to be costly, it simply requires you to spend some more time thinking how to utilize items in a more interesting way. Consequently, it always helps to maintain a theme within the room.
Unmatched items generally give a clumsy look. Maybe you can exchange the curtains in your living room with the ones in the bedroom? Go for a setting where each item compliments the other. This would help you set your house nicely and at an economical rate.