For many homeowners, window treatments are an afterthought. When designing a home, there are many factors to consider. The first things that come to mind are usually the furniture, flooring and even the wall décor. You spend countless hours searching for the perfect pieces, but window treatment ideas may not even cross your mind. Many forget to factor in this essential element. Having a room without window treatments is like baking a cake without adding the finishing touch of icing. For it to feel finished, it's a must. Not to mention the many benefits that comes with their installation.
Window treatments are practical and necessary for a variety of reasons:
1. They help regulate the temperature of your home by keeping out the heat. Studies show window treatments reduce energy loss, thus overall lowering your utility bills from your air conditioning unit.
2. Shading the inside of your home from the harsh sunlight has other important benefits. By using window treatments, you will preserve the colors of your sofas, wall art, and rugs. Direct sun can be detrimental to these items.
3. Window treatments also make your home safer. They protect your privacy and can help reduce the likelihood of break-ins. When you have window coverings, outsiders cannot see who is home or the types of possessions you have.
4. Besides these logical reasons, window treatments also make cool room décor. Having window treatments aesthetically completes the look in your home, giving it personality.
Have we now convinced you that window treatments should be a priority? We hope so. After deciding you want them, the next step is making your selections. But how do you go about choosing the right ones? Narrowing them down can feel like a daunting task. Window treatments come in varying colors, lengths, fabrics, thickness and design. Some are horizontal. Some are vertical. Some hang above the window. Some hang in it. Here are eight window treatment ideas to spruce up your room.
1. Sheers for rooms without much natural light.
If your room has small windows, you'll want to maximize the amount of natural light coming through them. When selecting the type of window treatments, be mindful of your options for materials and their thicknesses. You should consider installing simple, lightweight sheers that will still offer shade without blocking out all the light. You may also want to strategically hang a mirror or other reflective piece also to improve the amount of light in your room. As pictured above, even with larger windows, sheers keep the feel light and airy. They truly complement and warm up an already beautiful space.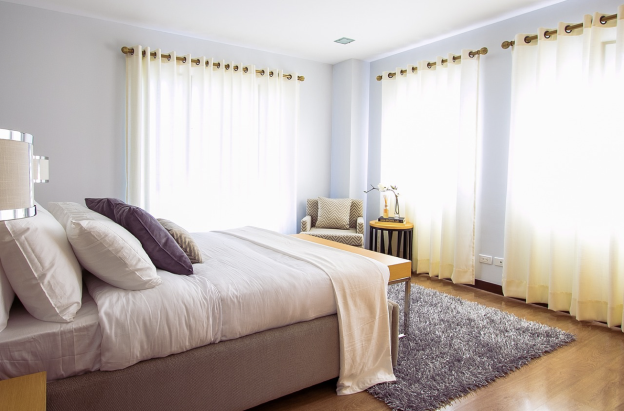 2. Colorful trim or ombre style for an accent.
Window treatments allow you the opportunity to show off your style. Don't just pick ones that look plain jane. Choose a curtain with a colorful trim to bring an accent to the room. If you already have an accent color in the room, continue it into the curtains. For neutral areas of your home, accented curtains will also help the treatments stand out against the wall paint in the room. Another great option to bring some color to your space is an ombre style. Ombre curtains go from a light shade at the top to the full, dark color at the bottom. They are bold enough to bring color, but definitely won't be an eyesore.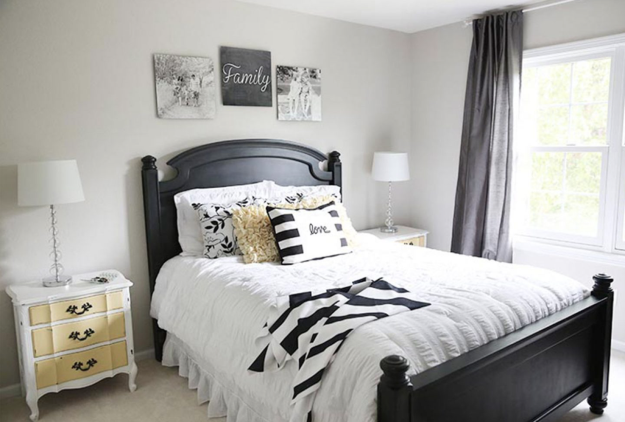 3. Patterned fabrics to tie it all together.
Patterned fabrics are both fun and functional. When selecting the one that fits best with your space, think about style and color. For neutral rooms, pick something funky and bold. For a more polished look, you'll want to select something more dainty and symmetrical. Either way, window treatments should complement the rest of the décor in your room. If you prefer a more whimsical look, consider combining two patterns. To avoid clashing, ensure there is at least a cohesive color story.
4. Classic shutters to provide charm.
Shutter shades are minimalistic, yet classic. Plus, they will never go out of style. The shutters are the exact size of the window itself and come in a variety of slat widths. Interior shutters can be very charming and stylish. Plantation shutters are especially popular and preferred by many homeowners. These have a simple open and close bar in the center that allows you to welcome in as much or as little light as you'd like.
5. Black it out with retractables.
Especially when considering the bedrooms, privacy is of the utmost priority. Retractable window treatments have become very high tech and are a great option as blackout shades. They're also very convenient. Many have a motor that allows them to be lowered and raised with the flick of a switch or remote control. This means you can wake up in the morning in the dark, and open the blinds to let in the light, without ever having to get up. How fantastic does that sound?
6. Dress it up with a printed valance.
If you are attempting to do some vintage house decorating, consider installing a printed valance. A window valance covers the top portion of the window. This type of window treatment was very popular during the Victorian era. Valances can be installed solo or with additional matching hanging blinds. If you want to get a bit more contemporary, you can order the valance in a print and the hanging curtain portion a solid. Below is an example of symbiotic but unique window treatment.
Do you see how the solids and valance tie all the room elements together? You can do this with virtually any pattern and color you can imagine. This window treatment idea is one of the more sophisticated options.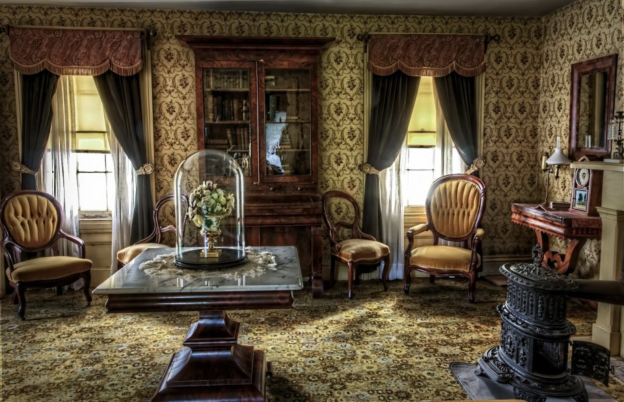 7. Layer it for depth and varied texture.
The days of having to match everything exactly are long gone. Mixing and matching window treatment types can certainly add some spice to your room. Play with the textures and layers of different kinds of treatments. How about a shade with a complimentary curtain or sheers with retractables? Think outside the box and consider some DIY options. Burlap bags, floral bedsheets, and lace applique are just a few of the choices you can use to enhance your treatments.
8. Keep it practical with blinds.
Blinds are arguably the most economical option. (Well, besides bare windows, of course). Blinds are typically plastic. They also tend to be the most economically friendly option. To elevate the look, consider wooden ones. If you can't splurge on real wood, there are some great faux choices. Next, decide which way you would like the slats to hang. For standard windows, the horizontal option is best. If you are looking to cover an expansive piece of glass like a large window or sliding door, you should go with a vertical option.
The number of combinations of window treatments you can choose is endless. Consider them as an investment in the aesthetics of your home. Many stores carry several options in stock. You can also have them specially ordered or even design them yourself. When planning out any room in your home, it is important to include window treatments in your overall vision from the beginning. Be mindful, though, that the treatments should complement the ambiance, not clash with it.
If you are installing new window treatments, you should know how to care for them properly. When you make any purchase, it is good to know how to extend its longevity as far as possible. Caring for your window treatments, as indicated in their specifications, can make them last a long time. Many companies will give you detailed cleaning instructions to follow when you make your purchase. Without consistent deep house cleaning, treatments can collect dust, debris, and fade over time. Leave it to the professionals to ensure they are left sparkling. It is also a good idea to have them periodically ironed or steamed, especially if they are sheer. This will ensure the fabric remains soft and hangs wrinkle-free. Setting up a recurring housekeeping service offers a simple, convenient way to maintain the cleanliness of your home.
Sprucing up your home has never been easier with these eight window treatment ideas. Keep these in mind whether you are a first-time buyer or are just looking for a refresh. Choose sheers for rooms without much natural light. Accent your room's color story with colorful trim or ombre style curtains. Select a patterned fabric to tie it all together. If you want to keep the room's original charm, go with a set of classic shutters. Feeling practical? Get the best night's rest with blackout retractables. You may want to go for a vintage feel instead. This can be accomplished with a printed valance look. Consider layering your window treatments for depth and varied texture. Your final option is to keep it practical with standard blinds. No matter which idea you put in place, you will be thrilled to have a completed look. Not to mention, you will also save on energy bills and protect your privacy.