Setting up a backyard kitchen this year? Unsure of what you need? Don't worry. Just read our list of outdoor kitchen essentials here.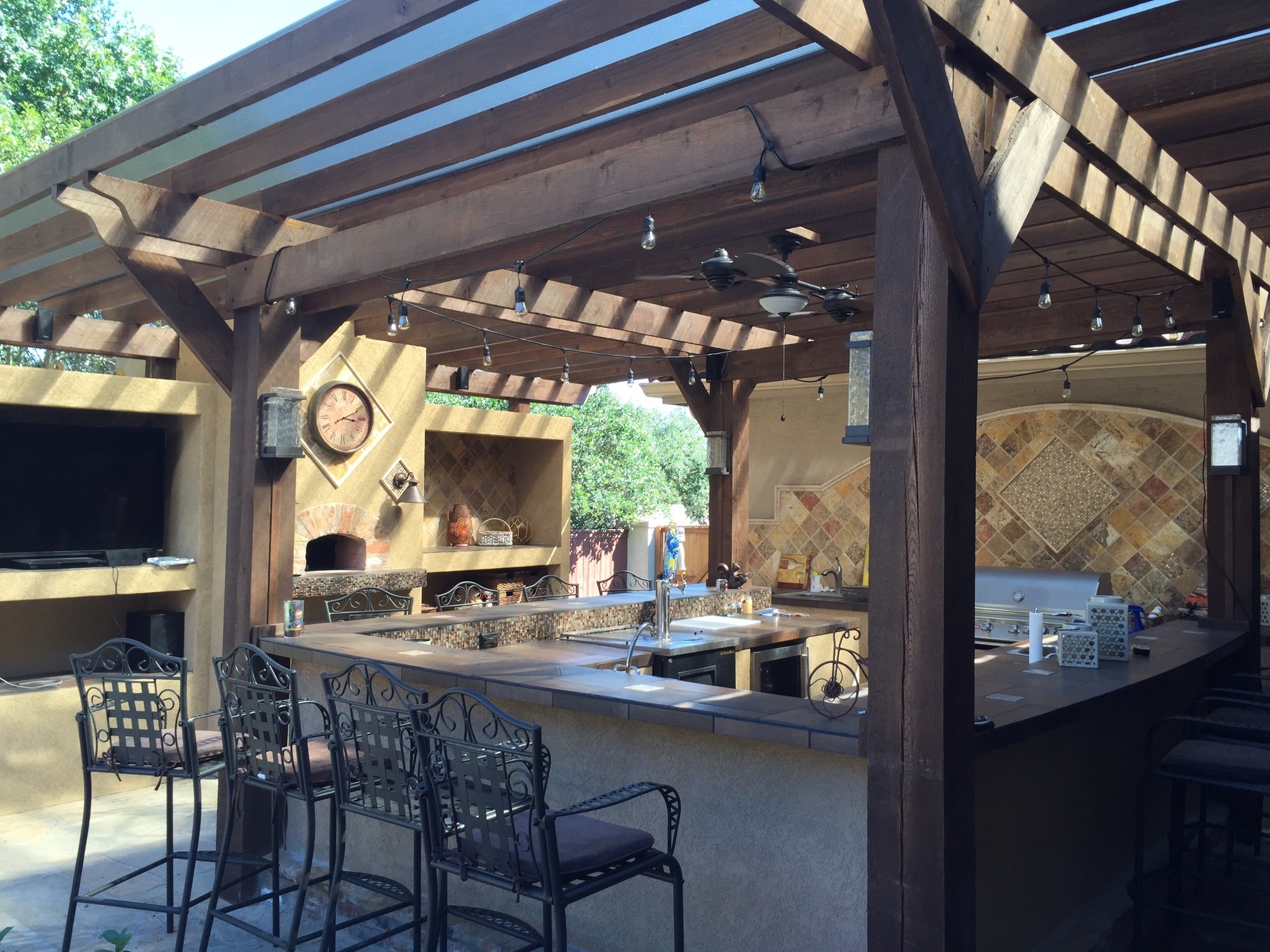 A backyard kitchen won't do much for your curb appeal, but it will add value to your life and home. Studies show that 65% of homeowners experience increased joy while spending time at home after completing a remodeling project.
Apart from your won enjoyment, building an outdoor kitchen also adds that extra appeal that could attract the right buyer if you decide to sell your home.
Here's how to build an outdoor kitchen you'll be proud of.
1. Backyard Kitchen Essentials
There are only two essentials for a basic outdoor kitchen – a grill and an outdoor counter. You can choose between a charcoal or gas grill in price ranges to suit every budget and there's no limit to the design ideas for outdoor counters.
Once you've got these basics set up, you can focus on other additions to make your outdoor entertaining more enjoyable and convenient.
2. Light up the Night
Lighting's essential if you want to enjoy nighttime get-togethers in your backyard kitchen. Lanterns add a wonderful ambiance to the area, but task lighting's a better bet if you plan to do any chopping or other preparation in this area.
There are some wonderful LED options to choose from nowadays that won't run up your electricity bill either.
3. Shady Fixtures
Apart from protecting you from the sun's damaging rays, shade helps keep you cool during the hottest time of the day. An awning or pergola will do, but an overhanging roof's the ultimate solution for cool, comfortable outdoor entertaining.
You can also use it as somewhere to attach an outdoor fan or lighting.
4. Cooking Up a Storm
Apart from a grill, there are several other options for outdoor dining bliss. A smoker's the answer if you're craving some traditional char-grilled BBQ bliss.
Try these backyard oven ideas for whipping up everyone's favorite Friday night meal.
5. Convenient Extras
On really hot days, a refrigerator's the king of kitchen appliances for your outdoor kitchen. You can't beat the convenience of frosty drinks on tap.
A trash can comes in handy in your entertainment area, and storage for your cooking utensils and gas canisters ensures your kitchen always looks neat and welcoming.
6. The Kitchen Sink
While it involves a little extra expense and effort at the outset, an outdoor sink's another great way to keep things tidy. Cooking's easier when there's water on tap, and you can clean fruit and vegetables right there too.
An outdoor kitchen sink helps keep you outdoors with your guests where you belong.
7. Seating Arrangement
Lawn chairs will do just fine for starters, but the ultimate aim for your outdoor kitchen is a permanent seating solution. Outdoor dining sets and patio furniture work well in backyard kitchens.
Yet, built-in seating's easy to achieve and give your outdoor entertainment area a luxurious, permanent feel.
Step-by-Step Home Improvements
The best part about a backyard kitchen is you don't have to splurge on all these items in one go. Once you've got the basics in place, you can add on your desired extra touches as you go along.
Looking for home design inspiration? Keep reading our blog for some great tips on how to make your home more appealing and inviting.