If you are on the market for a fibreglass swimming pool you will find they come in a wide range of different shapes, sizes, styles and even colours! Everyone has a different reason for why they invest in a pool, some purchase lap pools purely for health and fitness, people with limited space love plunge and slimline pools, spas are loved for people who are looking for pure relaxation, and some people love novelty pools to express their personality and interests. There is such an extensive range of swimming pools on the market today that you will be sure to find exactly what you are looking for.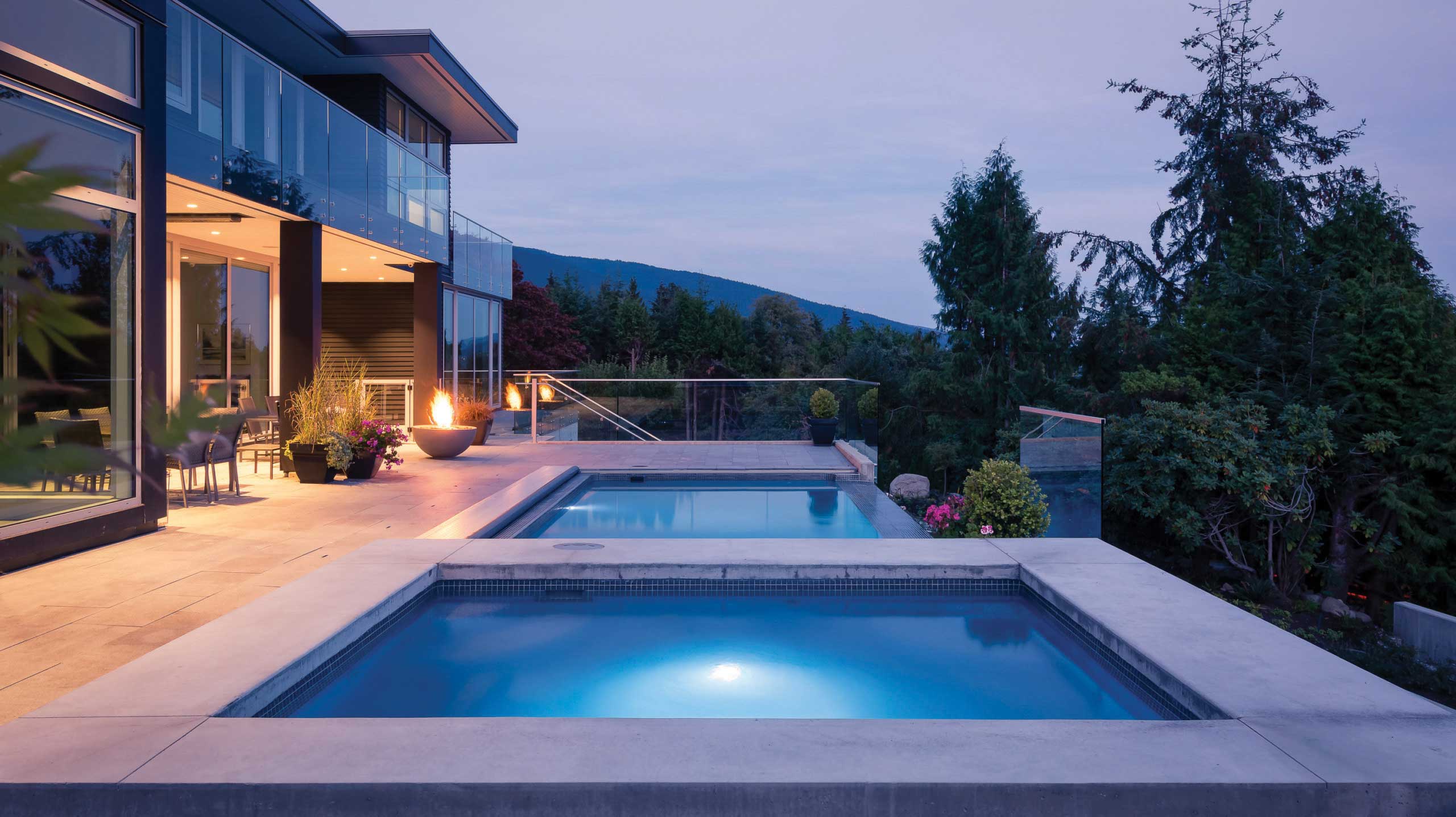 Things to consider before choosing your pool design
Before you decide on what style of pool is right for you there are a few things that will dictate the shape and size of your pool, see below
The amount of land available
The layout of your land
Your budget
Meeting council safety regulations
How much sun exposure your backyard gets
How your pool will be used
Are you wanting a joined or separate spa?
All these things need to be discussed and thought about thoroughly before making the final decision for your swimming pool, for example maybe you have a large amount of land but still want to be able to keep some space available for sport and games, in that case, a medium-size pool would be more suited than a large size. Purchasing a swimming pool is a huge investment, it would be a very expensive task if you decided to change your mind. Let's take a look at 7 popular shapes and designs of fibreglass swimming pools.
1- Square Plunge and Courtyard Pools
Plunge and Courtyard pools are a fantastic choice for someone who has limited space, they both have all the amazing features of a regular size pool just in a smaller size to suit your land space. These type of pools are normally square in shape. Plunge Pools are a great choice for the environment as they use less water and smaller amounts of chemicals for cleaning. Thie filter systems use less electricity which means they don't need to work so hard which is also positive for the environment. These smaller style pools can be positioned in just about any area, here at Barrier Reef Pools our Plunge pools still have a depth of 1.6 metres which still allows you to jump in and have some fun!
2- Rectangular Pools
Rectangular pools are increasingly becoming the most common type of pool. Its versatility is what makes it such a popular choice, it is suited to be used for such a variety of things such as swimming laps, water sports, relaxing, learning to swim and pretty much anything a family loves to do in the water! Rectangular pools are a classic and will never go out of style. They are also one of the easiest styles to install and also easy to maintain a organise a pool cover for. The rectangle pool offers so much flexibility when it comes to the depth, for example, you could have your pool deeper in the middle and shallow down each end, the choice is yours.
3- Oval and Round Shape Pools
Oval and round shapes do have some similarities as the rectangular pool except they are no good for swimming laps and not the best for pool sports. They are normally shaped very similar to an oval and come in an extensive range of different shapes and sizes. You may see an oval pool with an impression however this type of pool is still classed as an oval as its the indentation is not deep enough for it to be a kidney-shaped pool. Oval pools are very chic, modern and timeless, it will always be on-trend. This is a popular choice for families with kiddies, you will generally find that oval pool are have shallow ends and go deeper as you head towards the middle.
4- Kidney Shaped Pools
The Kidney Shaped fibreglass pool looks exactly as the name states, it is shaped like a human kidney. This type of pool has a fun feel to it, with one side being asymmetrical in length and the curves lead around to the top as it caves in. The kidney pool is another one that has been around for many years and has proven to be a classic which will never go out of trend. It is also modern and chic and gives off a fun party vibe. The only downside to the kidney pool is finding a pool cover to fit, you might be lucky enough to have one custom made to suit the shape. This shape of pool can come in a variety of different depths, we have found the most common seems to be having the opposite ends at different depths. This is a fantastic style for someone wanting a more natural feel for their backyard.
5- Roman Style Pools
Most of the time the Roman Pool is rectangular in shape, with both sides of the length being straight then shorter sides are curved to meet the length. They are known as the "Roman" Pool as each design is very similar to the style of baths the Romans used in ancient times. The design gives off a real classic vibe with the steps being at each end at the curves. This style has always been on trend but is best suited to homes that have a roman or greek theme and architecture. The Roman pool is a great choice for swimming laps, pool games and sports, and it can be built to have a range of different depths.
6-L Shape Pools
The L Shaped Pool is just that a pool shaped like the Letter L. If you can imagine to rectangle pools horizontal to each other, that is what it looks like. This type of shape and design will take up quite a lot of space but in saying that it has so many amazing benefits and can also have various depths to the pool. The design means the pool can be divided into 2 separate areas, and one area is commonly used as a tanning ledge. You could also have the shorter side as a shallow end for children and the longer end a deeper depth for adults. The L shaped pool is generally purchased due to its functionality, not its design. This type of design is fantastic for anyone who has a lot of space to use, has children, will swim quite often, loves swimming laps, and pool sports, want a variety of different depths and for anyone wanting to use a diving board!
7-Free Form Pools
There are several different types of free form fibreglass pools on the market today. They tend to mirror the natural flow of water. A lot of the time they are installed a bit back from the house to give an oasis tranquil vibe. Most customers that choose a Freeform pool tend to have a lot of beautiful landscaping around the pool such as palm trees and lush plants and flowers. This style of a pool can have dramatic curves to give off a modern and chic vibe or if you are looking at being able to use as much swimming space as possible then a more wavy relaxed style would be the better option. The freeform pool is for anyone looking for something less formal, natural shape and used for pool games and family fun!
When it comes to fibreglass swimming pools there are several different shapes, styles and designs available today. Barrier Reef Pools have been providing top quality fibreglass pools to homeowners across Australia for the past 30 years. We pride ourselves on exceptional customer service, excellent workmanship and our extensive range of fibreglass pools are simply second to none. If you are in the market today for a top-quality fibreglass pool then give us a call today and our friendly team will be happy to assist you in any way we can!