Imagine this: at the end of the day of a tiring day, you sit down at dinner with your family. With this in mind, you expect comfort and a warm setting, right? A dining room should be a place of comfort, where the family gets to enjoy meals. The environment plays a significant part in this.
If you are planning to redecorate your dining room, continue reading:
Color scheme
The color scheme can make or break a room—the same goes for a dining room. There is no rule that a dining room should have a light color scheme; darker colors can work as well. When choosing a color scheme, pay attention to the natural lighting in the room. If a place receives less sunlight, choosing a dark color scheme might make the room dull and darker, unless you want the room to look that way.
Neutral colors can help achieve a subdued and relaxing mode. However, for an extravagant look, you can go for deep brown and darker shades.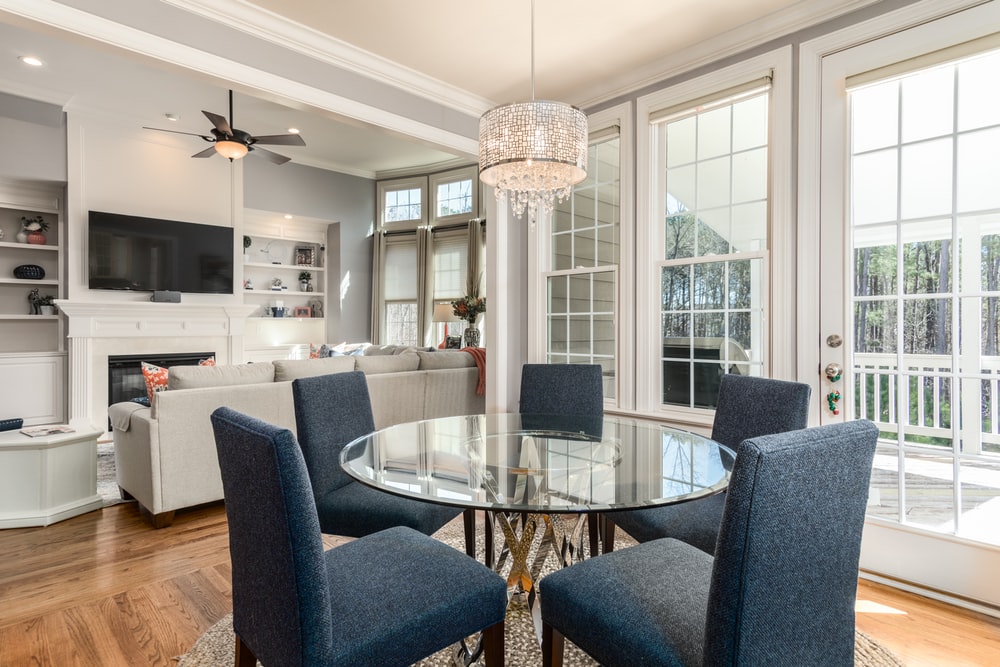 Dining table
The dining table is the most significant piece of furniture in a dining room. So choose a table wisely. Compare prices from different retailers. Gone are the days of heavy oaken dining tables. Modern designs, such as those found at room service 360, look equally marvelous.
Walls
If you want to keep a neutral color scheme throughout the room, you can play with textured walls. For this, wallpaper is the best choice.
Darker colors also work on dining walls. Over time light-colored wallpaper may fade, but fading in darker colors does not appear as striking.
Accessories
Make your dining room look alive by adding flower pots and jars to the table. Moreover, adding drapes to the dining table adds a subtle yet exquisite touch to the room. Add a fruit basket to the table, and your dining room lifts immediately.
Style
Styles for a dining room vary from traditional to contemporary. Conventional dining rooms may have a wooden table with six to eight chairs. However, a modern dining room may skip on chairs and have a heightened sofa setting along the wall. You can add cushions to the sofa as well.
The style you choose for your dining room is a personal preference. It doesn't have to be one way or another. What you choose should be comfortable for you.
Flooring
Flooring in a dining room should serve practical purposes, apart from being aesthetically pleasing. Carpets are often an obvious choice. However, carpeting gets dirty over time; food spills on the carpet can lead to stains that can be hard to clean.To avoid this, you can have wooden panels installed. If the price of the wooden flooring is a pinch point for you, you can use hybrid vinyl flooring that comes in a range of colors, sizes, and patterns.
Conclusion
Dining rooms are an important place in the house, where meals and merriment occur. When decorating a dining room, get creative, and follow your intuition. Keep things simple and fluid for relaxation.