1. Vintage-inspired sconces
Photo Credit: @benherzogarchitect
Photo Metadata: vintage-inspired brass wall sconce home decor
This style of sconce is so popular these days in part because brass is making a massive comeback. More and more, people are balancing soft textures with harder ones, but in an effort to get away from man-made materials, metals are increasingly sought after. Brass is a popular choice when it comes to adding metallic details to a room because of its timeless aesthetic. It is softer than stainless steel and not quite as antiqued as gold.
The reason why this particular sconce design works so well in a bedroom is that the bulb is fully covered allowing for diffused, yet focused light which is perfect for reading in bed.
2. Vintage botanicals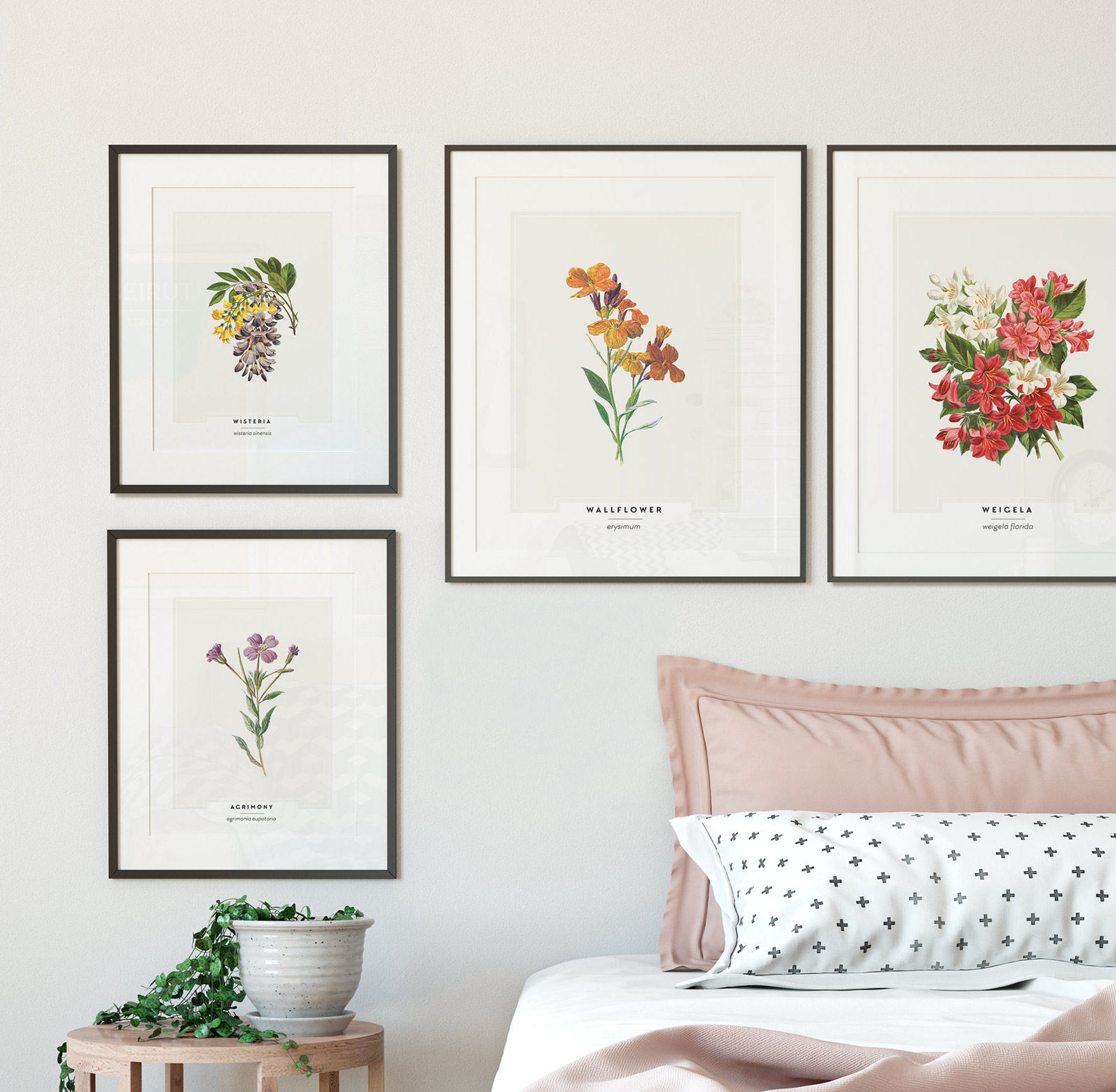 Photo Credit: @citymapprints
Bring the outside in with plant life that never wilts. Incorporating vintage-inspired botanical prints into a modern decor adds a touch of traditional sophistication. The soft colors and delicate linework typically found in vintage-style prints make them the perfect addition to a layered vignette above a small cabinet or incorporated into the decor of a small space.
These vintage botanical prints are easy to frame and can brighten up even the darkest of spaces.
3. Neutral bedding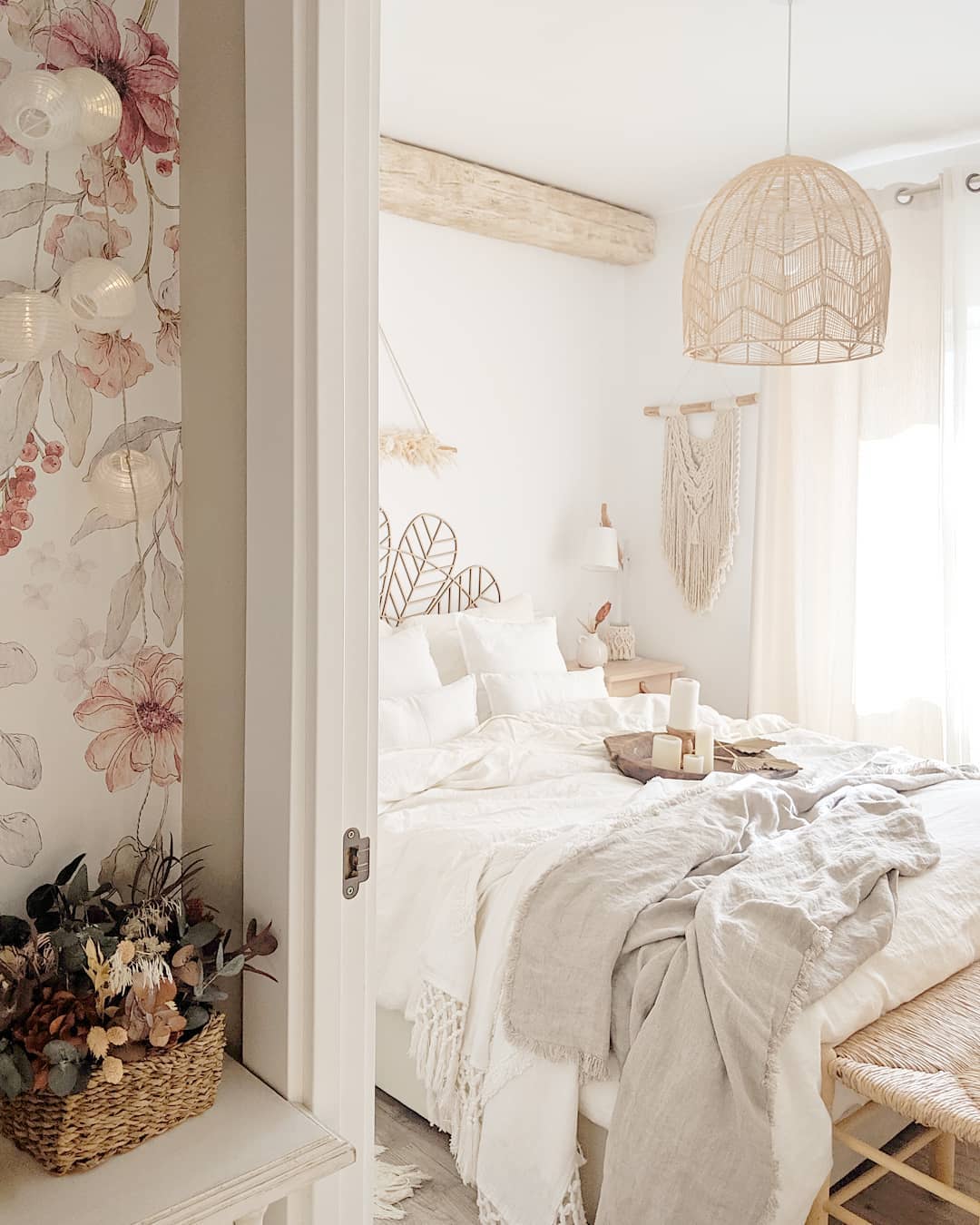 Photo Credit: @decomamichic
Photo Metadata: linen neutral bedding home decor
Neutral linen bedding is such a popular trench right now because it makes the user feel relaxed and comfortable. Less stark than the crisp white bedding you find in hotels and lighter than the bedding you probably had in your first apartment. Light, neutral tones show you know about quality fabrics and are prepared to care for them. It's an immediate sign of luxury, but doesn't need to break the bank. Tip: while linen is a type of fabric made from flax fibres, the term "linen" is often associated with a soft neutral color palette. If you're drawn to these colors, but want your bedding to always look crisp and freshly washed, look for high thread count cotton sheets in off-white colors. Don't be afraid to mix and match the palettes by buying duvet covers, fitted sheets and top sheets from different brands in order to achieve the layered range of color tones you're looking for. This not only allows you to shop for deals at bargain shops like Marshalls and Winners because you're not looking for complete sets, but if one sheet attracts a stuck-on stain, you can just replace that one piece without it looking like you've broken up a set.
4. Trim accent wall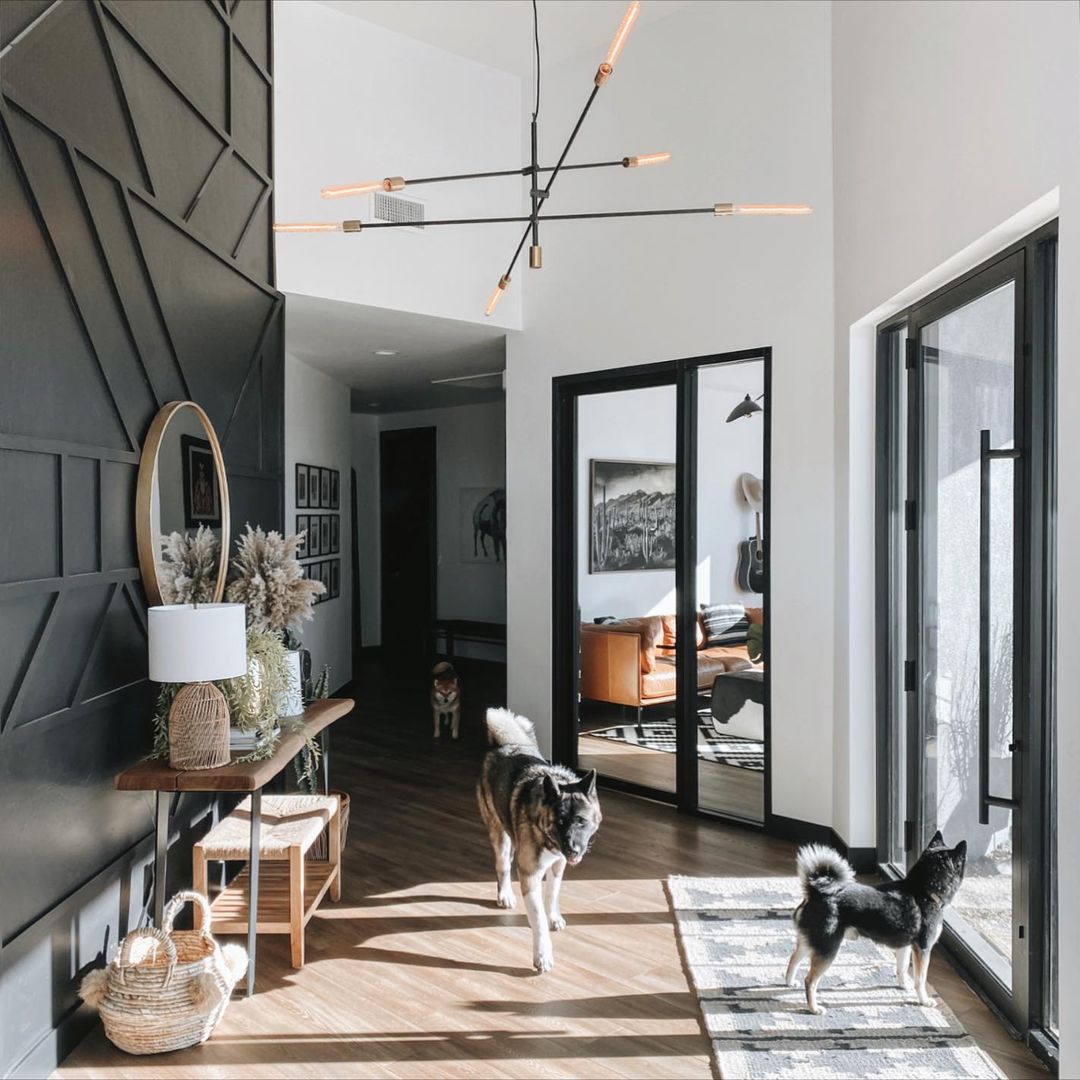 Photo Credit: @athomeinthedesert
Photo Metadata: diy wood trim accent wall diy home decor
A trim accent wall is not only something you can accomplish yourself in a weekend, but it is a fantastic way to create an accent wall that doesn't rely on art. If you're looking to spruce up a small bedroom, adding framed art prints or canvases to the walls can sometimes make the room feel smaller. Instead, a full-size trim wall attracts the eye from floor to ceiling making the room feel larger.
All you need to accomplish this wall installation yourself:
1. For a slightly softer look, and one that is a bit easier to clean, I recommend using pine screen moulding which can be found at any hardware store.
2. You'll need thin steel nails to attach the trim to the wall
3. A hand saw and miter box to cut your pieces
4. Sandpaper and sanding blocks to sand down the cut edges
5. Filler putty to fill in any gaps between connections for an extra polished look
6. And finally, your paint color of choice. To truly make this an accent wall, consider painting your wall two shades either lighter or darker than the color you used on your other walls.
5. Black and white accent rug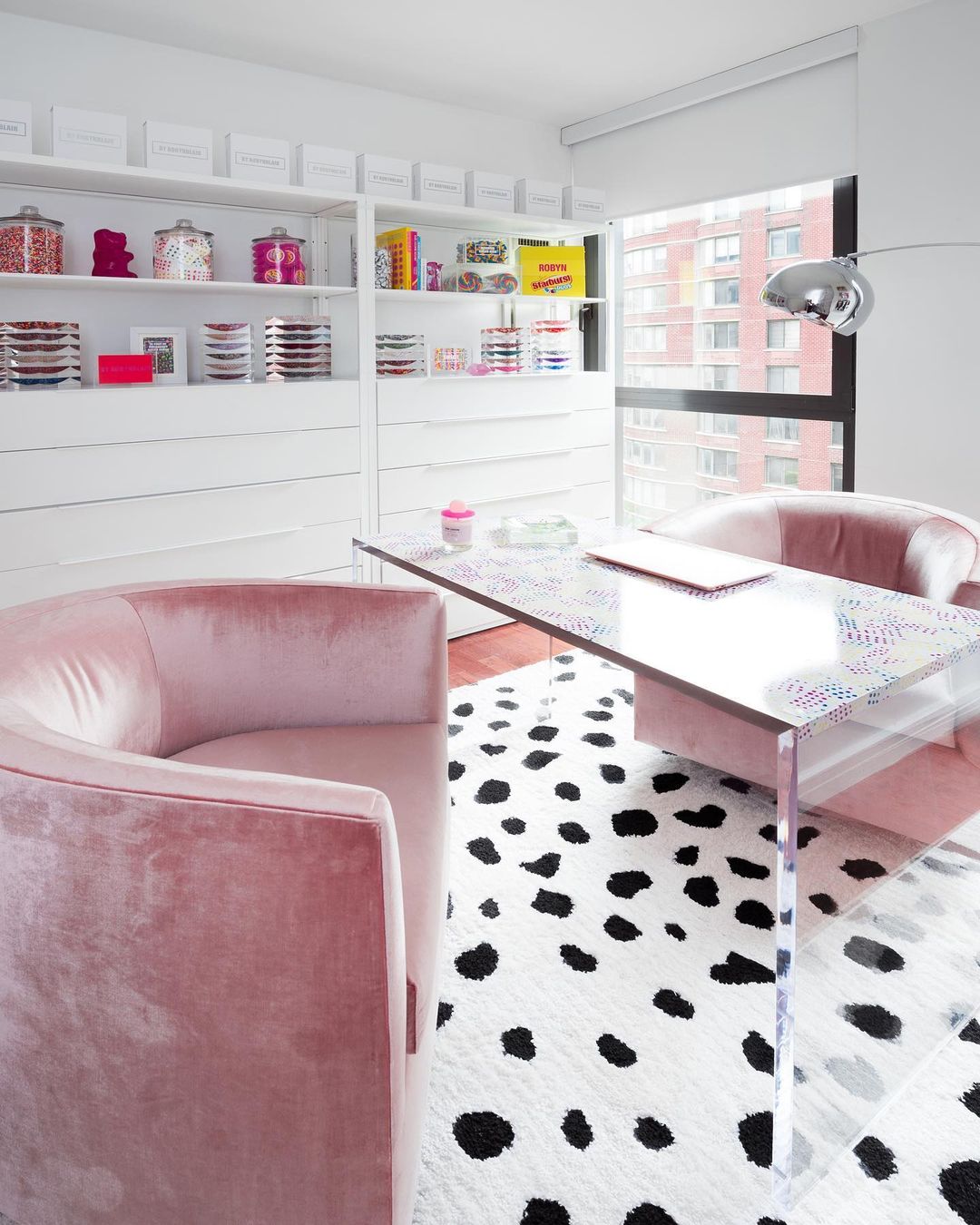 Photo Credit: @carawoodhouseinteriors
Photo Metadata: black and white painted diy accent rug home decor
The beauty of a black and white accent rug is that it's neutral palette allows it to match with any other colors you have in the room. If you like to change up your style often, then this might be the perfect thing to tie your room decor together because this rug will go with almost anything.
For a DIY solution to recreating this look, here are the supplies you'll need:
A neutral colored flat woven or low pile rug
Soft fabric paint in your color of choice, in this case black. Tulip paints make a great option.
A sturdy paint brush and some masking tape (optional)
Once you've gathered your supplies, it's time to plan your design. An organic pattern like in the photo above is the easiest to accomplish. You can easily achieve this look simply by making random splotch shapes on your rug in the black fabric paint. If a geometric pattern is more your speed, use the masking tape to mark our a pattern and paint between the tape lines. Once your paint is completely dry (about 24 hours), remove the tape and you'll be left with a crisp geometric pattern on your rug that is sure to impress.
6. Mural walls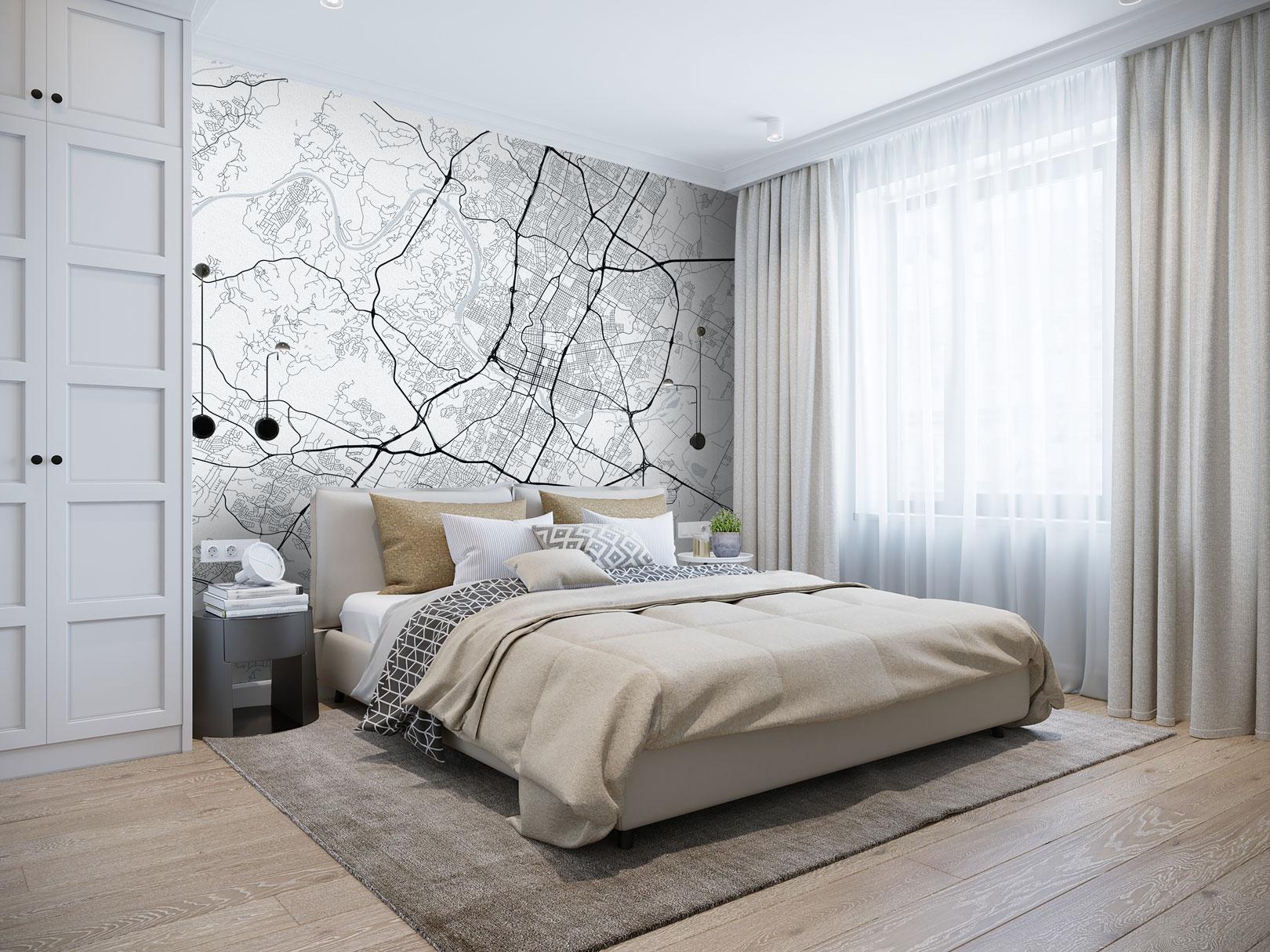 Photo Credit: @citymapprints
Photo Metadata: custom city map wall mural diy home decor
Wrap around murals are such a popular choice right now in part because they completely transform a space in one simple design choice. If you're looking for maximum impact but want to limit the amount of art, fixtures and installations you use, then a multi-wall mural is a great option to consider.
This is not your grandmother's wallpaper and gone are the days of old-fashioned repeating patterns. There are many options available that feature single wall-sized vignettes. Most of these options are available in a removable material that will leave your wall undamaged should you want to change up your design down the road. Your mural will most likely come in 24" or 48" panels. One thing to keep in mind when evaluating which panel size you choose is your confidence to install it. While 48" panels leave you with fewer seams which creates a slightly more professional finish, the 24" panel option is a breeze to install.
For a completely custom look, you might want to consider looking for a company that specializes in both the design and printing of wrap-around murals. While you can find plenty or mural designs on sites like Society 6, they're often only sold in set sizes which might leave you with too much left over material or not quite enough depending on your wall. If you seek out a company that manages both the production and the design, you'll be able to have a mural designed to the exact inch of your wall dimensions. Point Two Design Group specializes in creating city map murals of any city in the world, all designed with your exact room colors and scaled to fit any wall dimensions perfectly.
Final tip for wrap-around wall murals: if you're looking to purchase a home and turn it into an AirBnB, this is a great way to add maximum and memorable impact to a room while offering you the flexibility of easily changing it down the road.
Conclusion:
The next time you're scrolling through instagram and a gorgeous room catches your eye and you find yourself suffering from design envy, pick one thing from the design that really speaks to you and see if you can find a creative way to recreate it yourself. DIY solutions or some clever online bargain hunting will often do the trick. By starting small and focusing on one design upgrade at a time, you'll give yourself plenty of time to settle into your own personal style, without breaking the bank all in one weekend. Give it a go!