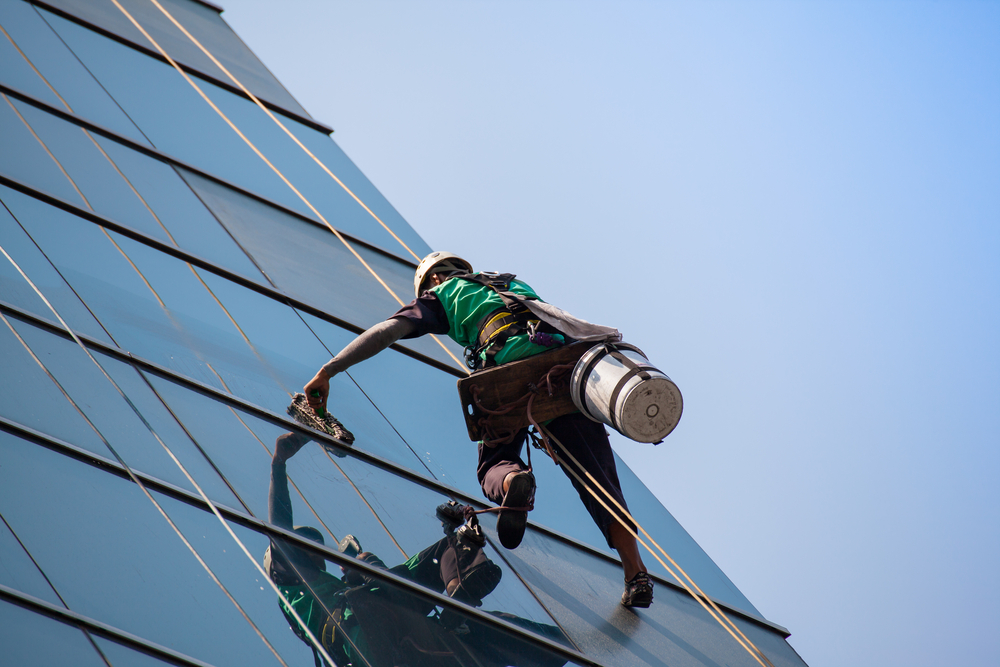 For high-rise buildings in cities, accumulation of dirt, dust, and other pollutants on surfaces is to be expected. The proximity of a building to high volumes of vehicle traffic or industrial areas makes it subject to increased air pollution. A building's proximity to large sources of water also makes it susceptible to algae and mildew.
Pressure washing a high-rise building's surfaces is an effective method to address these potential problems. Pressure washing involves powerful streams of water emitted from a pump. The water can vary in temperature depending on the task at hand, and the strength of the stream removes unwanted substances from surfaces.
These are some frequently asked questions about high-rise pressure cleaning, and how it can benefit your building.
1. How regularly do facades need to be cleaned?
It is recommended that a building's façade is cleaned annually at a minimum. Scheduling annual pressure washing will prevent the build-up of dirt, grime, or other substances that can cause hard to remove stains. Also, keep in mind that residue that is leftover time can end up damaging the material of a building's façade.
Though an annually scheduled pressure cleaning serves as a guideline for high-rise buildings, there are certain conditions that contractors will consider in order to assess exactly how regularly a façade should be cleaned. These can include:
The location of the building
The atmospheric conditions that affect the building
The materials the building has been made with
2. Which methods are used to clean a high-rise building's façade?
Most high-rise buildings can be effectively cleaned using one, or a combination, of these three methods: abrasive, non-chemical, and chemical.
If dirt or grime needs to be removed from a building's façade, non-chemical water pressure provides an effective solution. If parts of the building's surface have developed stains, chemical cleaning agents may be required to remove them. The effectiveness of pressure washing can be attributed to being able to adjust intensity based on the job at hand.
3. Which factors can damage a high-rise building's surfaces?
Something many people don't realise is that a predominant source of damage to a building's façade comes directly from the materials the building is made with. Brick, sandstone, windowsills, granite, and masonry can all be sources of salt or minerals that, when transferred onto a façade, can lead to deterioration and stains.
4. Why do contractors recommend rope access façade cleaning?
Rope access cleaning allows the most versatility for pressure cleaning professionals. It allows adjustment of a team's setup, providing access to difficult to reach areas of a building. Rope access also removes the need for scaffolding, in turn minimizing the impact on a building's tenants and businesses.
5. How is pricing evaluated for high-rise façade cleaning?
Contractors consider these three factors when evaluating the cost of a high-rise cleaning project:
The building's height and type
The building's accessibility
Weather
Contractors will decide on the size of the team required, and from there they can assess how much this team can achieve within a day. This will give an idea of the wage rate per day.
The higher a building is, additional safety procedures and work are required, which is another cost factor. Jobs may also take more time if the weather is not suitable, or teams need to adjust their position due to wind.
As a guideline, a minimum quote from a contractor will often estimate two cleaners working for three hours. However, because every high-rise building is unique, contractors cannot provide a fixed rate or price without first performing a site inspection.
By maintaining a cleaning schedule of twice a year for your high-rise façade, you will avoid problems that arise from unclean surfaces, minimizing your expenses over time. It can be beneficial to consult owners or managers of similar buildings to your own and seeking their recommendations for contractors specializing in high-rise façade cleaning.