Dining room is an important part of your house where you would sit for dinner or for having a cup of coffee with your better half. Therefore, to have a fun time out there, you need to decorate it well. Since the dining rooms are smaller in the UK most often, you have limited space to adjust your dining table and chairs set. In addition, you are often on a budget when trying to decorate this area.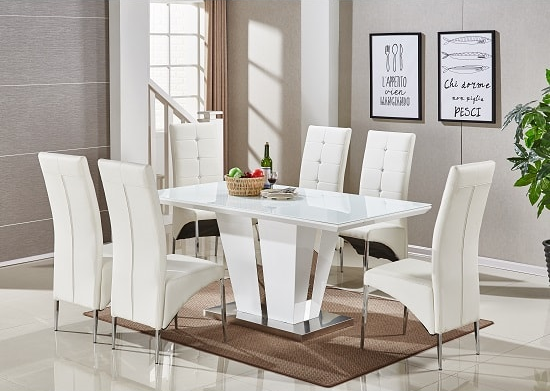 It does not matter if you're on a budget if you are smart and creative enough to fill the space well. You just need to make the right decisions in order to decorate your dining room in an ideal manner. Since you are on a budget, we have come up with some tips. If you follow these tips, you will definitely avoid breaking the bank for decorating your dining room. So, here are the tips to follow!
1. Get a Round Dining Table
It is important to get a round dining table whether small. A small round table will cover less space and it would be a cheaper option as well. Since you have reduced space to adjust the dining table and chairs set, a round table top is ideal. It will decorate your room well and will leave enough space to place as many chairs around it as you want.
2. Get an Extending Dining Table
If you're on a budget, a perfect tip is to get an extending dining table. You can go for a smaller one and a cheaper one. The advantage is that you can extend its size when required. It can fit well in a small space and when needed to seat your guests, you can enhance the size and seat them.
3. Natural Lighting Rather Than Artificial Lighting
Lighting is an essential in a dining room. Lighting is key to decorating your dining area. If you are eager to add lights, better arrange natural light. Nothing can beat the natural light in terms of beauty. Sunlight coming in from a window is better than artificial lights. This is why you must have larger windows in your dining rooms.
4. Get a Small Storage Unit
You can buy a cheap storage unit for your dining room. Storage units are usually cheaper, and if you go for a smaller one, it would be even better in terms of budget. A few drawers will help you store some important accessories and will also work as table tops to place magazines, books, and similar accessories.
5. Buy From a Fully Stocked Furniture Store
Keep in mind that you must buy from a fully stocked furniture website. Buying from dropshippers would prove to be expensive. A fully stocked furniture store such as Furniture in Fashion has lower prices. If you buy a dining table from this store, you will end up buying the best dining table at the cheapest price. So, follow these tips if you're on a budget to decorate your dining room!