Carbon monoxide is a very dangerous hazards, especially in winter when people starts using heaters and other burning equipment to make the house hot.
But before getting the topic, let me you about what carbon Monoxide gas is!
This is colourless and odourless gas and therefore it is difficult to detect and silently it strikes victims when they are in sleep.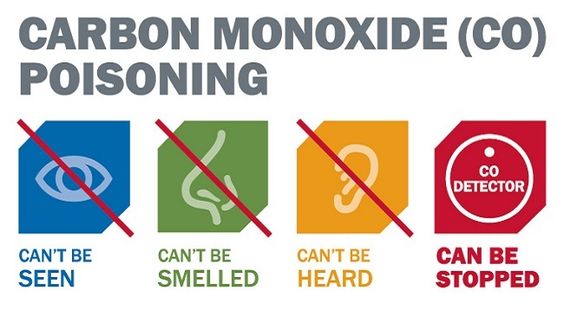 If you look at the reports published by Centres of Disease Control and Prevention, more than 400 people in US die because of the carbon monoxide poisoning and more than 20,000 goes to emergency. Apart from this, there are 4000 more people who are hospitalized every year.
How Carbon monoxide is produced?
Carbon monoxide is also known as "the invisible killer". The gas is mostly produced by the burning of fuels in cars and trucks, portable gas generators, stoves, lanterns and grills.
When this gas builds up in the closed room or environment then it can poison all the people who are inside that closed space.
However, even if there is a proper ventilation, your safety is not guaranteed.
How to prevent the poising from carbon monoxide gas?
According to CDC, the people who have chronic diseases like heart attack, anaemia, breathing problems are prone to illness and death. But, carbon monoxide is a gas which doesn't discriminate among infants, young or elderly.
Winters are specially the prime time for the release of this gas as people use several heating devices which releases carbon monoxide. Therefore, you need to take extra care in winters.
The National Safety council says that you must install a battery powered carbon monoxide detector in your hallway and bedrooms. These detectors have a maximum of 5 years of life and therefore, you should replace these detectors in every 5 years.
Some tips for preventing the gas
Every year, get your appliances like heaters, furnaces and coal burning appliances serviced by a professional technician.
Never use the chemical heaters inside your home.
Get your chimney serviced and check for the cleanliness of it.
Gas oven produces carbon monoxide, so don't use inside the home.
If you use generator, then it is better to place them 20 feet away from windows, garage and basement vents and doors.
If you have a garage, that is attached to the house then never run car inside the garage. However, if you run the car better to open the garage door first.
Symptoms of Carbon Monoxide poisoning
The US fire Administration has put together a lot of symptoms that is found in a person suffering from it.
These are the listed symptoms that US Fire department has listed in their website.
Since Carbon Monoxide is a colourless gas, it is very difficult to know when people get exposed to it. When a person is exposed to it, the symptoms are same as that of a flu but the person doesn't have fever in this case.
Some of the symptoms are
Headache
Dizziness
Breathing problem
Nausea
Fatigue
But when the level of poisoning increases, the symptoms become more severe
Mental confusion
Vomiting
Unconsciousness
Coordination problem in muscles
Ultimately leads to Death
So, if you are feeling any of the above symptoms then it is better to go outside and get some fresh air.
What to do when carbon monoxide alarm sounds?
According to Consumer Product Safety Commission, if Carbon monoxide alarm sounds, never try to find the source instead run outside of your house.
Move out and get fresh air
Call for emergency help like fire service and 911.
Check everyone has come outside of the house.
Do not try to enter the house unless emergency service give you the permission.
Potential Health effects of Carbon Monoxide
The main route of exposure to carbon monoxide is inhalation. However, there are many other routes which can be effected by the CO gas.
Inhalation – The gas is very toxic and when inhaled it mixed with the blood and ultimately your blood will start carrying less oxygen. You will have headache, nausea, confusion and dizziness. But it can cause permanent damage to the other organs and even brain and heart.
Skin contact – The gas is not irritating to the skin but if exposed directly to the gas then they can freeze or chill the skin. Symptoms when exposed to gas includes stiffness and burning sensation. The skin becomes either yellow or white.
Eye contact – Carbon monoxide gas is not irritating to eyes. However, the direct contact of the gas will freeze your eyes which will result in blindness and permanent damage to your eyes.
Long term exposure of the gas – If you have got the exposure to the gas from the long time without knowing that you are being exposed to CO then you may have heart problems or get a nervous breakdown.
What precautions to be used when working with CO?
The handling of CO should therefore be limited to experienced personals only. So, when you are working with the gas always keep the precautious measures and tools handy.
If there is a leak, then immediately put the escape respirator and exit from the place. Keep the ignition equipment and the heat producing equipment away from the it.
Always store in an area which is cold and dry, well ventilated and away from direct sunlight. If you are storing up the cylinders then keep it in upright position to a wall, or a rack.
Wrapping it up
Carbon monoxide is a very dangerous gas which always goes undetected and therefore can several problems. So, it is better to keep a battery powered detector so that in case of emergency you can take care of yourself and your family.
Follow the instructions as given by CDC and do the necessary methods of prevention. Also, In COVID-19 Pandemic, It's better if you stay at home & Do fun activities like Playing casinochan.
I have covered all the details about the gas, the preventive measure and the symptoms that you can have if you get exposed to the gas. If you still have any doubt, Feel Free to leave your comments below