Do you have to leave your fan running because you can only sleep with "white noise?" Have you ever tumbled and turned because it was too hot or too cold – do these factors have disrupted your zzz's?
These interruptions are often overlooked, but you're going to spend one-third of your life inside your bedroom. Think about all the hours you spend on your bed frame with headboard while you're sleeping, not to mention a lot of hours you've spent awake in your room.
Of course, your bedroom should be intended to make sleep the best you could have every night. It is essential so you can get a rejuvenating and adequate rest you need for the next day.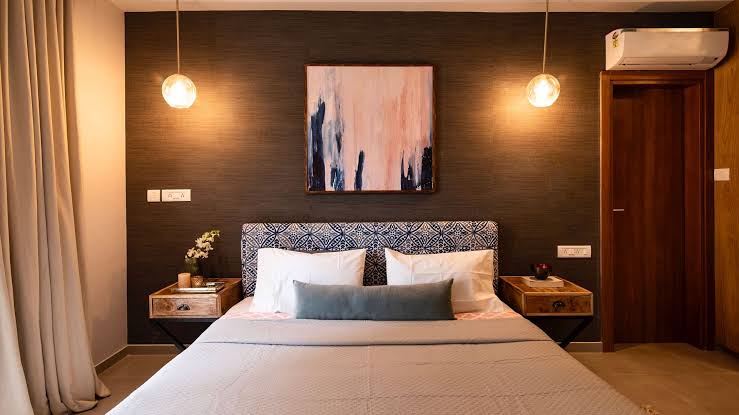 Many of us know that our sleeping environment can have a significant impact on how we sleep. However, are you doing all you can to turn your bedroom into a sleeping haven? Here are four things you need to consider to improve the quality of your sleep.
Room Temperature
Sleeping in a cold room plays a vital role in how it initiates better sleep. The perfect sleeping temperature falls around 60- and 67-degree Fahrenheit, and as you sleep, your body temperature gradually decreases. Exposing your body to a more relaxed environment helps to induce sleep that allows you to go through all the stages of the sleep cycle.
Temperatures beyond this range can interfere with your rapid eye movement (REM) phase. It is a restorative stage of your sleep and where your brain processes many of your daytime experiences. Interruptions at this stage may push you to try to catch up, which may result in grogginess and a sense of exhaustion, even though you've had enough sleep.
Throughout the day, these sleep phases are vital to our cognitive processes that may impair our brain functions in decision-making if interrupted. It's also harmful to your overall health as it can also slow down your reaction times. Sleep deprivation is the primary cause of accidents involving vehicles and manufacturing operations. It doesn't only affect you, but also everyone that surrounds you.
So, before you head back to your bed, it's better to check the temperature of your room for better sleep.
Lighting
Light regulates the circadian rhythm and sleep-wake cycle of your body that allows us to sleep at night. That's why when you go to sleep, you switch the light off. Though most people can sleep with dim light, it's better to sleep in a darker room.
Blackout shades, as well as sleeping masks, can be a big help in this matter. Those items can block all external ambient light from the street lights, and even the moon and stars. It also keeps the light out of the sun so that you won't wake up sooner than you would like in the morning. Plus, moving the curtains back and being greeted with the direct sunlight when you wake up will encourage your body to get energized for the next day.
Moreover, adding a lampshade in your bedroom can soften the light to make it more inviting. Consider setting up dimmer switches so that the light in your bedroom can be gradually reduced, like the sunset. If you can, use low-wattage lights in the bedroom, and avoid stimulating electronic devices.
Noise
Modern houses aren't built to make the bedrooms quiet. Usually, the architect separates the bedrooms from the common area in bigger houses. However, the materials used to construct these rooms are rarely intended to block the sounds.
Furthermore, the external noise might matter based on street activities and the bedroom's position. Also, sleeping with snoring people can cause a problem. If you have a quieter surroundings in your bedroom, you'll definitely have a better sleep. Even though you are exhausted enough to slumber in a noisy environment, your sleep will probably be restful. Loud sounds can alert your mind and keep you in the initial stages of light sleep.
To feel utterly restorative after sleep, you need to sleep all through the night and have an appropriate amount of deep sleep. Several things help block sound, such as earplugs, to help you fall asleep. Finding white noise allows many people to fall asleep.
Unlike those uncontrollable noises, the continuous background sound of white noise is good for sleep. White noise items are readily available, you can find surprising in some ways. Fans, humidifiers, and ventilation systems, for example, can all be used as white noise.
White noise devices are tiny speakers that you can plug into your bedside table, producing a constant white noise sound. Throughout recent years, white noise smartphone apps have become extremely popular because they offer large, updated continuously sound libraries. You will not only love different white noises, but you can also choose ambient sounds or natural sounds such as gushing of wind or sound of crickets.
Have you ever noticed how it's easier to sleep on rainy days? The rain's sound is white noise. Moreover, it cleans the air, leaving a smell of freshness, and some individuals find it much easier to sleep. You can use a tiny fountain or a nature sound library to replicate the soothing sound of rain in your home.
Sleeping Surface
For the most part, people sleep better when in a horizontal position and not compressed by space. Your sleeping surface plays a role in getting enough sleep. For instance, flipping and tossing on a 20-year-old lumpy mattress doesn't help your back or neck. Instead, it may keep you from getting the sleep you need and make you exhausted the next day.
Mattress experts believe that consumers too often think that super-firm beds are perfect for them, but research on patients with back pain found that this wasn't true. A supple, more comfortable mattress could result in better sleep.
What should you do?
Give sufficient room for yourself to sleep. If you're sharing a bed with your partner, make sure that your bed is big enough to give you both space to move around. Replace your old mattress with a fresh one. Choose a mattress that best suits you and will be comfortable all night long.
Consumer Reports found that consumers who tested each mattress at the store for 15 minutes or more are more likely to be happier with their buy. Find the shape and production that supports your neck and head and is most comfy when selecting pillows. Also, you should frequently change your cushions. If you have allergic problems or asthma, you may want to buy hypoallergenic covers for your memory foam mattress to protect you against potential allergic triggers.
If you have enough budget for your sleeping surface, you should opt for a bed foundation that will suit your needs to enhance your sleeping experience. It's essential to do some research for a smarter buying decision. Moreover, you could even find an online website that provides you with the ideal bed at a low price. Just remember that there's always a perfect mattress for you, so don't settle down on your first choice.