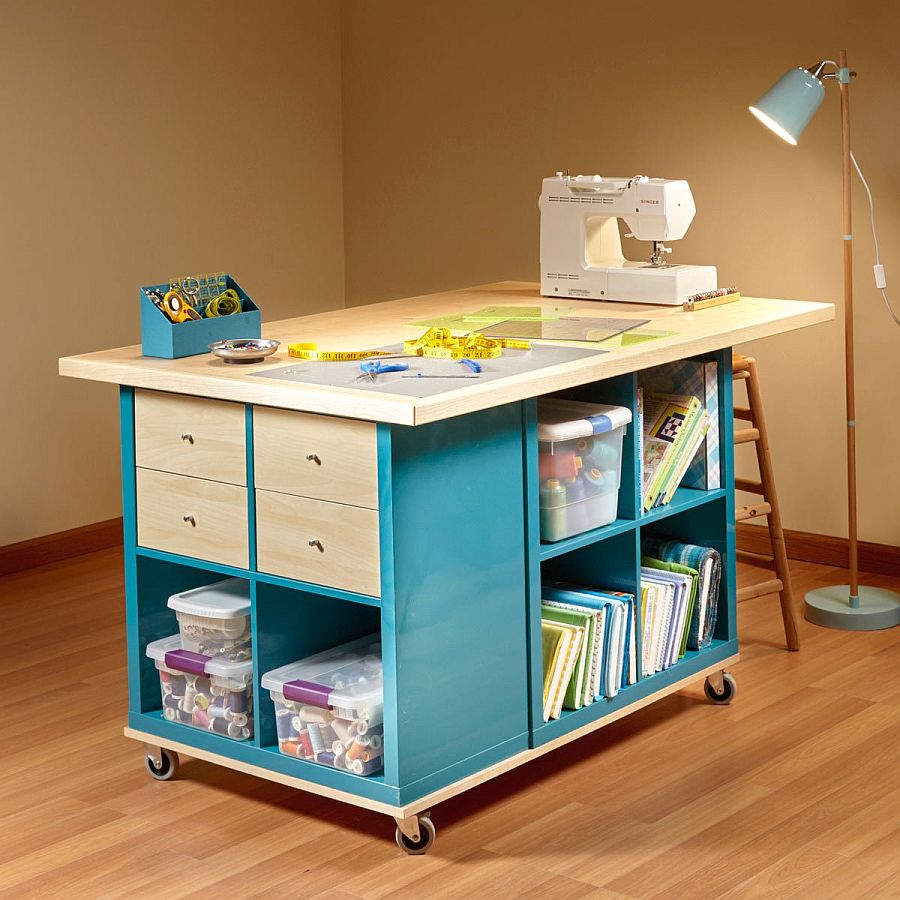 Getting a desk for your room seems like a chore. While that may be true, getting one that will fit your work, lifestyle, and personality best is a little difficult. You may want a huge desk to do paperwork or a cute tiny desk to place your nighttime necessities on. Not only that, but you should also consider whether the desk fits the room or if it's big enough based on your need. You can't just pick thoughtlessly because you like it.
But is there such a desk that can do all these and more? Yes, there is! Enter the craft desk, a perfect addition to a somewhat empty room. It comes in different colors and sizes. Some have wheels, while others have drawers and even shelves too! Extra drawers for storage are always a welcome sight compared to a cluttered desk. Continue reading to learn more!
To Create Art
They say a disorganized desk is a sign of a creative mind. But when you're losing materials and the time looking for them, you may need to upgrade to a craft desk.
While it is not exclusive to sketching and painting, anything you put together with your hand to create something beautiful is still art. From paper-mâché masks to framed beadworks to writing novels, you can do it all on the craft desk.
Why a craft desk? For starters, you can organize your pencils and pen in a cup, your papers in a small drawer, and your paint tubs on a rack. You can even opt for a medicine case to organize your beads and pearls by color. There's even enough space for a laptop and a graphics tablet for your digital art endeavors.
The South Shore Crea Craft Cabinet works wonders because it has enough drawers for your art materials. Meanwhile, the Sew Ready Craft Cabinet has a secret foldable table wherein you can draw patterns and attach designs.
To Organize
Admit it. You have way too much stuff on your table. There are books, makeup, and probably even a few bandaids. You didn't mean to make it dirty. It just piled up. Despite what everybody says, decluttering is never easy. It's the task you always put off for another day because you either have more important things to do, or you get easily distracted.
But would it surprise you to know that a craft desk can double as an organizer? With several shelves and drawers, you can arrange your items quickly and more efficiently. It would also encourage you to spend less time looking for things that are probably just sitting in the bottom drawer.
Check out the Volpone Metal Storage Cart, a collapsible shelf wherein you can add trays and baskets to put produce and dry ingredients in. Meanwhile, the Homcom White Wall Mount Tool Storage is great for small spaces, and it can double as a shelf and study desk.
To Work and Study
Unfortunately, the world was engulfed in the COVID-19 pandemic. Though we're more technologically advanced to combat the plague, it didn't prepare us for a year-long work-from-home set-up. Using the kitchen counter as a work desk or the dining table as a study area does not always work. It's places like these that will make you sleepy and always hungry. There are distractions everywhere too!
A good craft desk is guaranteed to make you focused and productive. You can jazz it up however you like, and you can put your stuff without worrying it will fall into the trash.
With the Zeny Height Adjustable Drafting Desk, engineers and architects cooped up at home can better draw up the plans. On the other hand, students would love the spacious Vasagle Corner Desk.
To Play
Everyone can play, but not everyone can tidy up after. Though craft desks have a reputation of being too big and bulky, there are much smaller ones wherein kids and adults alike can play. There are craft desks that can accommodate your play style, whether you're building blocks, dressing up dolls, or connecting puzzle pieces,
Little ones will love the KidKraft 2-in-1 Activity Craft Table. It's small enough to play on but also big enough to put the toys in. Meanwhile, collectors will love to be accompanied by their toys by displaying them on the CubiCubi Wood Table's built-in shelves.
Conclusion
A desk is an essential part of every room. You can study, work, play, do makeup, or even prepare food when you pick the right table for the task. Though there are many choices in the market, remember to pick based on the type of use and preference. Don't just buy without considering several factors, such as space, size, and aesthetics. Check out Storables.com and decide which craft desk is perfect for you.