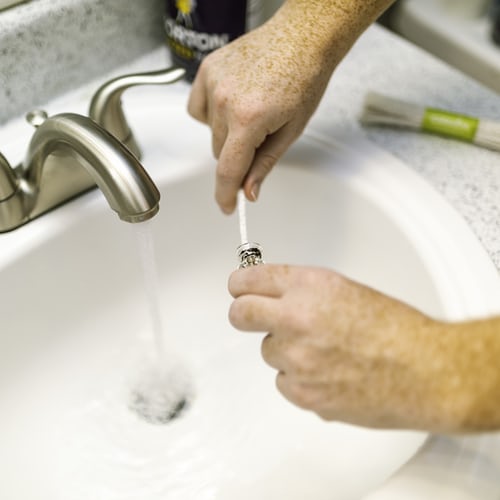 Owning a home comes with the responsibility of keeping it well maintained and in good repair. It's easy to leave small jobs around the house for someone else to fix or to tend to at the weekend or over the holidays. However, life inevitably gets in the way, and before you know it, there's a list of items that require some attention.
Follow our guide to stay on top of your home maintenance and have your property running like a well-oiled machine all year round.
Plumbing
Give your pipes a regular inspection to check that there are no leaks. Look under your sinks for any dripping water and up at your ceilings for any watermarks. Go around the house to check for any leaky faucets that are dripping and that may need tightening.
In the winter, frozen pipes can make the water turn to ice which then expands and causes the pipes to crack. When the ice melts, the pipes can burst and cause water to flood your home. Before the cold weather comes, make sure to shut off outside faucets and where possible, insulate pipes.
The leading cause of a leaky toilet is the rubber flapper which seals the flush valve and is responsible for draining water out of the tank and into the bowl. If the water is constantly running in the tank or is taking too long to fill this is a sign the flapper needs replacing. If you require assistance consider calling a London Handyman to do this for you.
Boilers and radiators
It's important to have your boiler serviced each year. In the meantime look out for any issues such as the pilot light going out, drips or unusual noises. Draining your boiler once a year will also remove any buildup of sediment that may have collected in the tank. This can create sludge making it more difficult for the boiler to efficiently heat water.

It is recommended that you bleed your radiators once a year. They will usually need bleeding when it comes to turning them back on for the winter. This allows the trapped air inside to be released which would otherwise prevent the warm water from fully circulating throughout the radiator. Banging or gurgling sounds from your radiators is generally a signal that they should be bled.
Smoke alarms and carbon monoxide detectors
It's a good idea to test your smoke alarms and carbon monoxide detector at least every six months. A small job that takes seconds usually requires pressing the test button on your device for an alert. Change the batteries in your alarms every six months.

Chimney
If your home has a chimney it is advisable to have it cleaned and inspected each year. This will remove sticky and highly flammable deposits of creosote from your chimney which can become a fire hazard for your home. Other toxic substances which may have built up from burning wood or coal can also be cleaned away. A clean and well-ventilated chimney will also be more efficient at heating your home.

Follow these four home maintenance tips to keep your home happy and well-looked after for years to come.