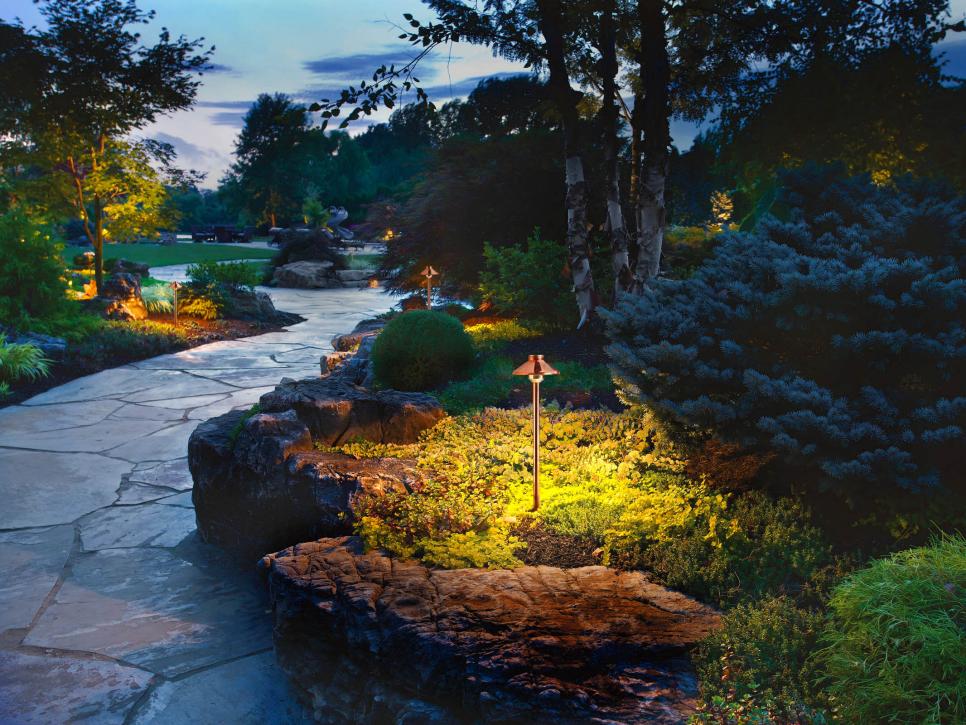 The landscape lighting design and planning process is a critical step that will pay off in the results of your lighting project. Time invested in planning will ensure that you have the correct amount of wire and fixtures needed for installation of your landscape lighting. When working with any type of electrical wiring it is always important to keep safety in mind. Before getting started it is best to contact a dig safe service and have the property marked although you won't be digging very deep. You will also want to have a multimeter on hand to check for live wires. Following these tips and guidelines and planning ahead when wiring your landscape lighting will save you a lot of time and prepare you should any issues arise in the future.
How is a Landscape Setting Different than Wiring in a Different Setting?
Low voltage direct burial landscape lighting wire is a cable made of multiple strands of intertwined copper wire. A typical 120-volt line wire is a single strand wire that is not meant for burial or exposure to outdoor elements. Although there are several differences between indoor and outdoor grade wire, it is recommended that any wire connections be placed where they can be easily accessed. Accessible connections are part of building code when wiring a home and the same rule of thumb should be followed when installing landscape lighting and wiring.
Tips to Remember When Wiring Landscape Lighting
Types of Direct Burial Cable Wire
There are several types of electrical wires and cables to choose from. However, when selecting wiring for landscaping, ensure that it is direct burial landscape lighting wire. The jacket of this wire is waterproof, UV resistant, and specifically designed for outdoor elements and landscape lighting. The direct burial wire can be purchased in several different sizes. The wire gauge number relates to the caliber of the wire. It is important to note that the smaller the number the larger the wire.
Wiring Considerations
Wiring Corrosion: Wire Corrosion is the number one issue when it comes to having any issues with a light(s) not working. Corrosion is caused by moisture coming in contact with the metal housing of anything electric. Because there is current passing through the metal connections, (even if it's just a little) the connections attract and hold onto any type of compound it comes in contact with. The compounds build up over time and eventually sever the connection between two electrical contacts. When this happens, it comes in between the electrical connection. This corrosion will cause an increase in resistance. This causes the transformer to supply more power than in a non-corroded connection. This resistance can also cause a significant amount of heat. In some instances, heat levels have increased to the point where the wire nut has been melted.
Wire Corrosion Prevention: Wire nuts filled with dielectric grease are significantly better against corrosion versus wire nuts (or any other type of connection) that is not protected with the grease. However, many times it is difficult to be confident that all copper has been coated and will remain coated with the dielectric grease over time. Ensuring watertight connections is a necessary step in preventing wire corrosion.
Type of Circuit and Wire Connection: Poor wire connections cause nearly all electrical failures. Be sure to pay attention to detail and use extreme care in creating wire connections and use wire nuts filled with dielectric grease. To further protect wire connections, whenever possible place them in a mounted outdoor plastic enclosure. To relieve stress from each connection made with any connection device it is highly recommended to tie a knot in the wire prior to the connection. This will help stabilize the connections as the ground naturally shifts over time or other factors such as such as weather that may cause stress to wire connections.
Wattage Needed
When calculating the wattage consumed on a run make sure to always calculate the highest wattage capability of each fixture. When looking at landscape lighting wires, remember that the first number represents the gauge, and the second number represents the conductor wires. Below are examples of commonly used wires and their wattage capabilities:
18/2: 8 amps max/96 watts max
16/2: 11 amps max/132 watts max
14/2: 16 amps max/192 watts max
12/2: 20 amps max/ 240 watts max
10/2: 30 amps max/360 watts max
8/2: 40 amps max/480 watts max
The main use of the #8 and #10 gauge wire is to expand the distance from the transformer. When planning your landscape lighting design, it is important to remember to never exceed more than 80% of your wire's wattage capabilities. To reduce the risk of voltage-drop in longer runs, larger sizes of wire such as #8 or #10 are ideal because they are equipped to handle more wattage.
Selecting a Transformer
The transformer is one of the most important elements of your landscape lighting system. To select a transformer(s) that is the best fit for your landscape lighting project you first must review your design to know how many lighting fixtures it will take to accomplish the project and calculate the total wattage. If you plan on expanding your landscape lighting in the future, you may also want to take that into consideration as well. These factors will help you determine the size of your transformer and if it is more beneficial to purchase a larger transformer now or add an additional transformer when you are ready to expand.
Before burying any wires, make sure you are satisfied with the look of your landscape lighting. Now is the time to admire your project and make any necessary adjustments to your lights. If any adjustments need to be made, first try readjusting the light angle or beam spread before moving any fixtures. Your landscape lighting is wired and in place! Enjoy the enhanced beauty, security and value that landscape lighting has added to your property.
Author Bio:
Chris McCoy is the founder of Haven Lighting. Haven Lighting is the leading manufacturer of smart Wi-Fi-enabled landscape lighting systems, featuring unique LED products with unparalleled brightness, vivid color, and white temperature adjustment.