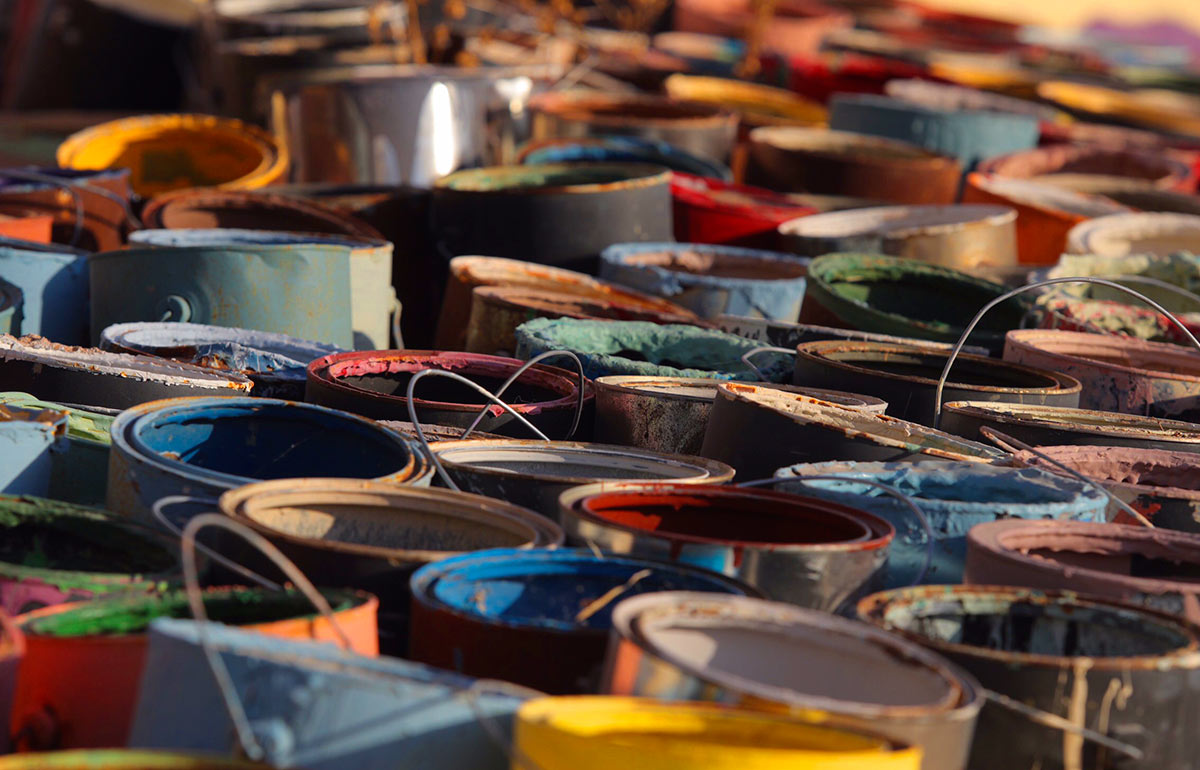 Do you have paint cans leftover from decorating and you're not sure what to do with them? Lots of people are in the same boat, especially after house renovations or painting the garden fences. Due to its hazardous nature, paint cannot be simply disposed of by pouring down the drains or sink, so, what is the best way to dispose of leftover paint? Fletchers Waste Management, who offer waste management and skip hire in sheffield have put together some of the best disposal methods below.
Donate the paint to someone else
Could your paint be reused? If so, and you will not be using it yourself in the future, it can always be donated to someone who can. Sites such as Facebook have become a great platform to donate to others with groups dedicated to such acts of kindness. Giving away the paint to others will help to limit waste as well as potentially help someone redecorate that may not have been able to afford their own paint. Donations can also be given to friends, family or charities, but it is best to check with these charities beforehand if they accept.
Take the paint to a recycling centre
If you have a recycling centre nearby, they will be well equipped to take the paint from you. Their experience will mean they can safely dispose of it in the most environmentally friendly way possible. It is best to do this when the paint has completely hardened. If possible, please check that the centre you take your paint tins to is fully licensed to dispose of this waste.
How to harden your paint
If you need to make your paint hard to be able to take it to the recycling centre, you can add sawdust or sand to your paint if there are large quantities. Adding this will help it to solidify. If you only have a small amount of paint leftover, it is possible to pour it out onto cardboard, spread it thinly and then leave it to dry. This can then be included in your household waste. However, as some councils accept different waste types, we recommend always checking with them first.
Reuse the paint at a later date
Not everyone feels comfortable giving away or disposing of paint they have bought, and that's ok. As long as the paint tin is properly sealed and stored upright to avoid any possible spillages, it can be saved for future use. Why not upcycle furniture or other projects to make use of the paint? Most paints will last for up to 10 years as long as it is stored correctly. Each brand could be different so it is best to research their tips for keeping the paint in good condition.
Throw empty tins away
Simply throwing the paint tins away can be done; however, it must be completely empty with no paint left at the bottom. These can then be recycled.
Avoiding waste in the future
Although it is sometimes difficult to avoid having wasted paint, when you are doing painting projects in the future, it's best to try and make a calculated estimation. By speaking to DIY and paint shop workers, they will be able to help advise the best amounts for your project by giving them the measurements of the decorating space.
Please note, if you are doing house renovations and have hired a skip, paint cans cannot be put into it along with your other waste. As the paint is hazardous, it cannot be put into a skip and the skip hire company must be made aware if you'd like them to help dispose of this waste.