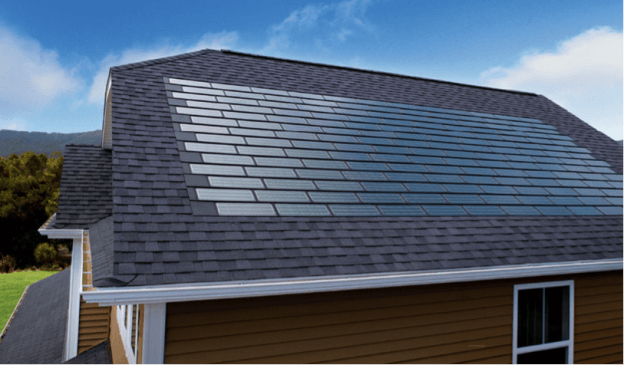 Up till recently if you wanted to harness the power of solar energy and generate renewable energy for your home, your only option was solar panels. However that's no longer the case as over the last few years another alternative has emerged: Solar shingles.
If you're not sure what solar shingles are and want to know whether or not they're worth it – just keep reading.
"What Are Solar Shingles?"
Unlike solar panels, solar shingles are designed to look like roof tiles. However instead of being made from the typical asphalt, clay, or slate – solar shingles are made from thin sheets of glass that contain photovoltaic cells.
Photovoltaic cells are essentially what solar panels are made of. In other words, solar shingles work the same way as solar panels and can absorb sunlight then convert it to electricity.
Because solar shingles look like normal roof tiles they're typically used in place of traditional roofing shingles. That said, there are some types of solar shingles that are installed on top of existing roofing.
To sum it up, if you use solar shingles you'll end up with a roof that looks relatively normal on the surface – but acts as a large array of solar panels.
Same Benefits as Solar Panels
Seeing as solar shingles work the same way as solar panels, it should come as no surprise they largely share the same benefits. By installing them you will be able to:
Generate renewable energy that is eco-friendly and will reduce your carbon footprint.
Qualify for the same renewable energy incentives as solar panels such as tax credits or net metering (depending on your jurisdiction).
Reduce your expenses by partially using electricity you generate as well as gaining credit from excess energy with net metering.
Suffice to say, solar shingles will give you all the major benefits of solar panels – but it doesn't stop there.
Unique Advantages of Solar Shingles
While solar shingles do share a lot in common with solar panels in terms of how they work, they do have differences when it comes to their appearance and structure. To be honest it is these differences that provide solar shingles with unique advantages and make them so appealing:
The biggest advantage of solar shingles is the fact that it is far more aesthetically pleasing. In contrast to the typically bulky solar panels that jut out of your roof, solar shingles are sleek and blend into your roof instead.
At times solar shingles can look so similar to conventional roofing that you may not be able to tell the difference unless you look really closely.
Contrary to what you might think, solar shingles are actually very durable when compared to both normal roof shingles as well as solar panels. They are typically designed to last about 30 years, withstand extreme weather, and are fire resistant.
In general solar shingles also require minimal maintenance and at most will need to be hosed down from time to time.
To be clear, solar shingles are more expensive than solar panels. However there is one specific scenario in which they can be cost-effective – and that is if you're planning on replacing your roof anyway.
If you are going to replace your roof, using solar shingles can be competitive in terms of cost as you won't need to invest in roofing and solar panels separately.
Starting to see why there's a lot of buzz around solar shingles? The unique advantages they bring to the table make them very attractive – but is that enough to make them worth it?
Are Solar Shingles Worth It?
Despite the fact that solar shingles look great, are durable and share all the main advantages of solar panels, it is still debatable whether or not they're truly worth it. And the main reasons for that is because they are:
More expensive (as mentioned previously) and will cost a lot more to install.
Less efficient and convert less solar energy to electricity.
Have limited availability as they are a new technology and there aren't many options out there.
Not portable and cannot be taken to a new home if you move.
Stuck in a static position and cannot be adjusted to optimally capture sunlight.
Overall this means that you'll end up paying more for an option that is less effective in general. That said, the difference shouldn't be too big as long as you're willing to invest and cover a significant area of your roof with solar shingles.
All said and done it is up to you to decide whether or not solar shingles are worth it now that you know both their advantages and disadvantages. No matter which option you choose you'll be able to generate eco-friendly energy, reduce your carbon footprint, and reduce your bills – which should be what's most important.