If you've noticed that you have bowing walls, sticking windows, or cracks in your walls or basement, it may be damage to your home's foundation that is causing these problems. Fortunately, by addressing the root causes of your issues you may be able to prevent the damage from worsening beyond repair. If it seems as though your home's concrete slab has been damaged, here are some likely culprits to investigate as well as some ways to correct them.
Flooding and Leaks
Water seeping into and under your concrete slab is one of the most common causes of foundation damage. When heavy rains accompany storms, it's possible for water to get in through existing cracks in the walls or floor of your basement. This can expand your foundation slab, and then when the water recedes permanent cracks may remain. Subsequent weather-related flooding can exacerbate the problem, and may lead to significant foundation damage over time. Proactively sealing cracks and installing water barriers can reduce your risk of damage.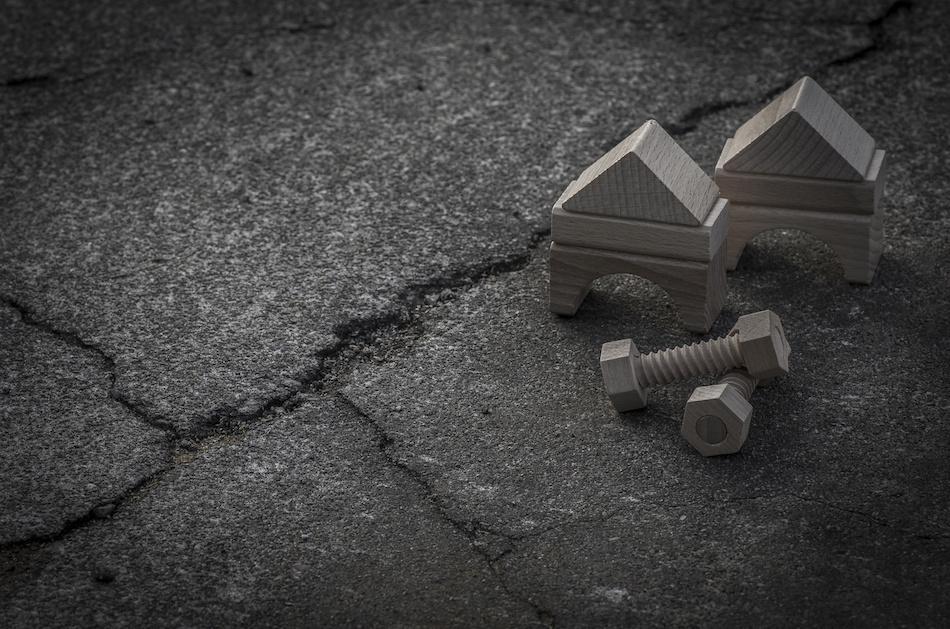 If gone unchecked, plumbing leaks can also result in damage to your foundation. You should address any suspected leaks immediately, no matter how small they seem, in order to mitigate the risk of major deterioration. It's also a good idea to schedule regular plumbing inspections to stay ahead of potential issues.
Improper Drainage
In addition to the water damage that can result from heavy rains or leaking pipes, a poorly-installed roof drainage system can also be the culprit if you have foundation problems. If rain or snowmelt are allowed to flow unchecked from your roof, this water can pool around your home's slab, leading to crumbling and cracking.
Proper downspout placement is critical for directing water safely away from the base of your home. Water coming off your roof should drain as far away from your siding and foundation as possible. Ensuring that your gutters remain free of clogs and in good repair will help as well. It's almost always better to fix small concerns before they cause huge problems. Routine roof, downspout, and gutter maintenance can help keep significant foundation destruction at bay.
Soil Shifts
The soil on which your foundation was placed is an ever-changing environment, and over time it can cause your foundation to move and become unbalanced. There are certain types of soils that are prone to excessive water absorption; when the soil expands it can press against and destabilize your home's slab. Other soils have the opposite problem; over time, moisture in these soils evaporates or is squeezed out, resulting in the earth beneath your foundation becoming tighter and more compact. Your slab can then shift or become unbalanced and may no longer adequately support the weight of your home.
Although a certain amount of expansion and compression is expected over time, this is one concern that is difficult to correct after the foundation has already been laid. Proper compacting of soil before building the foundation is typically the only way to avoid such problems. Fixes may still be possible, but you'll want to involve a trusted contractor to determine the best solution.
Overgrown Foliage
Finally, don't overlook the problem of landscaping that's been placed too close to your home. While that flourishing tree in your yard may provide wonderful shade, its spreading roots can force their way under your foundation and burrow into tiny cracks. As these roots grow, they are likely to move the earth supporting your slab or widen small cracks into sizeable fissures.
It's possible to impede further root spread by having them trimmed or by installing a root barrier that will divert growth away from your foundation. If these efforts fall short, professional tree removal may be your best option to stop the damage. This can give you a do-over and allow you to replant with less invasive trees and landscaping placed further from your slab.
If you suspect that there has been damage to your foundation, it's important to take quick action by addressing the issues that may be causing trouble. By taking care of water, soil, and landscaping concerns before more serious damage occurs, you may be able to avoid the significant slab repair work that might be necessary if the problem continues unabated.