There are generally four types of toilet partitions currently available in the market. The type of toilet partition that will be used depends significantly on how much traffic is heading to the restroom. Below you will be able to find out more about some of the most advanced toilet partition types, their upsides, and their drawbacks.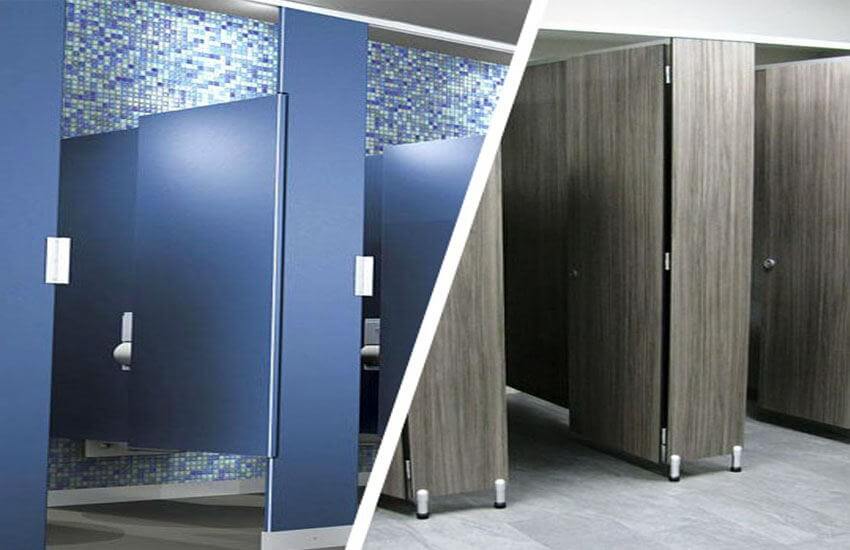 5 Most Common Types of Toilet Partitions
Metal
Metal toilet partitions seem to be the most common and cost-efficient choice. The most widely known is the powder-coated steel. The pigment is incorporated when the steel is processed and put inside an oven. The powder steel is then laid over a plate of cardboard coated with metal. Many manufacturers could offer one-year limited warranty service.
Even though metal partitions only have a limited variety of colors to choose from, it is still considered as the top option since this produces a clean edge. Prices start from $230 up to $900 basing on the type of specification as well as how many would the toilet partitions be.
Laminated Plastic
This type of toilet partition would cost approximately roughly ten percent more than that of the standard model of toilet partition, which is the powder-coated steel. Just like with the previous type discussed, this would be usually given a limited one-year warranty by most manufacturers.
The elements used on this type of toilet partition are obtained by adding a laminated layer to the particleboard's substratum. Afterward, a thin film of a laminate is applied over the surface of the metal. This type of partition is also popular since it could be ordered in a variety of colors and styles and can, therefore, be wholly personalized according to customer's demand.
On the other flip side, the biggest drawback of this kind of toilet partition is that they are generally not intended for use in an indoor or outdoor area where there would be a high risk of getting wet – as with beach and pool bathrooms. If this type of toilet partition will be used in the places mentioned above, it should be carefully installed in a place where it is not near the shower area.
The prices can vary from $230 for a full 36 "by 60" to $1,100 for 3 pcs of 36″x 60.
Solid Plastic or HDPE
High-density polyethylene, or more commonly called as HDPE, is a reliable and durable plastic material that could be used in a broad range of products. Because of the quality of its construction, it has proven to be high in resilience performance and is even resistant to scratches, dents, and any other wear and tear damages. Because of its relatively uniform color, hence, it is resistant to vandalism – which is the most common problem on public bathroom stalls. Further to that, HDPE has several great benefits over all the other types, which are currently the most frequently used in any commercial bathroom with toilet partitions.
The solid plastic toilet partitions are indeed very strong and reliable. These are manufactured with one-inch diameter solid plastic frames, which would be approximately 75 percent more than that of the powder-coated steel toilet partition, and it is also almost 65 percent higher than that of laminated plastic toilet partition.
This type is the ideal fit for a public bathroom. The warranty lasts for about ten to fifteen years, and attributable to their durability, it can also be used just about anywhere.
It is comparatively cheap, but they will undoubtedly last longer than most of the other types of toilet partitions.
Stainless Steel
If you need a toilet partition with a sturdy and sophisticated style, then perhaps the best option would be to use stainless steel partitions. Generally, you will have them installed in a stainless panel with some design.
Stainless steel toilet partitions are the costliest option amongst all other types. It can even sometimes cost as much as double as that of the powder-coated steel partitions. They could last a pretty considerable amount of time, are scratch-resistant, and dirt can be washed away easily. The stainless-steel toilet partitions, just like with the solid plastic, can also be used in almost any environment, even with wet or humid environments.
The only drawback with this type of partition is that it is quite expensive and the fact that it is too large and heavy to install. Prices for a stainless partition would range from $600 to $2,500.
Compact Laminate
The compact laminate partition is ideal for both indoor and outdoor use. After its initial launch ten years ago, this had been the favored form and by far the most frequently used in the public restrooms.
Compact laminate guarantees a slimmer laminate partition. Compact laminate board, commonly labeled as HPL board or high-pressure laminate or solid phenolic board, is primarily used as a decoration board; it provides a wide variety of functions and can be used for numerous products. Compact laminate is widely recognized for its kraft paper raw material, thermosetting resins, and is strongly strengthened with cellulose fibers, which are treated with high temperature and high pressure.
As with other plastic laminates, compact laminate could also be made with a variety of colors. There are numerous different styles available from which to choose, which would be perfect for those that want a toilet partition that would be aesthetically appealing.
Compact laminates are often considered stronger than common wood. Apart from being ideal for a public toilet partition, it can also be used for numerous applications such as wall paneling, laboratory benches, tables, office furniture, and closets.
Compact laminates are high in density and are also fire-proof, which can be both advantageous and disadvantageous at the same time. The upside would be it basically would not rot out quickly and could be used for many years to come. On the contrary, the drawback would be that compact laminates do not decay, which is not appropriate for the ecosystem; thus, the compact laminate wastes must be collected and then sent to the smelting plant in the industrial incinerator and then incinerated at high temperature.