An outdoor griddle is perfect for social events. You can use your outdoor griddle to prepare steaks, burgers, vegetables, potatoes, and whatever else might interest you and your guests.
An outdoor griddle is different from a grill in that the griddle features a flat body. There are no slots on the griddle body, giving you more protection over your foods. A griddle may also be easier to clear off, as you don't need an abrasive brush or other item to try and scrape things off the body.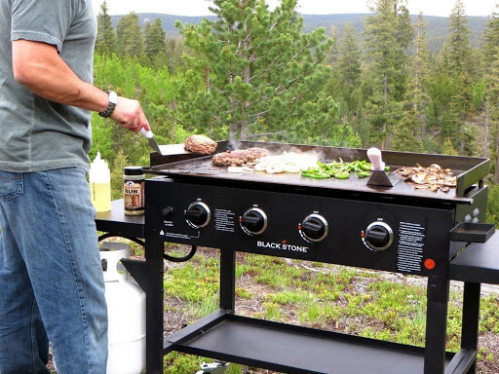 This guide will help you determine the best outdoor griddle features, and get you up and running quickly.
. You can get your outdoor griddle ready for any gathering, but you have to see what you're getting out of your model when finding something valuable.
The General Layout
The physical layout of your outdoor griddle should have enough room for whatever foods you wish to prepare. An average household could benefit from a griddle with a 600-square-inch body. The size should be enough for basic use.
You can opt for a larger griddle at 1,000 square inches if you plan on hosting events or other people at your property. You can also find something smaller at 300 square inches if you want an outdoor griddle for camping purposes.
What Material Works?
The material in your outdoor griddle should conduct heat well enough to evenly cook all your foods. You can use one of many materials in your griddle:
Stainless steel can resist rust and can conduct heat in moments. But it may also cost more to buy a griddle made with steel.
Aluminum is cheaper and provides a strong body. It may take extra time for the aluminum surface to produce enough heat.
Cast iron griddles are great for producing intense heat that can last for a while. But such a griddle may be too heavy for some spots.
Burners
The burners in your outdoor griddle are responsible for heating the surface. You may find about four to eight burners on an average griddle.
The space directly above your burner will be warmer. The spots near the edges will be cooler. Having more burners will help you heat the entire griddle body sooner and prevent cold spots from appearing all around.
Each burner will connect to a separate temperature control on the panel. Having more burners gives you extra control over the temperature all around.
How Much Heat?
The amount of heat your griddle produces should also be noted when you find something that works. An outdoor griddle's heat output is measured in British Thermal Units or BTUs. A BTU is a measure of how much heat that can be produced, with a model that has more BTUs generating more power.
Most griddles can come with bodies of about 20,000 BTUs on average. A portable model will produce fewer BTUs, while a commercial-grade unit that has more room may require extra.
The rule of thumb is to compare the BTU total to the size of the griddle. The BTU value should be large enough to cover the entire space. Any model that has too few BTUs for its size may be tough to use, or it might take a while for the griddle to heat and function. But having too many BTUs in a short space may also make the griddle harder to use.
Can You Move the Griddle Around?
You can use an outdoor griddle in one of three forms:
A dedicated model is larger on average and can handle more power.
A tabletop or portable unit is smaller and lets you cook smaller bits of food.
Some griddles are smaller ones that let you place the griddle top over an existing grill. The griddle takes its heat from what the grill produces. The griddle top is perfect if you want something that can prepare eggs and other items that might not fit on a traditional slotted grill.
You can choose an outdoor griddle that fits your needs. Finding something that fits your property well is always ideal.
Cleaning
You'll need to clean your outdoor griddle after each use. You should find a model that is easy to wash.
A griddle with a removable surface is easier to clean. You can wash the soap and water off of the griddle in moments.
Cover Support
You should look for a good cover for your outdoor griddle, especially if you live in a space prone to rainfall. Your griddle must have enough room to support a cover, plus the ability to keep that cover from slipping.
Other Compartments
The last point to see in your outdoor griddle entails any compartments that might work in your setup. Some griddles may include spaces for cooking utensils and serving items. Any compartments in your griddle should be easy to use and access.