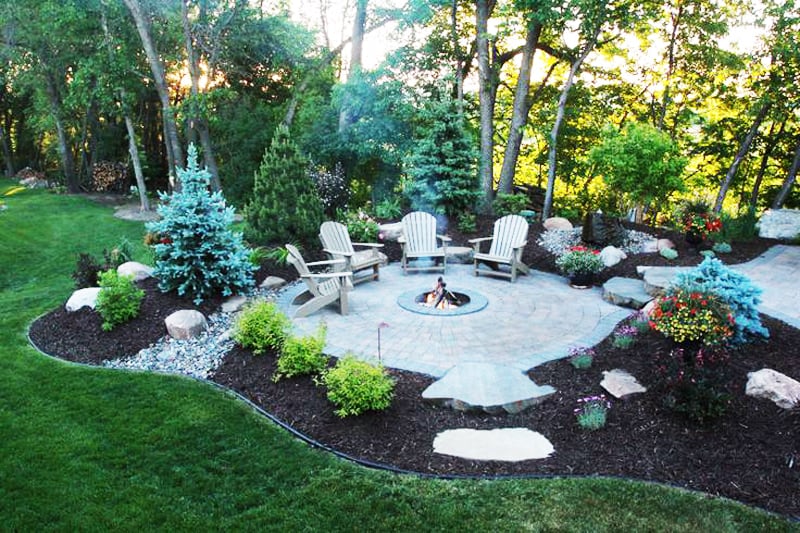 Fire pits are a luxury that most would like to have. Whether it is down by the lake, up at the cottage or in your backyard at home, there's no focal point like a fire pit. They can be employed for all sorts of uses, whether you're grilling up some grub, putting together some tasty s'mores or simply sitting back with friends and family to enjoy the beautiful and warm crackling sights and sounds of the fire.
Not to mention its warmth allows you and the gang to stay out in the great outdoors deeper into the cold seasons. If you're thinking about getting yourself a fire pit and need some inspiration on which route to go down, you've come to the right place. We'll breakdown what a fire pit is and all the different kinds of fuel that you can use. We'll then dive into some simple fire pit ideas and beautiful buying options.
What Is A Fire Pit
A fire pit can come in a lot of different shapes, sizes and forms but the main idea is that it does essentially what a campfire does except with a lot more control. They can also be much more aesthetically pleasing, coming in many different style options. The higher level of control over the flames also allows you to have different sizes of fire pit ideas which means that no matter what amount of space you're dealing with, you're likely to find a fire pit that fits just right.
However, there are some important considerations before going out to buy yourself a fire pit because it's not exactly a cheap investment. You need to make sure that you know what the local air quality restrictions are regarding burning and outdoor fires so then you and your fire pit can stay in the good graces of the law and your neighbors!
Types Of Fire Pits
Another big consideration in your fire pit buying journey is what type of fire pit ideas you want or can have based on your backyard's size or the local air quality restrictions. There are four main types of fire pits that all prospective buyers should be aware of when beginning to look at specific fire pit ideas.
Wood-Burning
A wood-burning fire pit gives off the same vibes and aroma as a campfire but they should always be a safe distance from your home structure. You get all of the crackling sounds and the scent of burnt wood that you're looking for with a campfire but with added control over the flame. You'll feel nature with all of your senses while having the peace of mind that your fire is totally under control.
Wood-burning fire pits can be used to grill and cook food for you and your friends and family, usually coming with a grill grate that you can put on top of the burning embers to get a real authentic barbeque going.
Other wood-burning fire pits are designed more like your run-of-the-mill indoor fireplaces, only modified somewhat to mesh with the great outdoors. They are made most commonly of brick or stone but DIYers and home improvement enthusiasts have made fire pits ideafrom many other materials as well.
Propane
A cleaner route for your fire pit would be the propane-fueled variety. It's the most popular by far because of its convenience and simplicity. Wood-burning fire pits are nice but gathering all of the raw materials such as the wood is not quite as nice. A propane-fuelled fire pit helps you avoid that.
Propane fire pits can also come in portable sizes and options so you can take them with you on a trip or move them around your backyard when needed. Some even come fitted with wheels to make their transportation even easier. Copper, because of its sky-high melting point, is often used to make bowls that can be used for fire pits although they are often the more expensive option.
There are also fire pit tables fuelled by propane which keeps the flame more controlled and centered so then none of your children can accidentally get burned or something of that nature. The added ledge space can also be a convenient spot to put your food and drinks while you enjoy the company of family and friends around your fire.
Gel
If you want your outdoor fire pit to stay really clean and demand very little upkeep, you'll want to go for the gel-powered option. The fire not only doesn't give off a smell which could upset the neighbors, it's completely smokeless as well. This means that you don't have to worry about the air quality restrictions. These are often run on gel-fuelled logs that can be compatible with any fire pit design that strikes your fancy.
Natural Gas
For those lucky enough to have a natural gas link at their home, they can go for this option for their fire pit. While connecting your fire pit to your natural gas line means that it has to remain in one place and you can't move it, this type of fire pit offers a few advantages as well.
The most important of these benefits is the fact that you'll never have to worry about running out of fuel for your fire and, better yet, you'll never have to go out to get any fuel because it's always coming from your gas line. You could use a tabletop design but this type of fire pit usually works best when using the in-ground design. This also gives you more of that nostalgic campfire feeling.
Our Top Pick for Great Fire Pit Ideas
Now that we know about all of the main types of fire pit and what situations they work best for, we can move on to some of the best fire pit ideas that we've come across during our research. From wood-burning to gel, sunken to tabletop, fire bowls to glow torches, DIY to store-bought, we've got 20 of the best fire pit ideas that have been thought up and shared with the public. Read on to see which of these best suit your fire pit wants and needs!
1. DIY Stone Fire Pit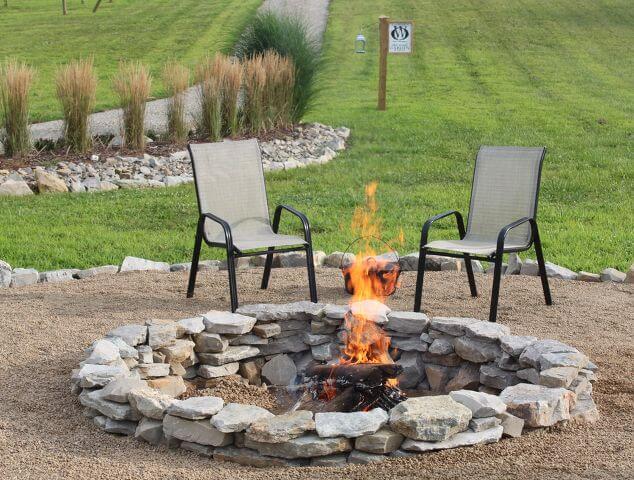 Stone fire pits are one of the most popular fire pit styles out there. No matter whether it's gray, charcoal or a nice mixture, stone fire pits can fit in with nearly any kind of décor that you might have in your yard. Doing a stone fire pit yourself could not be easier, although you will need a bit of strength to lug those beautiful stones around.
The only materials you'll need apart from a decent amount of yard space are stone bricks. For the adhesive, you can use heavy-duty glue but for best results, try to get your hands on some concrete. Simply mark out the area where you want your fire pit and start laying down the stones and concrete until you've got the look that you want.
2. Concrete Tree Ring Fire Pit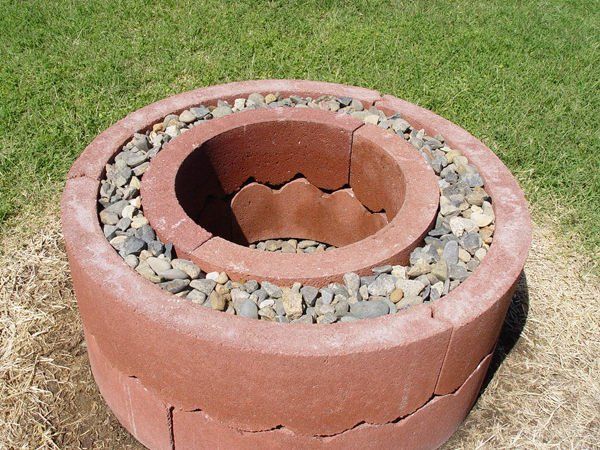 Finding alternative uses for everyday items is one of the most satisfying feelings. We've got a great one for you here with these do it yourself concrete tree ring fire pits. You can take the rustic red tree ring pieces and stack them on top of each other in a wide circle wherever in your lawn you'd like your fire pit to be.
Once you've stacked the circle to two or, ideally, three tree rings on top of one another, you've got your first step done. Next, you go inside your original circle and build another smaller circle of stacked tree rings. Take a small or portable grill and pop it in the middle of the smaller circle. Fill in the section between your two tree ring circles with pebbles to give it a cute and natural finishing touch.
3. DIY Washing Machine Drum Fire Pit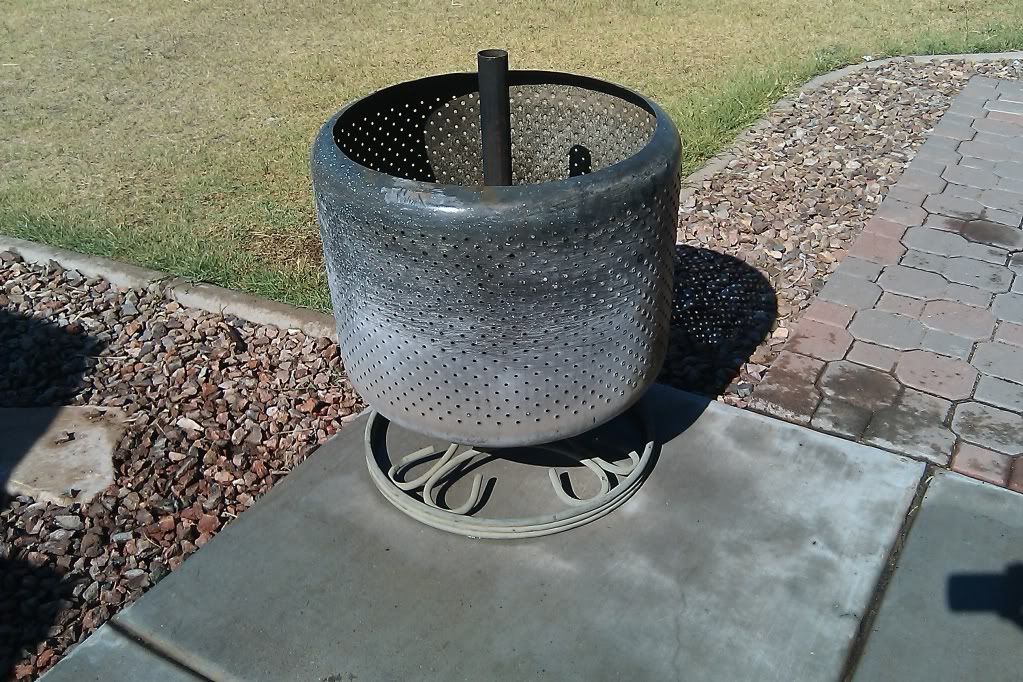 This one of the more clever DIY fire pit projects that you'll find out there. If you've just got a new washing machine and are trying to figure out what to do with the old one, we've got an answer for you right here. You will need a few handyman skills but you really only need the most basic know-how.
Take the washing machine drum out of the larger machine and clear out all of the plastic parts, hammer down the rim and paint it in whatever style you like, whether it's a fun pattern you can do with painters' tape or a more minimalistic coal-black look. Screw metal legs into the sides to keep it off the ground, toss some logs in there and voila! You've got yourself a lovely folksy wood-burning fire pit.
4. Vertically Stacked Brick Fire Pit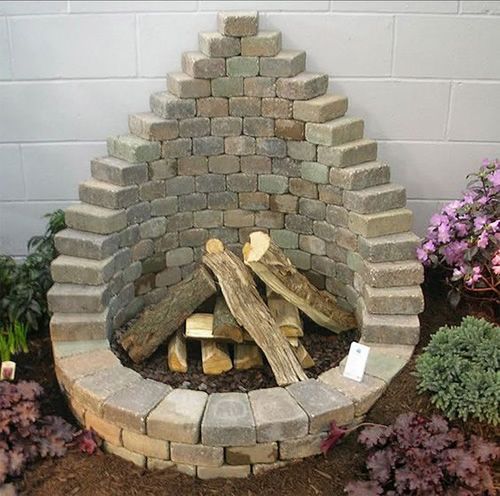 Get a little bit artistic and give your fire pit some style, flavor and panache, all with a simple maneuver. This is similar to the stone brick fire pit but it's got a little bit of a twist to give the pit a better look and more character. For this one, you'll need smaller rectangular/trapezoidal-shaped grey stone bricks as well as bricks with a classic brick red color.
Put together a base with the gray stone bricks and then take your rectangular red bricks and stand them up on their sides a few inches apart so then they are vertical to the base stone bricks. Place another ring of gray stone bricks on top of the standing red ones to give your fire pit a natural, multicolor look. You may also want to use some heavy-duty glue or concrete if you're really serious to keep it together.
5. Upcycled Truck Wheel Fire Pit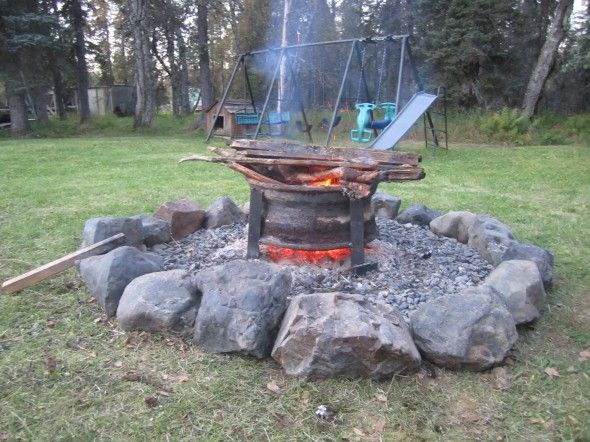 The upcycled truck wheel fire pit is a great fire pit ideas for those that are more environmentally conscious who are looking to reuse as much as they can. It's also great for anyone who likes throwback old school and rustic looking pieces in their yard. All you need are some stone bricks, a patch of yard and the inside part of an old spare wheel.
The old wheel will be used as the base and inner section of your fire pit. You tuck it into the earth where you want your fire pit and then you can begin surrounding the inner wheel with whatever color or pattern of stone bricks you'd like. Fill the inner portion as well as the sections between the bricks with some pebbles and you're ready to have yourself a nice, safe tyre fire!
6. Integrated BBQ With Alternating Concrete Brick Fire Pit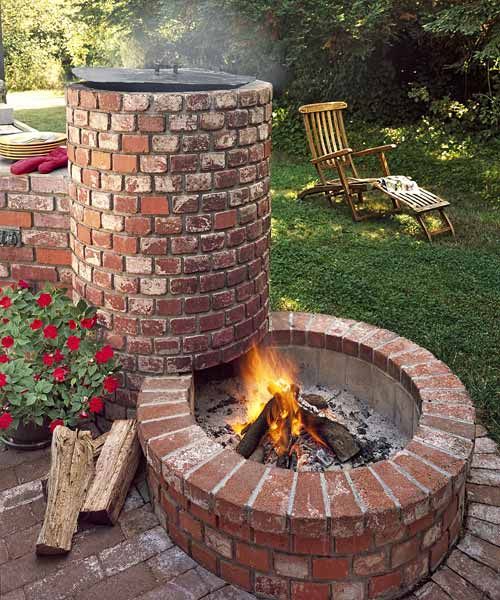 One of the more stylish looking fire pits we've come across is one that you can put together with nothing but a load of small rocks or pebbles dual or tri-colored concrete bricks and a medium or small-sized barbecue grill. Start by creating a pattern with your colored concrete bricks on the outer rim and then do a smaller circle inside that larger rim.
Make that smaller, inner circle a little taller for a smoother look. Fill in the section between the two circles with pebbles or rocks and fit your medium or small-size barbecue grill into the center so then you can have a fire or barbecue whenever you like. Colored brick patterns can add a good amount of style to your backyard setup, creating a nice focal point for whenever you host your friends and family.
7. Zen Mini Fire Pit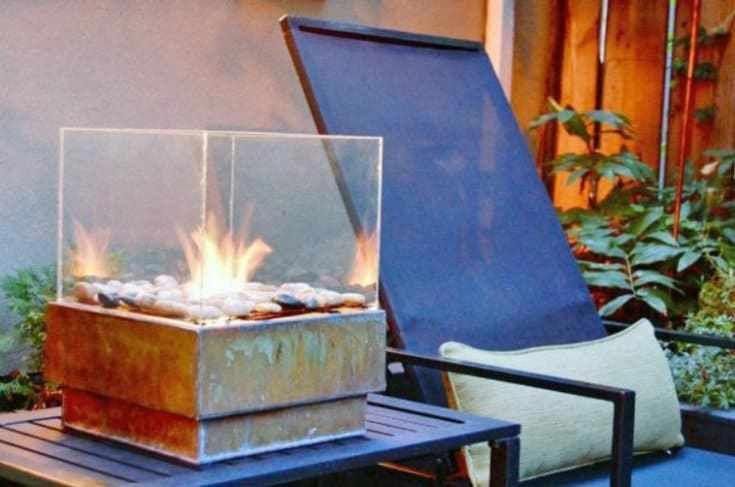 We've had a lot of natural, rustic styles so far on this list so here's an option for those of you who want a fire pit to fit in with their more chic or polished personality and/or taste. This subtle and luxurious mini fire pit will give whatever arrangement it's a part of a much more zen and relaxed feel to it.
You can buy these little beauties at home decor stores or you can make one yourself with a stone base, a glass cover and an assortment of different colored pebbles. These can be small enough to place on a table and can be easily transported to different spots if you're looking to keep the tranquil feeling that these mini zen fire pits exude with you wherever you go.
8. Square Metal Fire Pit
You don't always need to use stone or concrete to make yourself a nice fire pit though. There are lots of other options, one of which is metal. If you can find a few metal sheets with similar dimensions, you'll be ready to roll. If you want to mix it up and get artsy with it, you can also paint the sheets in different colors or put together your own intricate design.
We suggest a nice, coal-black because dark colors look great next to or surrounding the flames. Simply put the metal sheets in a square shape and use mud on the inside and outside of the metal sheets to keep your creation together. If you've got any skills in the trade, welding the sheets together makes your fire pit much more crisp and clean.
9. DIY Cinder Block Fire Pit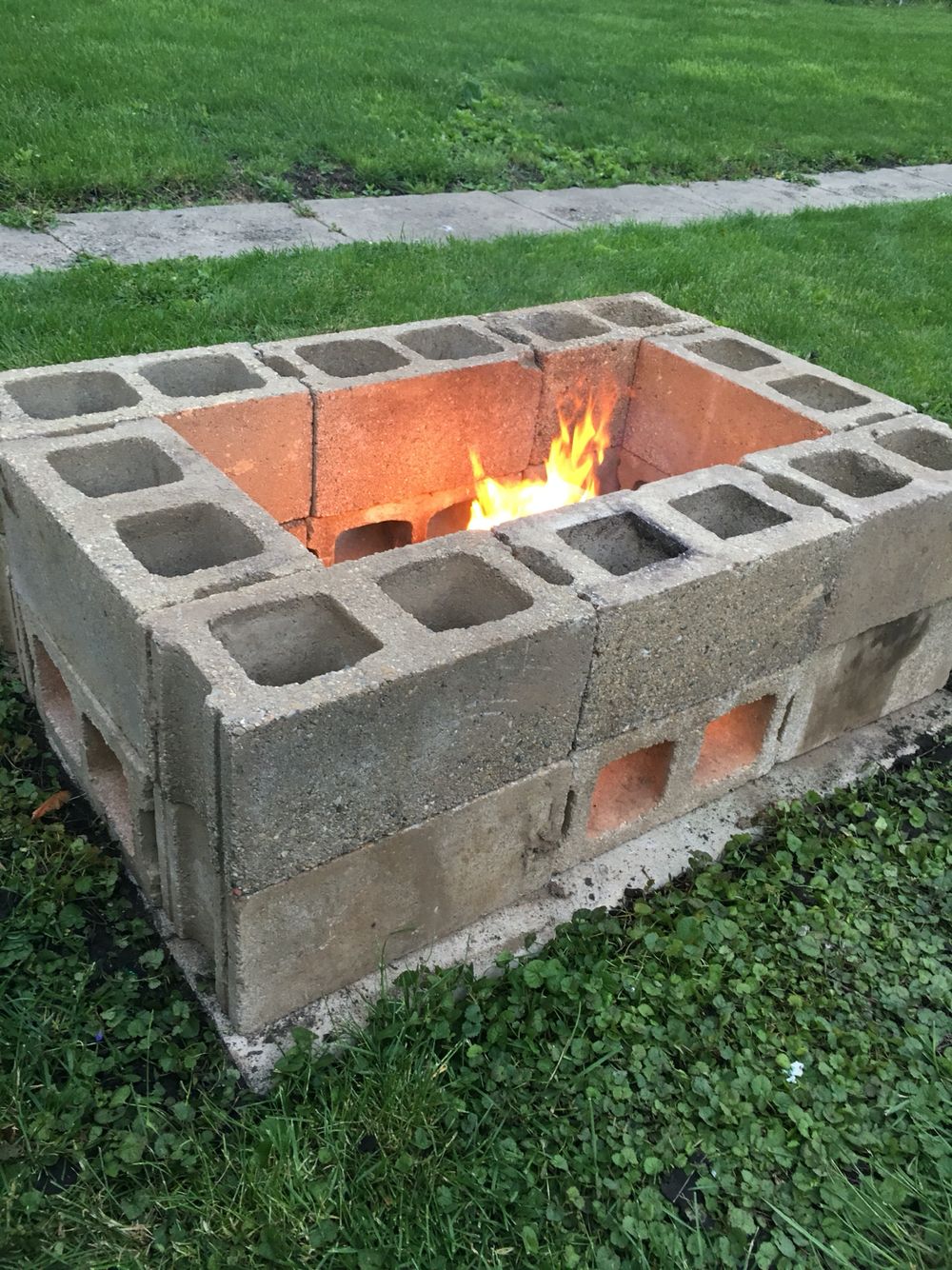 Another interesting DIY fire pit project involves using cinder blocks as the main part of your setup. You can stack them up on top of one another as the outer rim of your fire pit and then fill up the empty sections of the cinder blocks with assorted pebbles, stones, gravel and other little miscellaneous pieces that you can find.
You can even put your cinder block set-up on top of a red brick design that can serve as your fire pit's base. This kind of fire pit is perfect for a more homey, natural and unassuming backyard setup. Stacking the cinder blocks in a nice-looking pattern while also matching up the hollow sections can serve as a fun backyard jigsaw puzzle as well. You might want to consider adding a construction adhesive between the cinder blocks and bricks for extra continuity.
10. Lava Rock Natural Gas Fire Bowl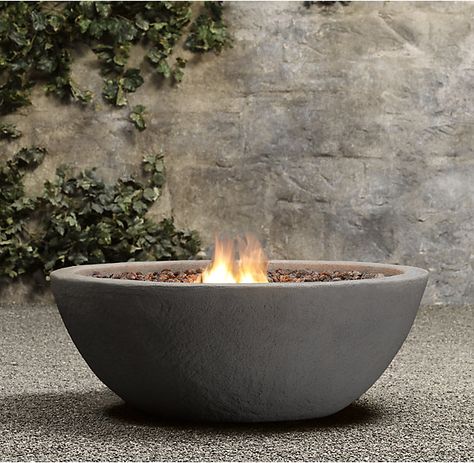 You can also head to a home decor or hardware store and look for a trendy gas-powered fire bowl. These come at more of a premium price but if you're looking for a chic piece for your modern backyard setup, living room, patio or den, these fire bowls should be exactly what the doctor ordered.
The style we had in mind was a fire bowl with lava rock. This is pricey but its aesthetic can't be beaten. It's clean, crisp and can complement any arrangement. Fire bowls can also come in all sorts of sizes and colors so you can have a smaller one for indoors and a large one for people to sit around in the backyard.
11. Fire Trough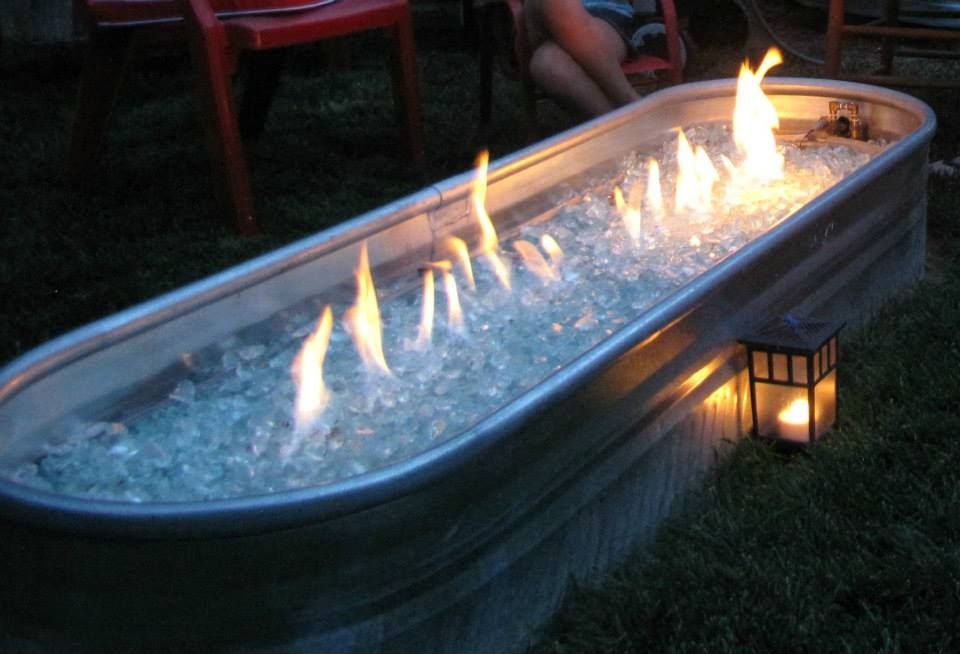 A great fire pit ideas for those with a little more space for their setup is not a fire pit at all but more of a fire trough. It's shaped like one of those feeding troughs that you see pigs eating from on a farm but its look is distinct. The trough can be made out of any kind of classy stone or brick and it can be made to any size of patio, backyard or other setup.
Due to the shape, these usually best serve as gas or gel-powered fire pits rather than actual wood. While wood is an option as well, a longer trough may start to get cumbersome to continue cleaning out and refilling. It is perfect for entertaining large parties because of how spread out the fire and warmth will be but it can also be used as a perfect toasty buffer between your seating and a beautiful patio or balcony view.
12. Tiki Glow Torch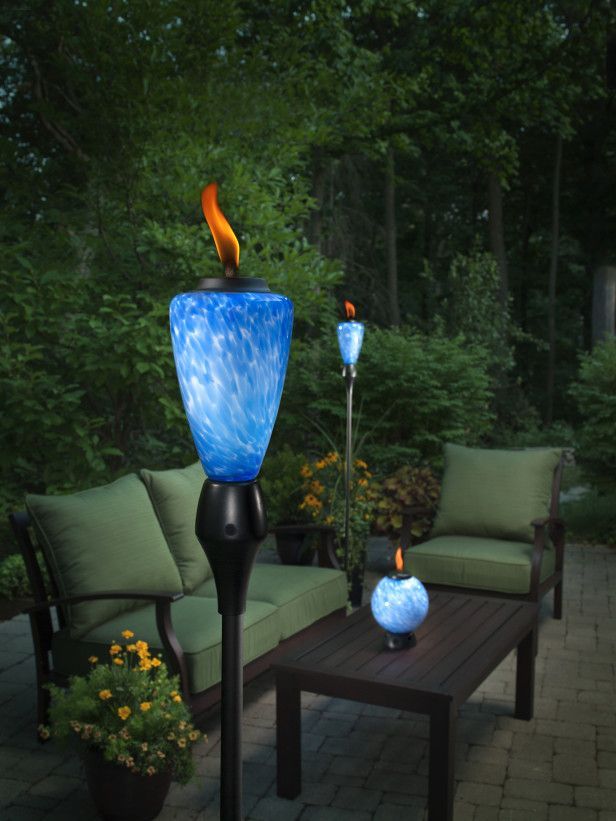 This is a bit of a different take on a fire pit. It's not the type of fire pit that you use to roast marshmallows or grill a big slab of meat on. Tiki glow torches are a great way of adding a pop color and ambiance to your backyard or party set up. Not only are they very beautiful but they also have real flames, adding a touch of warmth to your seating area as well.
The beautifully decorative vessel at the top of the torch contains a fuel canister, a wick and a snuffer to create a clean, natural flame for each torch. The best part might be the tri-colored LED lights that are inside the vessel as well. You can program these to emit red, blue or green light depending on your mood or the theme of whatever get-together you're hosting.
13. Antigua Fire Sculpture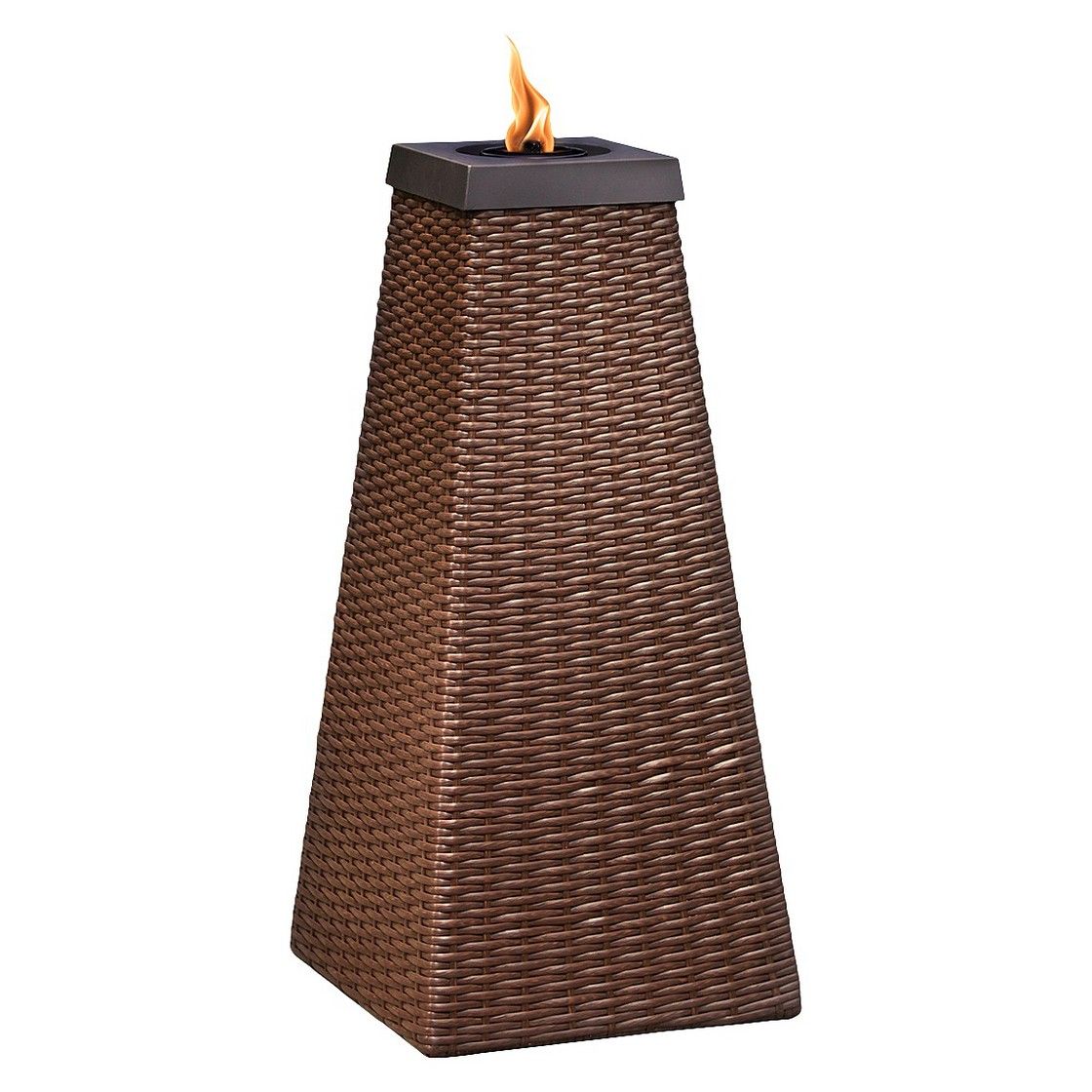 The Antigua fire sculpture is another option that's more trendy and unique and less like the more hefty ones you usually see when you search for a fire pit. This is about as fashionable as it gets when you're shopping for a fire pit or fire accessory. The basket weave pattern of the pyramid base of the Antigua is not only beautiful but it is actually made with weather-durable resin.
The weather-proof nature of the Antigua paired with its lightweight and portable design means that you can also take this pretty little fire sculpture into different rooms in the house or out into the backyard, by the lake or wherever you and your loved ones want a little extra warmth and ambiance.
14. Blue Rhino Propane Fire Pit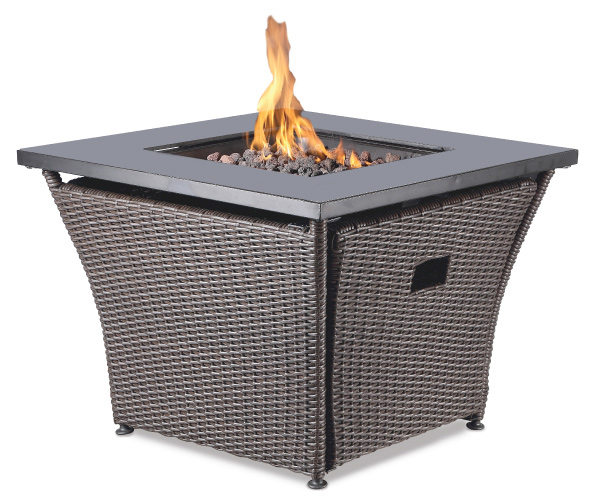 This is a more classic outdoor propane-powered appliance that's more of a fire table than a fire pit if we're being honest. It's got a lovely basket woven design for the base and it's topped with a lovely, polished black glass mantel that stays cool enough to allow you and your friends to put your drinks and food down on the edges even when the fire's going.
It also comes with a cover for when you're not using it as well as an insert that can be used to convert the fire table into a simple coffee table. It also comes with lava rock to get you started. We suggest blue because the images we've seen of Blue Rhino fire tables with blue lava rock under the flames certainly has quite the entrancing look to them.
15. Pirate Ship Fire Pit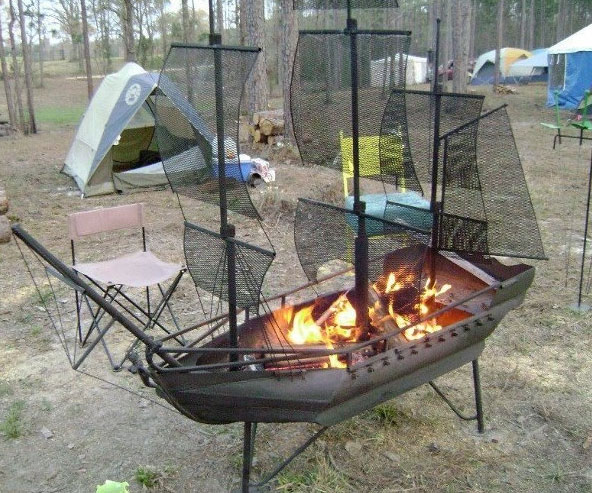 This is not a design for beginners or the faint of heart because it will most likely take a good amount of time and work to create a pirate ship fire pit that actually looks like a pirate ship and can work like a fire pit. You'll definitely need a few tools to get the job done but you might get lucky and find yourself a decent-sized metal pirate ship replica to use as your base of operations.
If you can find a metal pirate ship replica, the job won't be too hard because all you have to do is clear out all of the non-metallic stuff from the ship before you start tossing your firewood in there to get a swash-buckling fire going for you and your mateys. If you can't find one, you'd have to use a decent amount of handyman and welding know-how to put together a good-looking pirate ship fire pit. No doubt this project will get the creative juices of any artisan or craftsman flowing, especially those who have a special affinity for all things pirate.
16. Cowboy Cauldron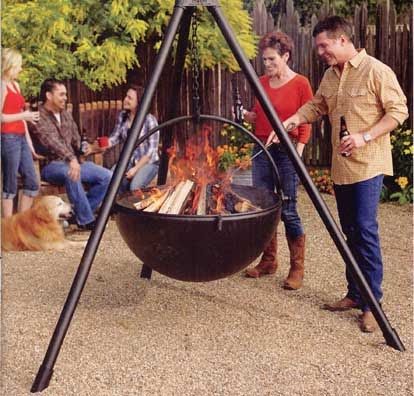 This one of the more unique styles of fire pits that we came across during our research and that's why it stuck in our minds and made it onto our list. These will set you back a fair bit so unless you intend on getting good use out of your cowboy cauldron fire pit, you might want to steer into cheaper pastures.
A cowboy cauldron carrying a blazing flame can be quite the centerpiece to an outdoor or backyard get together. If you do often play the host, this could be a great addition to your home design. They come in three different styles and are made with some of the best and strongest cast iron you'll find.
17. Stone Bar Fire Pit Combo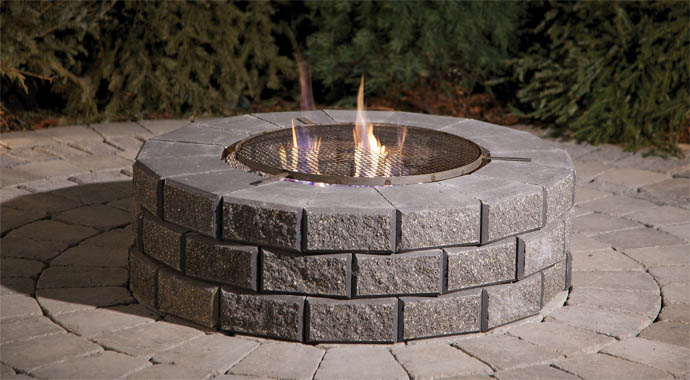 Here we have one of the more intriguing design ideas for a fire pit, a kind of a two for one piece for your backyard or patio. It consists of a stone fire pit similar to those we've already described but with an elevated section on one side where the bar can be propped up on one end with table legs on the other.
Now you've got yourself an eating station that's integrated into the cooking process, it is almost like your own backyard Benihana! You can roast your meat over the fire pit and put it down a few inches away on the bar to be carved and shared when it's at its steamiest and most fresh.
18. Patio Table Fire Pit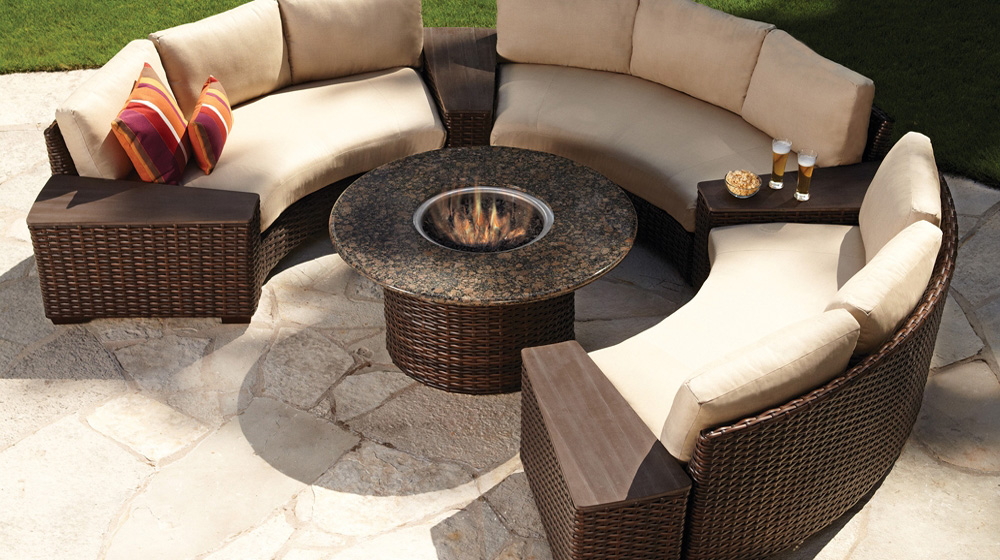 For this 'do it yourself' fire pit ideas, you'll need to have some knowledge of welding or you'll need to enlist the help of someone with that skill set. To create this dual-purpose patio table fire pit, start with a metal patio table and remove the center area. That's where your fire pit is going to go.
Next, you can go for a deeper grill-like pit that sinks under the table with the flames coming up into the center from below. Alternatively, you can set up a nice fire bowl on top with some lava rocks as the centerpiece of your new backyard staple. You'll want to look for a kind of metal that doesn't overheat too quickly so then you can enjoy sitting at the table while the fire is going. Now you can have fun eating a meal or having some drinks with friends by the fire and you don't even have to leave the table!
19. Adirondack Fire Pit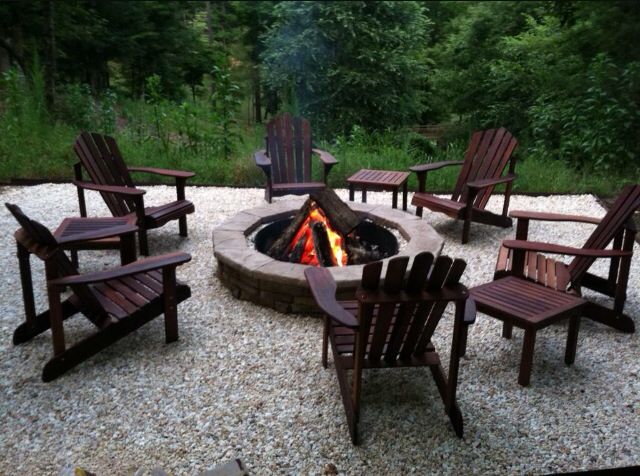 If you're a fan of the cottage feel and are fond of Adirondack chairs, this fire pit ideas will fit in with your design snugly. Find a decently deep fire bowl with a grated cover and brush and clean it back to its former glory. Then find yourself some fence boards, ideally in a beige-type of color and fashion a hexagonal base for your fire pit.
Once the base is ready, you can slot your fire bowl into the center and surround it with the fence slats that you were hopefully able to repurpose. Buying lumber from the shop is fine too! This gives a nice by-the-lake type of design for the mantel of your fire pit.
20. Koi Pond Fire Pit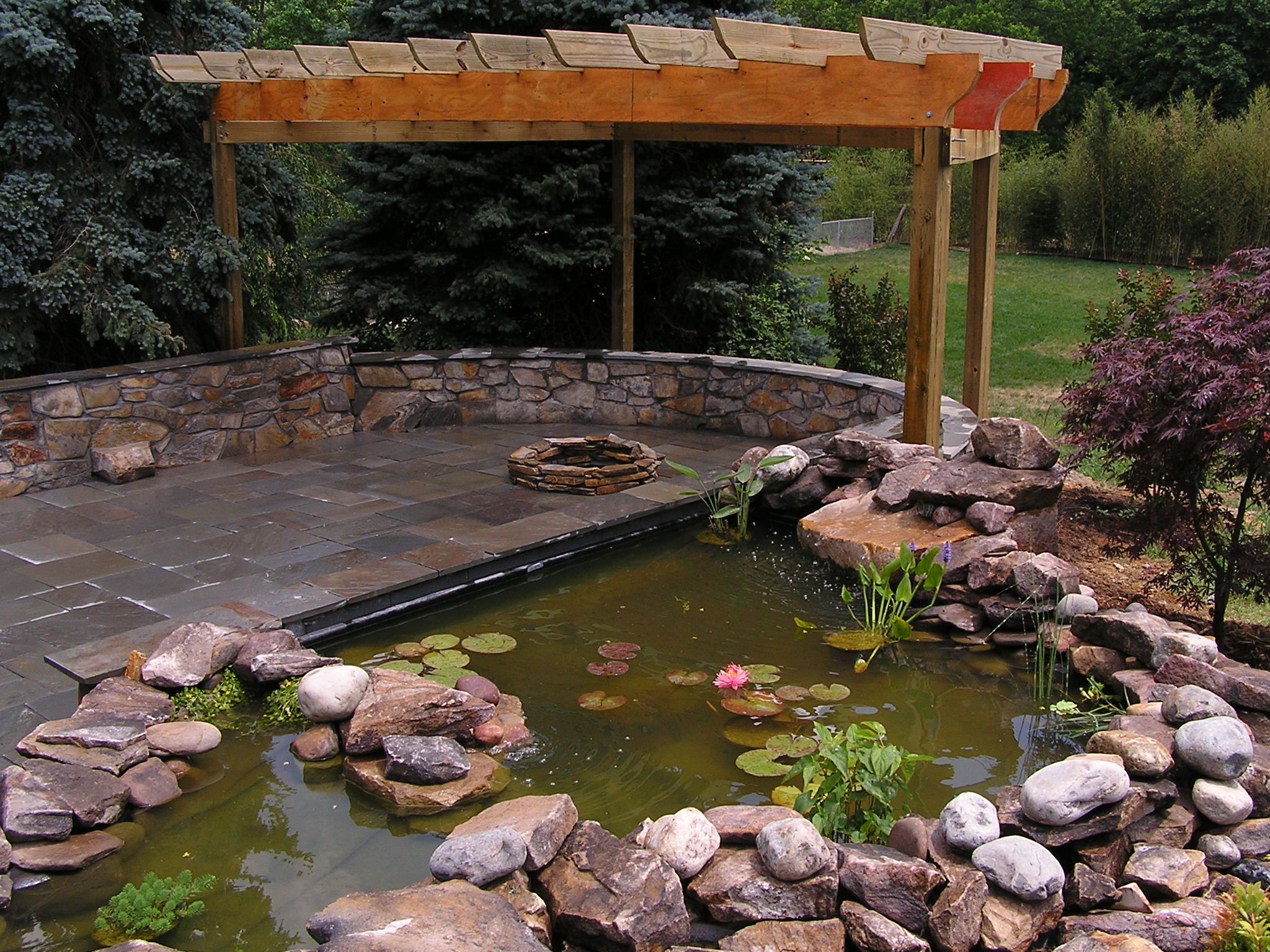 If you've got a space in your yard where you used to have a koi pond or any other kind of pond and it is no longer serving as a pond, you can repurpose the area and turn it into your fire pit. The reason for this repurposing is easy as the pond is usually already lined with non-combustible rocks. There's a lot less leg work involved as a result.
It's important to check whether your pond is lined with stones or concrete because if it's been lined with PVC or some sort of synthetic rubber, a fire pit will not work out. If you've got the right conditions, all you've got to do is cover the bottom with a layer of sand. Cover that with some rocks and pebbles, throw some firewood on there and Bob's your uncle!
Conclusion
Fire pits are a great addition to any cottage, patio or backyard setup because not only does everyone love cozying up in front of a fire, it can also serve many purposes. You can use it as a simple focal point for the design of your space, you can use it as a barbecue or grill for big cookouts or even solo meals and it also allows you to lengthen your outdoor season thanks to the added warmth that they supply.
As we've seen through this list of do it yourself and store-bought fire pit options, there are a lot more fire pit ideas than the stone, brick, and wood-built options. We've also seen chic fire bowls, fun tiki fire torches, pirate ship fire pits and fire pit ideas that integrate the cooking area with the eating area. There is truly a fire pit ideas for any and all tastes and spatial situations.