Professionals or amateurs have their requirements when it comes to painting. Know more about 5 types of paint sprayers to find what's best for you.
When it comes to retouching old furniture or making your room look better, a paint sprayer is one of the most popular items you can't skip. Efficient as it seems, you need to consider several factors before getting a new one.
As there is a variety of types of paint sprayers on the market, it is essential to understand what are the differences among them. After that, you can know what is the best paint sprayer for you. Let's find out more about 5 types of paint sprayers in our article today!
5 Types of Paint Sprayers
Airless Paint Sprayers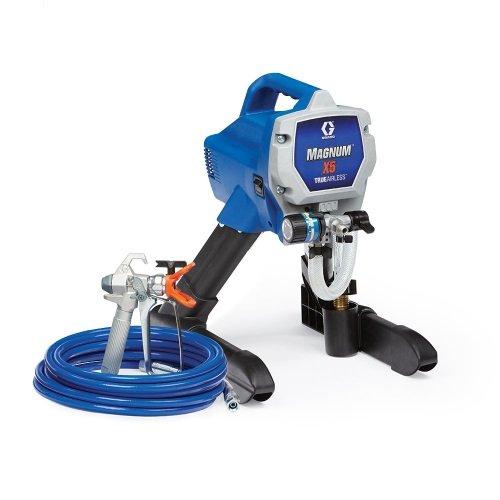 This type is the best option for professionals and skilled users who are generous about the budget. They usually come at a high price, but the efficiency is excellent and worth your investment.
With much pressure, these sprayers atomize the paint and transform it into tiny droplets coming out from the head. These droplets allow you to create even and smooth patterns on the surface of your projects.
Speed is the most important factor when you use an airless paint sprayer. A huge amount of pressure causes a rapid stream which gives you a chance to finish big projects within a short period of time.
Therefore, an airless sprayer is a popular choice for large volume work. Instead of wasting hours, you can paint walls now within minutes.
If your budget is limited, you can look for some available airless models which are more commercially affordable.
Nevertheless, it has several disadvantages. Its huge power is often responsible for overspray, causing some unfortunate errors in the projects. Besides, it is not suitable for craftsperson work, such as furniture or cabinets.
Pros
Quick finish
Clean and smooth patterns
Cons
Overspray
Not the best option for precision work
HVLP Paint Sprayers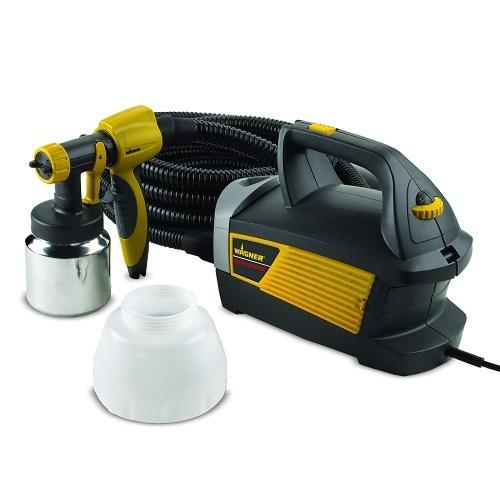 The best thing about HVLP paint sprayers is that it has a more affordable price, but still excels at projects that require high precision. Many professionals consider this type as their favorite.
HVLP stands for high volume low pressure, which seems to be opposite of airless paint sprayers. In fact, this kind of sprayer still atomizes the paint. However, instead of using a massive amount of pressure, it minimizes pressure to create higher volumes. HVLP is not all about speed, and it may not be a perfect option to help you finish painting your room.
It is more appropriate for furniture, cabinets, or crown molding. When it comes to precision painting, HVLP paint sprayer is the best choice to create a beautiful finish.
What can be wrong with this kind? They usually clog. Even though clogging is a common problem for most paint sprayers, it seems more common for HVLP because of low pressure. If you fail to clean the sprayer, the paint may concentrate on the tubes, causing problems when you use.
To tackle this issue, some sprayers on the market go with a special port which permits you to clean it more easily.
Pros
More affordable price, compared to airless sprayers
The best option for personal precision work
Cons
LVLP Paint Sprayers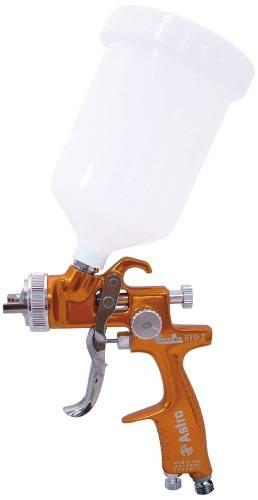 If you have no or little idea of painting, then you should go for LVLP paint sprayers (low volume low pressure). They are usually economical and simple to use, but the quality is still good enough to help you finish the job effectively.
From the name, you can tell how it operates. Low pressure means that this type of sprayer only needs 10PSI for operation. Therefore, it is possible that you only need basic air compressors, rather than other costly industrial-sized units. It saves not only money but also space for storage.
The LVLP paint sprayer works similarly to an airless gun, helping you paint large surfaces easily.
What are its drawbacks? Due to the limited quantity of pressure, you can make use of it for limited materials only. It may work well with thicker paints. As a result, many professionals find it difficult to finish their projects.
However, if you are an ordinary person who just needs to paint a fence without spending a lot of money, the LVLP is a worth-considering option.
Pros
Affordable price
A simple painting of large surfaces
Cons
Not enough power for thicker paints
Gravity Feed Spray Guns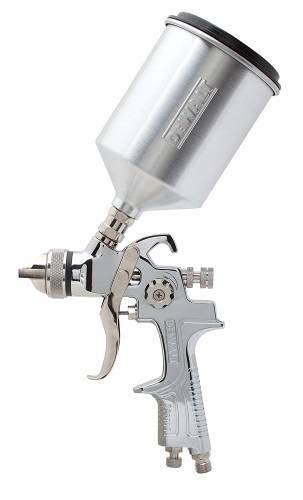 When you need to spray cars, there is no better option than gravity feed spray guns. Quite similar to the HVLP, this type aims to create various coats on the surface of your work.
In fact, we may not consider gravity feed as a main type of sprayer. It is more like a design element that you can use along with other systems.
Thanks to the siphoning element placed at the top, this sprayer does not need as much pressure as other models. When you use the gravity feed spray gun, the precision is extremely high. There is little possibility for overspray, and it does not require much cleanup.
It is the most excellent option for spraying cars, but you can take advantage of it to support your work with more refined touches. It is not suitable for high volume projects, though.
Pros
Extremely high precision
Simple cleanup
Cons
No support for high volume projects
Compressed Air Paint Sprayers
Even though the compressed air paint sprayers are extremely simple to use and suitable for beginners, we do not recommend them as they are quite old-fashioned.
Simplicity is the best advantage of this type. It is good enough for high volume tasks, but it is possible to work on precision projects as well.
Each system has its own downsides, but in general, compressed air sprayers usually have clogging or overspray problems.
Pros
Cons
Final Verdict
Depending on the job requirement and your needs, there are different types of paint sprayers for you. Professionals often have many choices, while beginners and amateurs need to choose wisely.
We hope our analysis of 5 types of paint sprayers helps you have a clear understanding of their pros and cons. As a result, you can find what is best for you! If these are still unclear, you can check out https://gopaintsprayer.com to get helpful advice from experts.