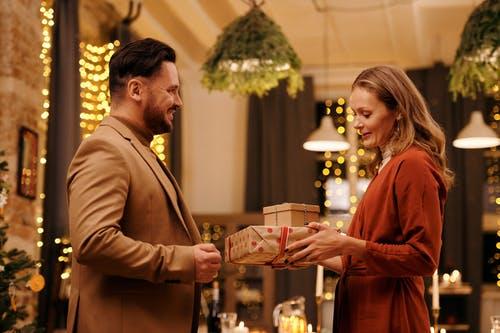 Pleasing a wife is more complicated than climbing a mountain as husbands cannot predict their appreciation. Irrespective of how long marriage is, many husbands embarrassingly admit that they do not know much about their wives' preferences. Thus, they have a hard time choosing a gift for their better halves. Men often say that sometimes women appreciate receiving flowers and chocolates while others prefer something more sentimental and thoughtful. No wonder husbands find themselves in a dilemma when there is an occasion and want to surprise their wives with stylish gifts.
Today, markets have multiple options, and sometimes excessive choices further confuse men. Moreover, in the modern technologically-driven era, husbands can search the internet and order the perfect gift for their wives. But, the question arises, what would be the ideal gift for them. Although many brands now offer purchasing gift cards, some women love receiving thoughtful gifts from husbands rather than having to choose themselves.
Giving gifts rekindles the romance in a relationship and can make your loved one feel appreciated, especially if receiving gifts is their love language. You do not have to break your bank to purchase an ideal gift. Furthermore, wives appreciate receiving things that can ease their life and add quality to them.
The following are some unique yet stylish gift ideas to surprise your wife:
1. A Pair of Trendy Yet Comfortable Shoes
Men may not understand, but a stylish and comfortable pair of shoes can change a woman's mood in seconds. In current circumstances, most people prefer staying indoors, as evolving situations of the novel virus have made it risky for them to go about their activities like pre-COVID-19 times. Husbands can order comfy indoor slippers for their wives and win them over. Soft and cozy slippers make going about their home chores easy, and they would be grateful for the thoughtful gesture. Husbands can search and find a stylish pair of slippers and slide a note with a gift that they care for their wives' comfort.
2. Cooking Items & Kitchen Staples
Women may not love cooking, but fancy, antique cookware pieces are a great gift to fill your home. From trendy trays, stylish tea sets, and modern glassware, you can't go wrong with kitchen items. Husbands can sneak around and may find several folded pages of magazines indicating that their women are thinking of purchasing new cookware. Especially if you have a dinner party coming up at home, your wife will love the idea of getting to serve the food on a brand new item!
3. Lightweight Cardigan
Most homes have moderate temperatures, and people do not wear their padded jackets and leather coats inside homes. Women tend to avoid shopping for things specifically for themselves, particularly for home use. Light-weight wool or crochet cardigan in their favorite color can be an ideal gift. If they are always cold, a comfortable and warm cardigan she can wear is a very thoughtful gift. Cardigans can be convenient while also consider that she might want something new to wear around the house or town!
4. Jewelry Organizer
Husbands know very well that their wives love wearing jewelry and have plenty of accessories. They may have seen them struggling to organize their bracelets, earrings, or chains. Moreover, many husbands would testify that their wives spend a significant amount of time searching for a specific jewelry piece while getting ready. Jewelry organizers of different shapes, sizes, materials, and colors can be found so that you can buy her the perfect one for her space. Help your wife keep her precious jewelry pieces organized so that she can save time getting ready.
5. Scented Candles
Candles add to the aesthetic of the space and give it an oomph factor. Scented candles provide a relaxing aroma that helps people calm and pulls negative energy. Scented candles are a beautiful and unique gift and make the moments memorable. Scented candles have multiple options, from fruity to musky, floral, or anything in between. Women will love receiving candles. Scents and smells lead to memories. When she lights the candle, she will be reminded that you gifted her the candle. Even better, try to find a scented candle that smells like your wedding bouquet. It can help revive the romance and bring back memories from your big day.
6. Crossbody Bag
Women love stylish bags, and receiving a practical bag will make them pleased. While there are plenty of options for bags, you can never go wrong with a crossbody bag. It is versatile, easy-to-carry, and goes with almost all types of dresses. Pick a crossbody bag in your wife's favorite color so that she can wear it on your next date night.
7. Cozy Chair
Many husbands would admit that they see their wives get extremely tired towards the end of the day. One way to help calm her down at the end of a busy day is to have a comfortable chair to sit in and watch movies together. A comfortable chair for them to relax in and enjoy a cup of their favorite beverage can be a very thoughtful gift that helps you spend more time together. A recliner is an ideal gift as it will add an oomph factor to the house's décor and make your wife happy.
8. Customized Journal/ Mug/ Gym Water bottle
A couple makes so many memories together, and husbands can take a step ahead and preserve their special memories. They can customize picture frames, mugs, gym water bottles, journals with a particular date, a quotation related to them, and make it a token of love. Personalized gifts strike a chord and make the receiver feel special. Customized gifts will give a message that you value your wife and adore her.
Find Her the Gift That Makes Her Feel The Most Appreciated
Many husbands would agree that they find it difficult to choose gifts for their wives. Many men think that women appreciate expensive presents and to give them, they think they will have to make a hole in their pocket. The truth is wives appreciate gestures of love and admire gift items that add quality to their lives. Husbands have an idea about their wives' preferences, and many know what they need. Some wives are wise and start giving hints before any occasion. Husbands can take a cue and purchase the presents accordingly. The most important thing is to find her a gift that caters to her love language, and that makes her feel appreciated and valued. No matter how big or small, she will appreciate the kind gesture as long as you have put thought into it.