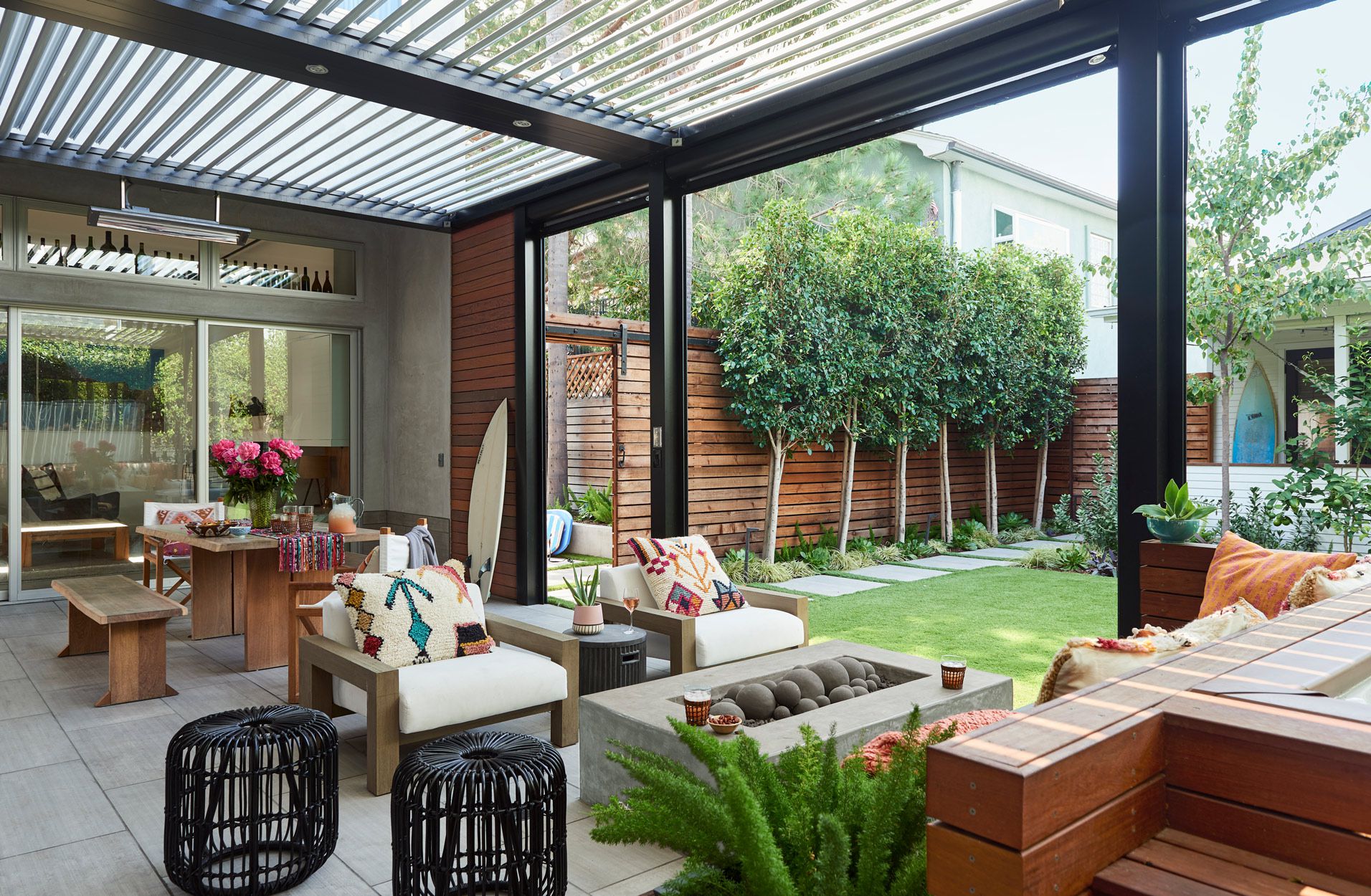 There's nothing quite like spending time outdoors, surrounded by the beauty of nature with a gentle breeze blowing through your hair. However, to truly experience this, one needs to have an appropriately designed outdoor living space. Having a well-designed outdoor space ensures that the functionality and aesthetics of a well-curated indoor living area are carried over to your outdoor area. In this comprehensive guide, we'll walk you through the various elements that make up the ultimate outdoor living space and offer tips and tricks for creating your own.
Understand Your Space
Understanding your space is the first step in designing an effective outdoor living area. Here are some key points to consider:
Consider the Size and Shape: The size and shape of your outdoor area will strongly influence the design. A rectangular space might accommodate a long dining table, while a circular area could be perfect for a fire pit.
Evaluate the Land: Flat ground is ideal for tables and chairs, while sloping areas might be suitable for creating multi-level spaces or incorporating elements like steps.
Understand the Sun and Wind Patterns: Knowing where and when the sun shines in your space can help you plan where to place certain elements, like a shade or a sun lounger. Similarly, understanding wind patterns can help in positioning fire pits or grills.
Identify the Views: Make note of any views your outdoor space provides, whether it's a scenic landscape or your own garden. You may want to design your space in a way that maximizes these views.
Consider Privacy: If privacy is a concern, consider how your design can incorporate elements that provide seclusion, such as fences, hedges, or pergolas.
Choosing the Right Furniture
When choosing outdoor furniture, there are a few critical factors to consider. Primarily, the durability and weather resistance of the furniture cannot be understated. You want to select furniture that can withstand the unpredictable weather conditions and the test of time. Comfort is also essential, particularly for lounging areas. Investing in comfortable seating and lounging options will ensure that you have an outdoor living space where you can unwind and relax. Lastly, incorporating storage solutions for cushions, tools and other outdoor essentials will allow for seamless transitions between indoor and outdoor spaces.
Incorporating Natural Elements
Incorporating natural elements into your outdoor space enhances its aesthetics and creates a serene environment that brings you closer to nature. Here are some ways to achieve this:
Plant Life: This includes anything from grass to trees to flower beds. They not only add color and vibrancy to your space, they also attract wildlife such as birds and butterflies, adding to the natural feel.
Water Features: Whether it's a small fountain, a pond, or even a swimming pool, water features add a calming and soothing effect to your outdoor space.
Natural Building Materials: Using natural materials like stone, wood, and bamboo for your furniture and structures can help to meld your outdoor space with the nature around it.
Fire Elements: A fire pit or outdoor fireplace can provide warmth, light, and a focal point for social gatherings. This element adds a primal, natural aspect to your space.
Rocks and Stones: Incorporating rocks and stones into your landscape design can add a rugged, natural feel. They can be used for pathways, borders, or decorative features.
Flooring and Ground Cover Options
Flooring options for your outdoor living space are just as important as the furniture you choose. Decking is a popular option and can come in wooden or composite form, offering both durability and an inviting texture. Paving, whether with stones, bricks, or concrete pavers, can add dimension and a sophisticated edge to your outdoor area. A natural lawn, while requiring maintenance, has a timeless appeal, especially for an open environment. Lastly, outdoor rugs and mats provide an easy way to add style and texture to your outdoor space, allowing the perfect finishing touch.
Conclusion
Designing the ultimate outdoor living space that is in sync with your style and functionality needs is crucial. Assessing the size and shape of your area, understanding the amount of sun exposure and shaded areas, and zoning your space, are the initial steps to consider. Incorporating natural elements such as plants, water features, and fire elements to bring the outside to your outside space provide a touch of serenity.
Finally, flooring options like decking, paving, natural green grass and a combination of outdoor rugs and mats ensures a complete appeal. Ultimately, the key to designing the ultimate outdoor living space is to have a clear vision of both your style and functionality needs in the desired space. It's never too late to create your ultimate outdoor living space.