Tight spaces of the commercial kitchens in food establishments can be a real challenge for business owners. However, manufacturers of modern equipment have taken care of the proper arrangement of the working zone to maximize storage capacity. Thus, you can add more surfaces for small items and utensils, as well as for bulky household appliances, such as microwave ovens, and smartly use vertical free space by investing in wall mount stainless steel shelves.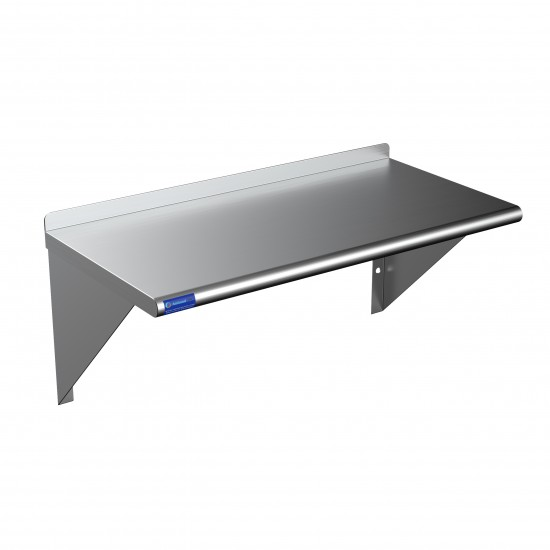 How the wall mount shelving unit can solve the problem of limited space
Multitudes of different items are always stored in the restaurant kitchen, from dishes, small prep tools, and an array of ingredients to heavyweight devices and huge containers without which it would be impossible to establish a smooth workflow. But if the room is not too large, then the staff will constantly be faced with a lack of free space in the cabinets and drawers, they will spend extra time seeking frequently used items, and this, in turn, will affect the speed and efficiency of cooking task execution.
Moreover, there is a risk that the worktop will be crowded with different objects that can also become a barrier for quick and hassle-free operation. Such poor space management is the result of wrong design and inappropriate selection of equipment. To avoid this, you need to make the most of your vertical empty wall and attach stainless steel wall shelves above the prep table or the stove to optimize storing spots even more. Proper planning of the working area allows you to simplify the cooking process by reducing the movement of the cook. What does it mean? Let's discover in more detail how to pick the right model and how to ensure excellent outfitting for high functionality:
Choose the wall-mounted metal shelving that suits your needs best
You can select among fixed, floated, or wire wall units. Some more customized solutions include even triangle styles to suit the corner or shelves with extra pot racks. Also, you have to evaluate your needs to decide whether you have to obtain a solid surface structure or a louvered model for excellent air circulation and keeping perishable goods.
Wisely position all cooking stuff to keep everything in order
The convenient design of the versatile wall-mounted metal shelving option provides instant access to kitchen equipment and accessories. Determine what you need to hold within the reach during the intensive job performance, so as not to waste a minute.
Assess the weight capacity of stainless steel wall shelves
When picking the construction for holding a microwave oven, blender, or mixer, remember that the shelf must be manufactured exactly for this purpose, having extra supportive brackets and being made of high-grade and rigid steel.
Buy only metal options
Stainless steel is not the only material for commercial use, however, this is the only alternative that is able to withstand harsh conditions, high humidity, chemical application, and external impacts. For example, solid wood quickly absorbs moisture, shrinks when cooled and expands when heated, as a result of which the wooden shelves are easily deformed and cracked. But this is not the case for durable and highly resistant steel.
Consider installation
In order for the upright steel shelf to hold well, the fasteners must be strong and go deep into the wall. They can only be mounted on brick, concrete, or wooden walls. The sheetrock wall is not suitable for this purpose.
If the specifics of your kitchen do not allow you to attach wall shelves, then you can find shelving options in the AmGoodSupply catalog, including equipment stands, complete shelving kits, or dunnage racks.