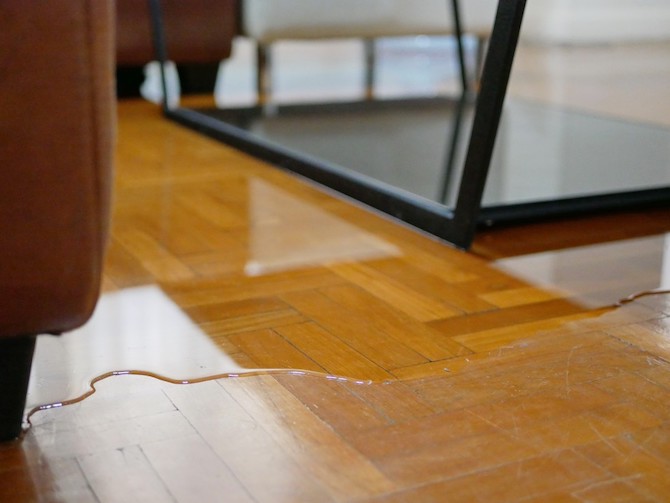 Water is essential in every home, and you want enough supply points and faucets to ensure convenience. Still, you should make sure that the plumbing work is done right and well-maintained to minimize the risks of water damage.
Identifying the likely root causes of water damage and acting early enough before any incidents occur is the better option. If you want to steer clear of water damages, we've got a detailed guide below for your reference. You'll also learn how to fix possible water damage causes before they occur.
Causes of Water Damage
Leaks in the Plumbing System
A leak in the plumbing system is the most common cause of water damage in many homes. The challenge with these leaks is that they're hard to detect unless they are beneath a sink. There's a high possibility that a rusted pipe may leak at some point. It would be best to replace that pipe with a new one because you'll have to do it eventually.
Clogged Gutters and Downspouts
Your gutter system is responsible for draining rainwater away from your property. Yet, most homeowners neglect their gutters and only clean them when necessary. As a result, leaves, branches, and other debris can obstruct water flow over time. When gutters clog, water pools and overflows to the underside of the home. These waters may collect near the foundation, potentially causing cracks. Eventually, the water flows through the cracks to your basement, leading to mold growth.
Old and Faulty Appliances
Water damage can also be caused by old or defective equipment. This is particularly common with washing machines and aging water heaters. Here, damaged hoses or improper connections leading to the appliance are often to blame. The water from the broken connections drains to the floor, where it collects, and what follows is mold growth and an unpleasant musky odor.
Blocked Toilets
When too much solid material travels down the toilet, your toilet blocks and clogs the drains. As a result, water overflows and floods your bathroom floor. This is always an unpleasant situation and may occur at the most unexpected time. Additionally, a blocked toilet can lead to many health problems if not addressed promptly.
Burst Pipes
Pipes are more likely to rupture when the temperature in the house drops significantly. The ice in the pipes expands quickly, causing the pipes to burst. A solution is to shut off the home's water supply and drain the pipes before the cold season begins. Pipes that are old and rusted are more likely to burst. Therefore you should inspect their condition to be safe.
Water Hammer
A water hammer also referred to as a hydraulic shock, is a phenomenon that happens when a moving fluid inside a pipe is abruptly stopped or changes direction. The abrupt shift in fluid momentum causes a pressure surge which transmits a wave at the speed of sound. The pressure surge is often several times the piping system's working pressure limit, causing damage to the pipe and any machinery attached to it and posing a risk to humans and the environment in some situations.
Using Ball and Gate Valves to Prevent Water Damage
Ball Valve and How It Works
A ball valve is a type/model of a shut-off valve that controls fluid media flow using a rotating ball with a bore. It has a long service life and ensures solid sealing throughout the valve's life, even when not used for a long time. As a result, they are more widely used as a shut-off valve. Ball valves will help you cut off the water supply to your home during winter or if you suspect there are leaks, which could cause water damage.
To better understand the operating principle of a ball valve, you'll need first to identify the five main ball valve parts and the two different operation styles. The ball valve diagram in Figure 1 shows the five essential components.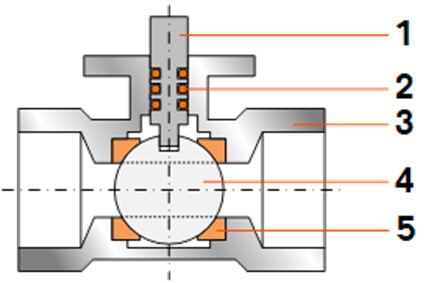 Figure 1: Ball Valve
The ball (4) is attached to the valve stem (1), which can be actuated either manually or automatically (electrically or pneumatically). The ball valve seat (5) supports and seals the ball, and there are O-rings (2) around the valve stem. All are contained within the valve housing (3). When the valve stem is twisted a quarter turn, the bore is either open to the flow, allowing media to flow through, or closed, preventing media from flowing through.
There are several types of ball valves, including:
Standard (threaded)
Hydraulic
Flanged
Vented
Gate Valve and how it Works
A gate valve, also called a sluice gate valve, is a control valve that either prevents or allows media from flowing freely. A gate valve's key advantage is the open straight-through channel, which reduces pressure loss across the valve. However, gate valves are much slower compared to the quarter-turn valves and they should only be used when completely open or closed.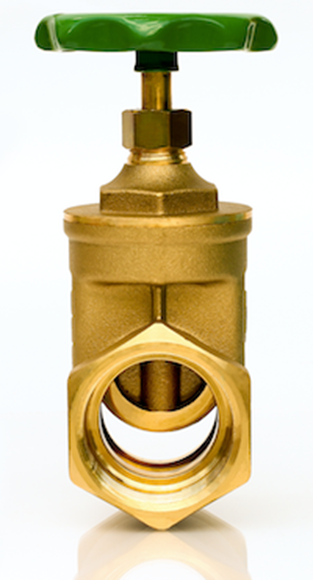 Figure 2: Gate Valve
Choosing Your Water Shut-Off Valve
As seen in the article, there are many causes of water damage. To prevent water leaks, bursting pipes, water hammers, and other indoor water damage issues, the right choice of a water shut-off valve is a must-have. Factors to consider during the selection process include the valve's type and size, construction materials, performance requirements, and maintenance. That said, you should note that water damage can be caused by several other factors that might be out of your control. So seek professional help where necessary.