Your kitchen is one of the integral yet ignored parts of your house. It's a place where most gatherings, including family dinners, are held.
However, we sometimes forget to clean it and keep everything organized. The result is a dirty and poor-looking kitchen. That's why it's high time you consider redecorating your kitchen and check out custom kitchen cabinets.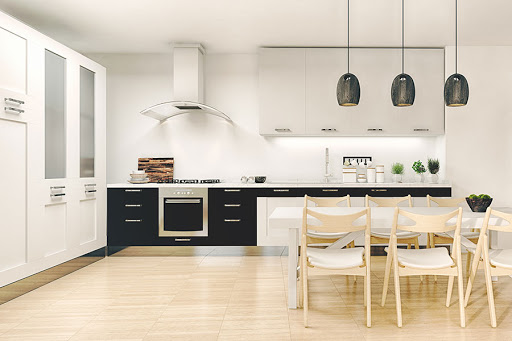 Buying a brand-new designer kitchen can be a costly home remodeling project. If you don't want to spend much but still want a modern kitchen, there are ways to make it look fancy.
You don't need expensive tools for your kitchen. You can still make it look beautiful and classy by using what you have with a little bit of creativity.
How Can You Make The Kitchen Look More Expensive?
Whether your budget is high or low, you can always have your dream kitchen. Here are some smart tricks that will help you get a fancy kitchen within your budget.
Play with The Tiles
Instead of using regular, dull tiles, try to put something eye-catching this time. Statement tiles can be the right choice for that.
These tiles mostly come with slim, slate-like designs that can elevate the appearance of your kitchen. While placing the tiles, use tight spacing to give it a solid look.
If you think putting tiles all over your kitchen wall will be costly, place a few tiles behind the cooker like a splashback and paint the rest of the wall with a color that compliments the tiles.
Update Your Kitchen Cabinet
Can't afford a complete remodeling for your kitchen? No problem. Just bring a change into your cabinet and cupboard holds, and you will notice a huge difference in its outlook.
There are some shops where you can find these cabinet parts at a cheap rate. You can also search online for the best kitchen remodeling in Denver and order from a suitable website.
Consider Beautiful Lighting
Nothing can boost your kitchen's appeal like good lighting. Not only will it help you to do critical work like cutting smoothly, but it will also change the way you look at your kitchen.
Battery-powered LED lights are quite cheap and can be easily installed. Consider using lights under the cabinets so that you can find things without any hassle.
Also, consider buying some lovely but affordable shades for the lights and see what difference you can bring to your kitchen.
Choose The Color Wisely
Color plays a vital role in bringing the luxe vibe in a kitchen. And you don't even have to spend a huge amount to do so. Instead, you just have to pick the right color.
Heritage shade with deep pigmentation brings a high-quality, expensive-looking feel in a kitchen. Instead of going for a harsh black, gold, silver color, try something from charcoal, champagne, or cream.
Also, using a shiny color will make your kitchen look very cheap. Use ultra-matte shade to make it look more luxurious. While you're using some light color on the walls, you can also try to use dark colors on the cabinets.
Use Wood Veneer Instead of Wood
Using handcrafted wood cabinets can give your kitchen a sleek and retro look. However, cabinets made from real wood are costly and can exceed your budget.
Wood veneer can be a cheaper alternative to wood. Use wood veneer to make your kitchen cabinet. They are fantastic looking, just like real wood.
Highlight on Island
Sometimes, decorating the entire kitchen can be quite pricey, even if you use budget-friendly equipment. In that case, working on a specific corner, particularly the island, can also bring a huge difference in how your kitchen will look like.
Find a lovely worktop at an affordable price that contrasts with the rest of your kitchen. Place a nice and elegant-looking dining table, which you can use for both cutting and having dinner. Use some sleek, light, stylish chairs around the table instead of the heavy ones.
Install a Nice Splashback
Using dull, while tiles behind the cooking range doesn't only make the kitchen look cheap, it can also get dirty quickly. Adding a beautiful splashback can make it look luxurious without breaking the bank.
While adding a splashback, select something with bright color and interesting patterns. Black painted glass or glittery mosaic tiles will also give a bold statement.
Keep Your Fridge Door Clear
We all love to put stickers, magnets, postcards on our refrigerator doors. While it seems like fun, it makes the door, as well as the kitchen, a bit messy.
To make your kitchen look nice and expensive, it's highly recommended that you keep your fridge door clean. If you still want to put something on it, place only a few bright-colored magnets.
Become a Minimalist
A kitchen will never look posh if it's messy and full of unnecessary things. Especially if you have your workspace full of papers, knives, vegetables, etc., it will make you annoyed.
Consider decluttering your work surface. Remove all the unnecessary things from the countertops and place them inside the cabinet. It will cost you zero fortune and a little bit of effort.
Consider Using Open Shelves
Sometimes using closed shelves can make your kitchen look very congested. In that case, you can invest in purchasing some open shelves or glassdoor shelves.
Switching to open shelves will not only make your kitchen look bigger, but you can also display your beautiful kitchenware and crockery by placing them in front.
Bring a Fresh Touch With The Flowers
You must be tired of smelling the sharp spices and dull vegetables. It's time to bring some freshness into your kitchen.
Consider placing a nice tree at the corner of your kitchen or some flowers on the table. It will bring a fresh vibe in that room and make it look expensive.
Final Thoughts
An attractive and expensive-looking kitchen can create a massive difference in your home and your life. It's a place where all the delicious foods are made, and all your family members gather for meals. It can be a great family meeting place when it is nicely decorated.
It doesn't require purchasing expensive decorations and tools to make your kitchen look pricey and exclusive. All you need to do is to be smart and creative in its designs and decorations.