Build an amazing home by regularly cleaning, improving, and repairing your home's exterior to significantly increase curb appeal and property value.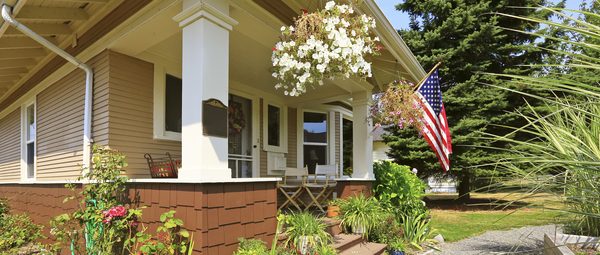 Here are 7 tips for maintaining your home's exterior:
Preserve your house by regularly washing your home's exterior. Neglecting to clean your home's exterior leads to rapid deterioration caused by nature, especially mold, mildew, and insects.
Generally, cleaning the outside of your home is recommended every 12 to 18 months, depending on your location and climate, to manage your house's structural integrity. Washing your home's exterior involves numerous steps, including:
Cleaning windows
Scrubbing siding and brick
Power washing patios, porches, and decks
Eliminating insect webs and nests
Removing debris from your roof
Treating roof stains
Develop a schedule for washing your house's exterior to maintain a beautiful home.
Apply fresh paint to substantially brighten your home's exterior. Paint gradually diminishes over time because of sunlight, weather, and pollutants, leaving your home faded, unappealing, and defenseless against weather, insects, and other damage.
Experts suggest painting your home every 5 to 10 years based on your home's climate, material, and previous paint job. Before painting your home, carefully clean and repair the dame to guarantee excellent results. Paint your home's exterior using a paint sprayer to successfully apply even strokes. If you're switching your home's exterior color from dark to light or vice versa, remember to add primer first. Afterward, paint your home's trim, doors, and fixtures using a paintbrush.
Beautify and protect your home by applying a fresh coat of paint.
Update your front door to instantly enhance your home's appearance. Front doors are your guest's first impression of your home as well as security for protecting you and your family, meaning your front door should be both stylish and sturdy.
Front doors are usually expected to last the lifetime of a house; however, replacing or updating your front door may prove necessary for numerous reasons, including difficult movement, weather damage, improper sealing, or simply outdated styles. Redo your front door by replacing hardware, applying fresh paint, improving trim, or purchasing a completely new door.
Give your home's exterior a brand new appearance by updating your front door.
Protect you, your family, and your home by sealing unwanted gaps. Gaps allow air, moisture, insects, and pests to enter your home, increasing electric expenses and causing significant damage.
Caulk is used for sealing gaps, which lasts approximately 20 years; however, an average homeowner should inspect a home's exterior about every 5 years to seal potential gaps caused by weather or pest damage. Seal small gaps by applying caulking around windows and doors. Additionally, large gaps may require replacing trim or hardware.
Seal gaps on your home's exterior to achieve long-lasting results.
Replace your siding to maintain your home's exterior. Siding serves as a weatherproof solution for your home to prevent damage caused by wind, rain, or snow. Failing to replace rotten, cracked, or warped siding negatively impacts your home's interior and exterior.
Siding should be replaced every 10 to 20 years to remain effective. Fixing minor siding repairs is possible by yourself, but major jobs are best accomplished by a professional. Contractors possess essential knowledge and skills for purchasing quality materials and installing siding properly to save you time and money. Search for siding contractors near you to locate the perfect option.
Guarantee your home's protected by replacing your siding.
Clean out your gutters to improve your home's exterior. Gutters clogged with debris, such as leaves or sticks, lead to devastating water damage for your home's interior and exterior and encourage pest and insect infestations.
Depending on your home's surroundings, gutters should be thoroughly cleaned at least twice a year. Clean your gutters by grabbing a ladder, bucket, and scoop to gradually remove debris and gunk. Alternatively, cleaning your gutters using a garden hose may be possible based on the condition of your gutters and the attachment you use.
Regularly clean out your gutters to defend your home against unnecessary damage.
Elevate your home's exterior by repairing your roof. A damaged roof leaves your home defenseless by allowing water, pests, and insects to enter your home, causing mold and other serious health concerns.
Guarantee your home's exterior lasts by performing regular roofing maintenance, including removing debris, eliminating standing water, checking for leaks, and replacing shingles. Additionally, replace your roof when necessary. A roof's lifetime depends on the material used. For example, asphalt shingles last 15 to 30 years whereas metal roofs last 50 to 75 years. Recruit a contractor to properly replace your roof and ensure advantageous results.
Secure your home from damage by repairing your roof.
Improving your home's exterior is essential for enhancing curb appeal and increasing property value. Guarantee you create a beautiful home by regularly cleaning, upgrading, and repairing the outside of your home.
Successfully maintain your home's exterior by following these 7 tips for improvement.