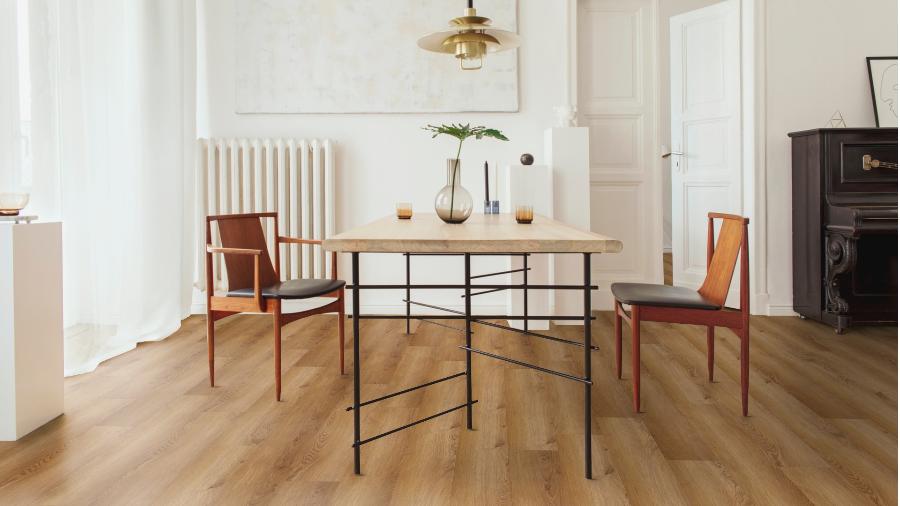 1. Sheet Vinyl Flooring
Sheet vinyl can be found in at least one room in the majority of UK homes for one main reason, the price. Nine times out of ten sheet vinyl is the least expensive floor covering option to both purchase and to install.
It also comes in almost unlimited variations of colours and patterns which means there is a colour and style available to suit any room.
The only downside to sheet vinyl is it does tend to look and feel as cost effective as it is.
For a higher quality look and feel you may want to consider one of the alternative options below.
2. Click LVT Flooring
Click LVT flooring is dominating UK homes in recent years and it's only expected to increase further.
Modern LVT floors imitate real stone or wood flooring incredibly well and the benefits are numerous.
Only sheet vinyl and laminate floors are generally available for less cost. However when you consider the overall package that LVT provides the apparent cost difference often disappears.
Opting for a floor that is 100% waterproof has obvious advantages, such as usability in all interior rooms and being easy to clean.
The majority of high quality LVT floors have underlay built into the planks, which removes the need to buy and lay underlay separately. The planks also easily click together. No glue is needed at all making installation extremely easy.
This manmade floor type is available in almost endless variations of colours and styles so there is something for everyone.
3. Laminate Flooring
Laminate flooring is another popular choice for use in homes thanks to its durability, low cost and low difficulty installation.
The installation of laying the underlay and then laying the laminate over the top is essentially as simple as it gets. A simple cheap installation combined with the low purchase price means less costs for the floor overall.
Plus like sheet vinyl and click lvt flooring, laminate flooring is available in many different styles, patterns and formats.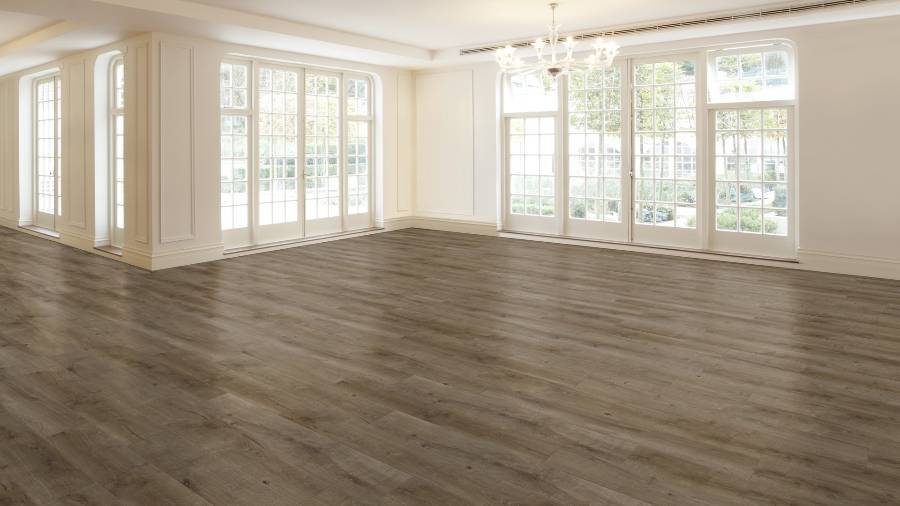 4. Real Wood Flooring
Real wood flooring has remained popular in homes for decades and at present it looks like it will always have a place in homes thanks to its natural appeal.
The ultimate real wood flooring is solid wood flooring, as it is the only wood flooring variation that is actually 100% real wood. The downside of 100% real wood however is the fact that it is more susceptible to moisture and temperature changes which creates a higher required level of maintenance.
The most popular real wood flooring today is engineered wood flooring thanks to its increased durability towards moisture and temperature.
Only the top layer of engineered wood flooring is 100% real wood, the remaining sub layers are created to be more durable than natural wood. This means the owner can enjoy the fully authentic real wood top layer with an easier way of life when living with the floor.
5. Stone Tile Flooring
Real stone tile flooring is a highly popular choice for kitchens.
A good quality stone floor is a luxury product and is appreciated by many for good reason, it looks good, it feels good and simply suits kitchen areas very well.
One of the benefits comes from the material itself which is not slippery when wet which is appropriate for kitchen areas.
It also lasts a very long time providing it doesn't get damaged.
The only downside to real stone flooring is it isn't a floor type that you can use throughout your home like you can with luxury vinyl tile flooring. You probably wouldn't like to get out of bed in the morning straight onto stone flooring.
Summary
Common practice is to utilise different floor types for different areas in the home. Such as stone tile floors in kitchens, carpet in bedrooms and vinyl in bathrooms.
However, if you are looking for an overall winner, a single floor type that you can use from your front door, in your bathrooms, in your kitchens, up into your bedrooms and won't empty your bank account, then modern Click LVT flooring takes the victory as the overall winner and best all-rounder.