As beautiful and relaxing as the bathroom could be, it has a record of being the cause of so many hazards all over the world, especially for people with limited mobility. Having older people in your home calls for immediate adjustments to your bathroom to keep them safe from accidents that are most times overlooked.
At a certain age – mobility, poor sight and, inability to control muscles become the major problems to face, and an unsafe bathroom is only going to do more harm than good. Some of the most common challenges seniors face in the bathroom include;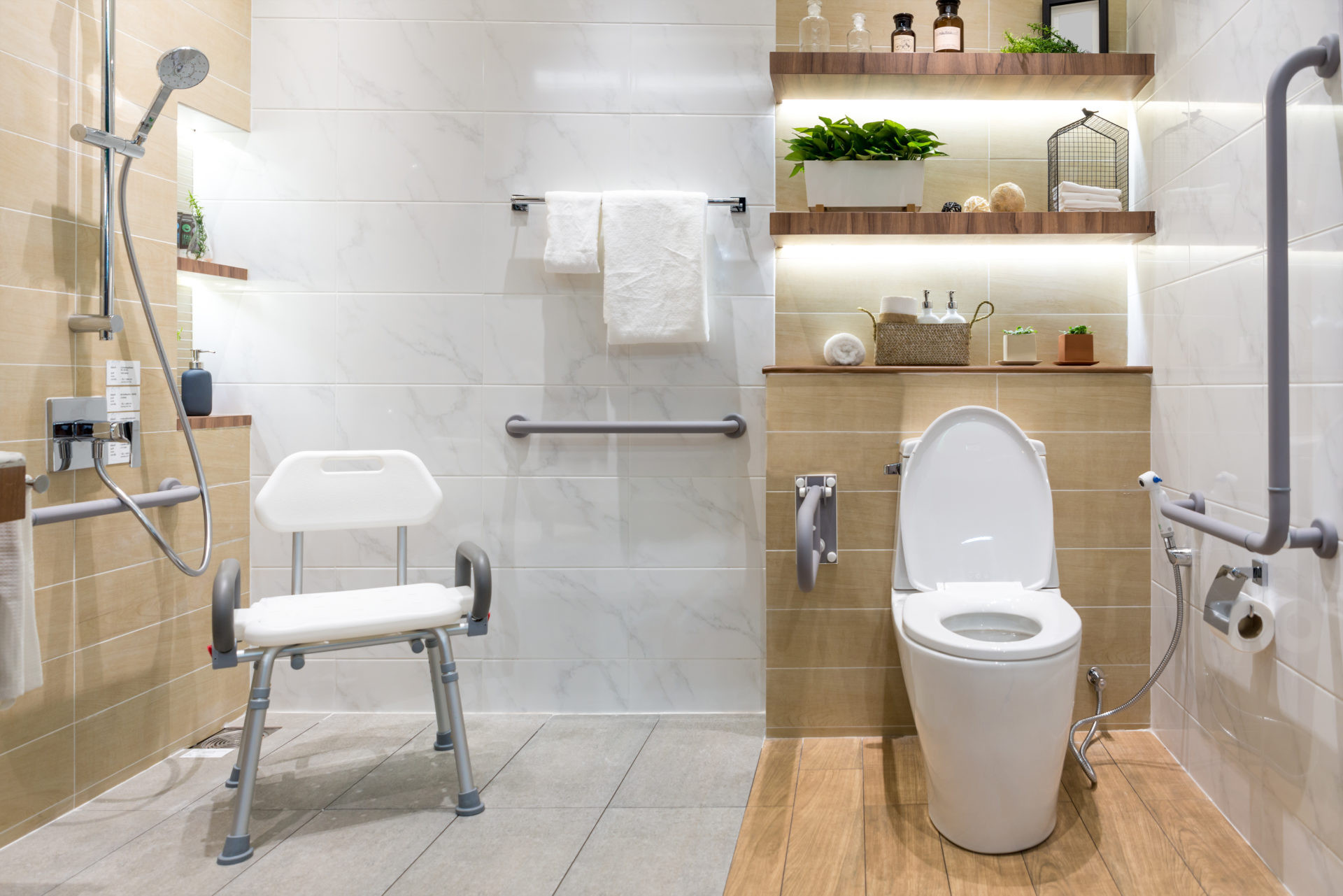 Getting in and out of the bathtub and shower stall
Taking a shower while standing, especially for longer periods
Moving on a wet and slippery bathroom floor
Sitting on a toilet seat and getting up from it
Having a bathmat that moves
However, the good news is there are several ways to face the above-listed challenges and make your bathroom a safe haven to seniors, without giving them an opportunity to fear to go into the bathroom, especially if you have one living with you.
10 Helpful tips to make your bathroom safe for seniors
If you love having your grandparents around or a friend who is a senior, making the following adjustments to your bathroom is one of the best ways to show top-notch hospitality;
Installing Grab Bars
The best grab bars reduces the risk of slipping or falling when seniors enter the bathroom. Installing grab bars close to the bathtub and shower stall helps them go in and out of the bathroom without thinking about having a great fall every time they take a step. Ensure grab bars are durable and firmly secured to prevent it from removing when it supposed to support a falling person.
Towel bars are sometimes assumed to function as grab bars, but the truth is they are not strong enough to support the weight of a human body, especially a falling one.
2. Sufficient Lighting
Keep your bathroom properly lit to avoid partial or total blindness. Most times, accidents are caused by a lack of proper visuals, and the only way to prevent this is by making provisions for natural and artificial light to avoid partial or total darkness or reduce shadows in your bathroom.
3. Using Non-Slip Mats
Most bathrooms aren't equipped with non-slip tiles, and getting a non-slip mat is the best way to improvise. Keep your non-slip mat right beside the bathtub, directly in front of your shower stall and toilet bowl to dry wet feet before moving around the bathroom.
Using a rubber non-slip mat on the bathtub and shower floor also protect seniors from slipping. They provide full stability. For a much safer bathroom, non-slip adhesive strips are used on sink edges to avoid slip when they place their hands on it.
4. Raised Toilet Seats
Seniors might find bending really low difficult, and a raised toilet seat is the only way to prevent them from trying to go so low. These toilet seats should also come with grab bars that'll make sitting and getting up from the toilet seat pretty easy.
5. Get a shower chair
For seniors who find it difficult to stand on their feet for too long or stand on their feet at all, a shower chair is the best option. These chairs are usually made of soft plastic and have rubber at the tip of its legs for stability. Get them shower chairs of their favorite color to make them feel even more comfortable using it.
6. Installing a handheld shower
This works best for seniors who use shower chairs. A handheld shower makes it possible to have a bath and remain totally clean without having to make so many movements.
7. Avoid Clutter
Having stuff lie around the bathroom floor is totally dangerous, especially when you're sharing a bathroom with a senior. Keep toothpaste, toothbrushes and, other toiletries organized and within reach. Make these items possible to reach for without bending or stretching too hard.
8. Get a Walk-in tub
Walk-in tubs are the best option for seniors who fear to raise their legs to get in and out of a bathtub. They are safer and come with doors, having a smoothe and relaxing bath is possible using a walk-in tub.
9. Label all switch and cabinet in the bathroom
Use paper tape or sticky notes and a marker to clearly indicate what the various switches in the bathroom work to avoid accidents and injuries. Faucets should be marked and easy to turn on and off to prevent scalds due to high water temperature.
10. Keep bathroom floor dry
A wet bathroom floor is a major cause of slipping and falling in the bathroom. Keeping the bathroom floor dry will make it safer for seniors. It is one of the easiest tasks, but it requires a lot of dedication to keep up.
Conclusion
Keeping your bathroom in good condition is good, but keeping it safe for seniors is way better. It is best to pay close attention to them before letting them go into the bathroom all by themselves. Installing a telephone in the bathroom is also very important – so they can call for help – in the case of any accidents.
Keep the bathroom dry and clean always, and make sure all fittings and fixtures are in proper condition too.