With visions of tearing off moldy wallpaper and ripping up chipped tiles, you're chomping on the bit to revamp an out-dated bathroom. You saved up, spoke to the professionals, studied DIY techniques, and crafted a plan. You know exactly what you're going to do and how long it will take you to transform your ugly bathroom into a refined oasis.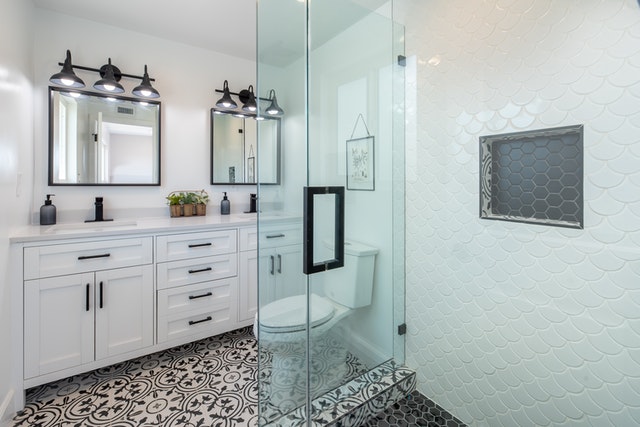 There's just something wrong with that picture. Your swing of the sledgehammer reveals significant water damage and the beginning of a serious black mold infestation.
What do you do? You have a couple of options.
The Experts Recommend Saving a Cushion
One of the biggest mistakes homeowners make is forgetting that most renos go wrong. That's according to The Property Brothers stars Drew and Jonathan Scott. They recommend upping your budget with at least 10% to act as a cushion.
This 10% is in addition to the cost of labor, materials, and permits. If you have an older home, you may increase this amount just to be safe.
Although it may push back the day you start your project, you'll thank yourself for taking the extra time to save up more money. You'll be able to use your cushion to handle unexpected emergencies like black mold or water damage.
Borrow Money Online
If you don't have savings and your paycheck doesn't have any wiggle room, you may consider borrowing money to help. Plenty of homeowners have a line of credit waiting in the wings in case of an emergency. If you have one too, you can withdraw up to your limit to cover unexpected bills.
However, if you don't have the best credit, you may not have an existing line of credit that you can use. In which case, you may research online installment loans for bad credit.
Rates and terms tend to vary from installment loan lender to lender, so compare the available quick installment loans online to understand what it will cost. These financial institutions have a fast application process that may speed things up. Spending extra time at this step may help you locate the best possible rates for your needs.
Whether borrowing from a line of credit or installment loan, you should only ever use these products in an unexpected emergency. These emergencies may include medical bills after injuring yourself during a failed DIY project, or the extra bill of removing black mold that you didn't know was growing in your walls.
These are just two examples of suitable emergencies, so you may use your credit or cash loan on a different bill, as long as it's unexpected and urgent.
Boosting your reno budget so you can afford European faucets and premium tiles don't count as an emergency. When it comes to aesthetic choices, it's all up to saving more.
The Takeaway
When it comes to a big bathroom reno, it never hurts to save more than you think you need. Extra money will help you be more flexible when it comes to materials and services, in case you need to upgrade to something more costly. It also helps you cover unexpected issues that crop up during your project.
Remember this as you plan for any reno — these tips can help you wherever you want to remodel.