Choosing the right flooring can be difficult, especially if this is your first time shopping for new floors. Plus, with so many flooring options to choose from, you may be a tad overwhelmed. But then, ultimately, the goal is to improve the look and feel of your home's floors. Therefore, going with hardwood flooring can be a quick and easy way to enhance the look of your floors and add to your home's value. Moreover, deciding to go with hardwood floors or wood flooring has its benefits. In fact, there are at least ten major benefits that wood flooring offers you.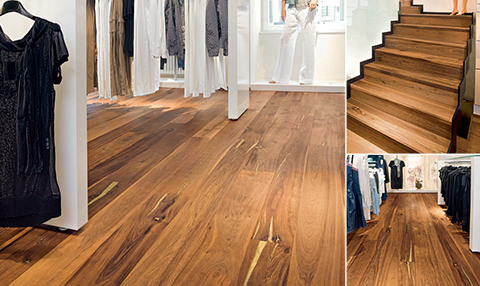 Durability
Wood flooring is a good choice for a variety of reasons. For instance, quality wooden flooring like the kind you get from Homes Pure, are made to last for decades. In contrast, carpeting typically needs to be replaced every five years or so and is easy to stain or damage, no matter what you do to protect your carpeting. As a result, wood flooring is a better alternative to carpeting and offers a timeless look and feel.
Affordability
What's more, when you choose hardwood flooring, you don't have to worry about breaking the bank. Not only is this type of flooring inexpensive, but it can also be customized to fit all budgets. This allows you to have contemporary and expensive-looking floors without the high price tag. That said, hardwood flooring does cost more than carpet or linoleum. But then, when you purchase this type of quality flooring, you actually end up saving more because you don't have to replace it in a couple of years.
Stylish and versatile
Along those same lines, wood flooring is also stylish and versatile. If you thought your options were somewhat limited, you'd likely be surprised to learn about the assortment of wood flooring choices that are available. These come in different shades, stains, cuts, types, and textures. Plus, regardless of your choice, you can opt to sand down your floors and stain them a different color later on, so your floors will still match your change in taste or any new upgrades you make in the future.
Longevity
One particular reason to give your wood flooring a makeover down the road is that your new hardwood floors have staying power. Hardwood floors, in general, can last a lifetime with the proper care. Even if you love your flooring so much that you'd never dream of changing it, it's still important to make sure that you do an inexpensive maintenance coat at least every five years. In terms of sanding and refinishing, your flooring can go a minimum of 20 years before you need to do a full sand/refinish job.
Fad-proof
Clearly, since your flooring can easily last you decades, it only makes sense that this type of flooring is fad-proof. Just look at anyone's hardwood floors. They are ageless and go with just about every popular design scheme. Unlike linoleum, tile patterns or colors, and carpet designs, your wood flooring will never go out of style/fashion. In fact, wood floors have been and continue to be a flooring favorite for most homeowners.
Practical investment
Since hardwood floors are a favorite of homeowners, choosing wood flooring actually ends up being an investment. Studies have shown that wood floors make your home easier to sell. Plus, the resell value of your house dramatically increases when you have wood floors.
Low-maintenance
Yet another benefit to having quality-made hardwood flooring is that it requires little maintenance. For instance, cleaning is quick and easy. All you need is a dust mop and a basic wood floor cleaner. Furthermore, as briefly mentioned, a maintenance coat is only required every few years. Plus, if there happens to be a damaged section of flooring, it can easily be replaced, and no one will be able to tell the difference.
Retains heat better
Of course, wood flooring isn't the only floor surface that can retain heat. Obviously, tile and stone also retain heat and are equally hygienic. However, there's a specific feel that comes with heated wood flooring or warm wood floors. One could almost say warm wood floors have a calming effect, and this is why you often find them in yoga studios.
More hygienic
Another reason to choose wood flooring is that it's more hygienic than carpeting. If you have seasonal or pet allergies, hardwood is the way to go. Moreover, wood flooring is easy to clean, disinfect, and can't harbor parasites, mites, or fleas.
Eco-friendly
Similarly, a hardwood floor is an eco-friendlier option these days. Not only do wood floors help insulate your home better, which helps to reduce your carbon footprint, but they can also be engineered with HDF-based products, so less wood is used. You can even choose recycled or reclaimed flooring if you prefer to be as environmentally-conscious as possible. A bonus is that wood flooring last longer, i.e., it doesn't need to be replaced as often, which means less material is wasted.
Promotes healthier living
Lastly, as briefly touched upon, installing hardwood flooring is one of the easiest ways to get allergy-free flooring. Highly recommended by doctors, wood flooring does wonders for people with asthma, too. Thus, this flooring type promotes healthier living because dust, dander, and other particles don't get trapped in wood flooring. Finally, laminated wood floors are less slippery than traditional wood floors, so fewer slip and falls occur.
Final Thought
These are just a few reasons to choose hardwood flooring. That said, if you're not sure which type or texture is right for your home, there's no need to panic. You can narrow down your options by first looking at your budget. Once you've figured out your price point, then look for a hardwood that will complement your current decor while still being practical. Ultimately, regardless of your choice, you won't regret going with quality wood flooring.