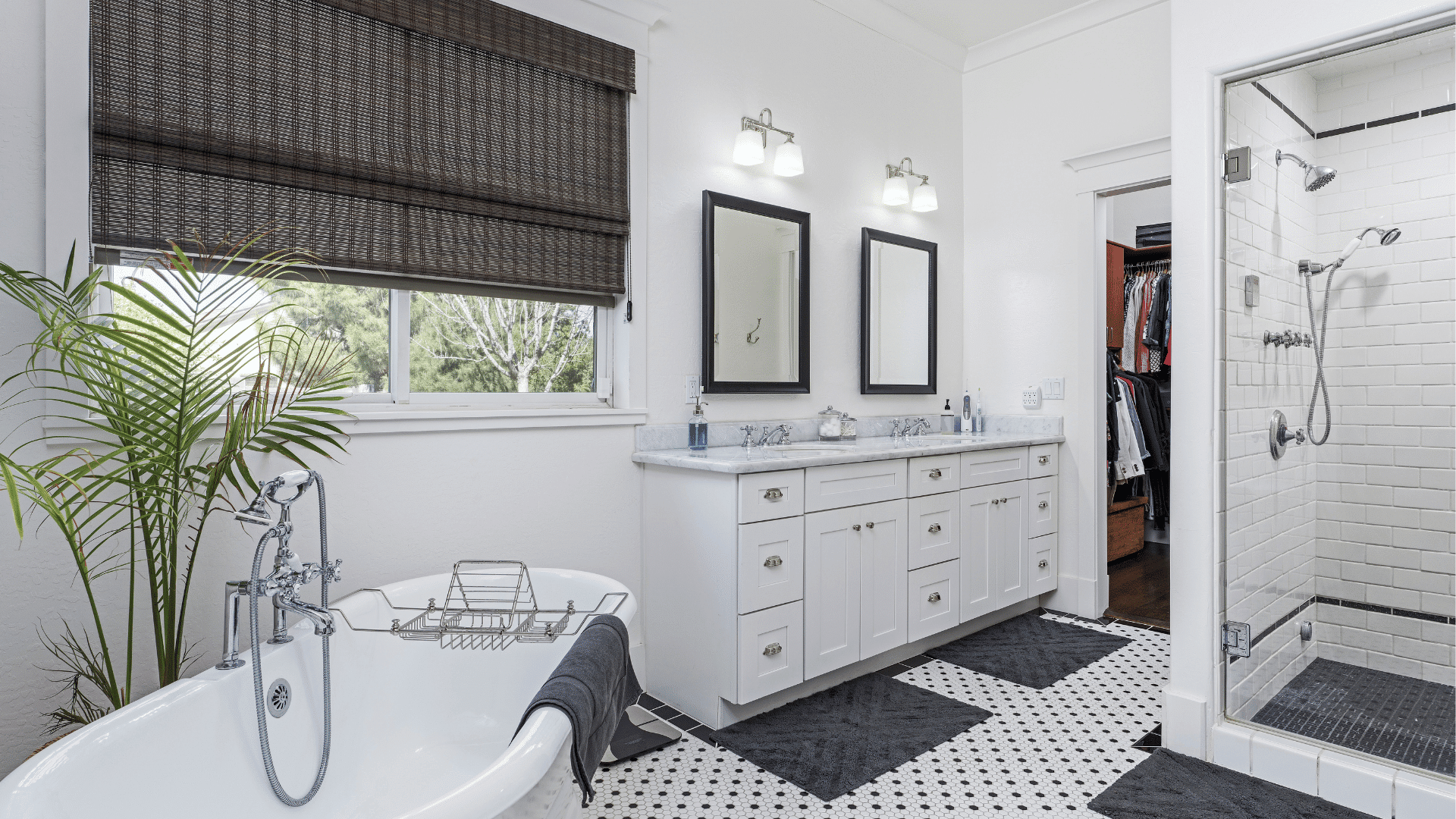 Are you planning to refurbish your bathroom? Don't worry, you're not alone! Most of us will undertake this process at least once or twice in our lifetime. We'll take you through a real-life bathroom refurbishment project, showing you how much everything costs, including materials and labour. Additionally, we'll reveal tips and tricks on how to save money on materials and how to find the best deals on the market. With so many products available, this article will help you navigate the process of starting a bathroom refurbishment, finding the right tradesperson, sourcing materials and more. By following our guide and using Buildiro.com, you'll be able to save up to 30% on your entire project.
What You Need to Know Before a Bathroom Refurbishment
Before starting a bathroom renovation, there are a few important factors to consider. These include the design of your new bathroom, your budget, the people who will be using the space, and their specific needs.
The first step in any renovation project is to create a plan. This involves assessing the layout of your current bathroom, deciding on the fixtures and fittings you want to install, and determining the extent of the work that needs to be done.
It's also important to decide who will be carrying out the renovation work. If you're not comfortable doing any of the work yourself, you may need to hire a contractor. A successful renovation project requires a great team, so don't hesitate to seek input from builders, architects, or interior designers. They can help you achieve your goals and provide insight into what's achievable within your budget and space.
If you're considering a bathroom renovation, chances are your home is more than 10-15 years old, and in many cases, over 20 years old. A quality bathroom can last for more than 20 years, making it an ideal choice for growing families or those looking to update and sell their home.
Let's get started
Adapt your bathroom to your needs
A bathroom designed for a young family with children will look different from one for a senior couple. Therefore, when planning, always consider how your life may look in ten years' time, as your bathroom will still be serving you then.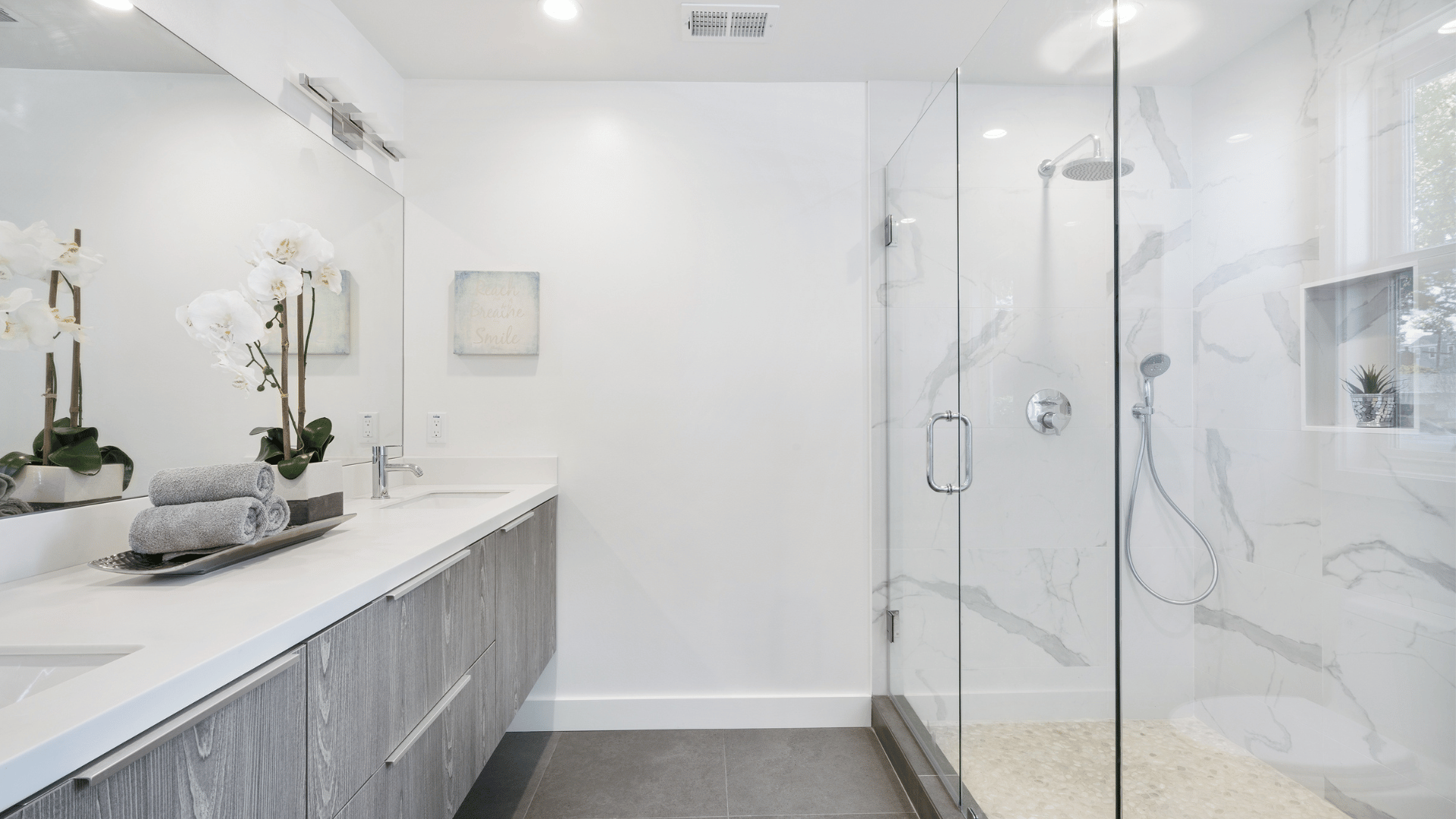 Bathroom for a family
In a bathroom for a larger number of people, it's necessary to arrange all the necessary items so that they don't get in each other's way. In this case, you will definitely appreciate having two sinks.
For the little ones, you can install a children's sink at a height of 60 cm, get a safe step stool or use one of the smart solutions. For example, you can install the sink on the edge of the bathtub. This puts it at a height that even a small child can reach without any problems and also makes bathing more enjoyable for adults. It can be used for cleaning a razor or brushing teeth in the bathtub.
Another practical trick is horizontally divided shower doors, which parents of small children or dog owners will appreciate. The parent's part is located outside the shower and the bottom-sealed shower doors protect against splashing water.
Colourful accessories and coloured walls create a joyfully childlike atmosphere in the bathroom. If each family member has their own colour, the risk of confusing towels, toothbrushes or sponges is completely eliminated.
Bathroom for the elderly
A bathroom for seniors has its own specific requirements. We should also consider what nobody wants, but it is possible that mobility issues may arise, so we should plan it as a barrier-free bathroom.
The width of the door should be at least 90 cm and should open outwards or be sliding. The sink should be ergonomically designed, easily accessible while seated, with enough space for knees and thighs underneath. The mounting height is individual depending on the need, usually around 65-70 cm when used while seated and about 80-85 cm when used while standing.
Choose a higher toilet, ideally at least 50 cm, as it will be easier to get up from. Consider an integrated bidet in the toilet, which will greatly facilitate hygiene.
Avoid bathtubs and use the saved space for the largest possible shower, ideally without a tray for easy access. Don't forget to install a seating stool. Also, get a handheld showerhead for washing harder-to-reach areas.
If you don't want to give up on a bathtub, choose a so-called barrier-free bathtub, which allows almost barrier-free access. The doors made of a single safety glass frame are opened inward and then you only need to overcome a height of 20 cm. High-quality drain and overflow will take care of rapid water drainage in about 2 minutes after bathing. Folding handles and seats can be used for necessary support or seating if needed.
Start looking for the inspiration
Take some time to browse through magazines, online blogs, or even social media platforms to get ideas on different styles, colours, and layouts. Look for designs that resonate with you and your needs, but also consider functionality and practicality. Don't be afraid to mix and match different styles to create a unique look for your bathroom. With the right inspiration and a clear plan, your bathroom refurbishment project can be a success.
Find your ideal material suppliers
When planning a bathroom refurbishment project, it's essential to find a reliable and high-quality supplier of materials. From tiles to fittings and fixtures, the quality of your bathroom materials will impact the final outcome of your project. With so many options available, it can be overwhelming to find the right supplier. One option is to use Buildiro, a platform that allows you to compare prices of building materials and find the best supplier for your project. With Buildiro, you can easily browse and compare a wide range of materials, create wish lists, and analyse prices, making it a convenient tool for any bathroom refurbishment project. By finding the right supplier, you can ensure that your bathroom project runs smoothly, and your final result is a stunning and functional space.
Find your ideal tradesman
Finding the right tradesman is crucial when it comes to a successful bathroom refurbishment project. It is essential to choose a reliable and experienced professional to ensure the work is done to a high standard and within the agreed timeframe. One of the best ways to find a trustworthy tradesman is through personal recommendations from friends and family who have had similar work done recently. If that's not an option, sites like Myjobquote can be very helpful.
This site allows users to browse a range of professionals with reviews and ratings from previous customers. It is essential to take the time to research and compare different tradesmen to find the one that best suits your project requirements and budget. A skilled tradesman will not only ensure your project is completed to a high standard but can also offer valuable advice and suggestions to help you achieve your ideal bathroom.
Tricks for enlarging the space
Perhaps only in newly-built family houses, where the investor could afford to customise the room to their needs and renovations, is it not necessary to worry about every centimetre. Otherwise, in most cases, bathrooms are undersized and this legacy of the past forces us to make compromises.
Try one of the simple tricks that won't unnecessarily shrink your bathroom:
Shower enclosure without a tray won't take up floor space.
Bathroom furniture with storage space will help keep the bathroom tidy and avoid clutter.
Simple shaped bathtubs have a more subtle appearance.
Transparent glass screens are less obtrusive than, for example, frosted glass.
Choose multifunctional solutions such as a toilet with an integrated bidet, bathtub, and shower in one.
Mirrors enlarge and brighten the room and do not have to hang only above the sink.
Light-coloured large-format tiles visually expand the room.
In a small space, avoid too many unnecessary items that can make the bathroom feel cramped and cluttered.
Use wall-mounted accessories for the bathroom such as a soap holder, toilet paper holder.
Real bathroom estimate 2023
We have a real bathroom estimate for a space that features a 3 square metre floor and 16 square metres of tiled walls up to the ceiling. This estimate covers both the cost of materials and the labour involved in the renovation project. It's important to have a realistic estimate before beginning any bathroom refurbishment project, as it allows you to budget appropriately and avoid unexpected expenses. One way to obtain an accurate estimate is to work with a reputable tradesman who has experience in bathroom refurbishments.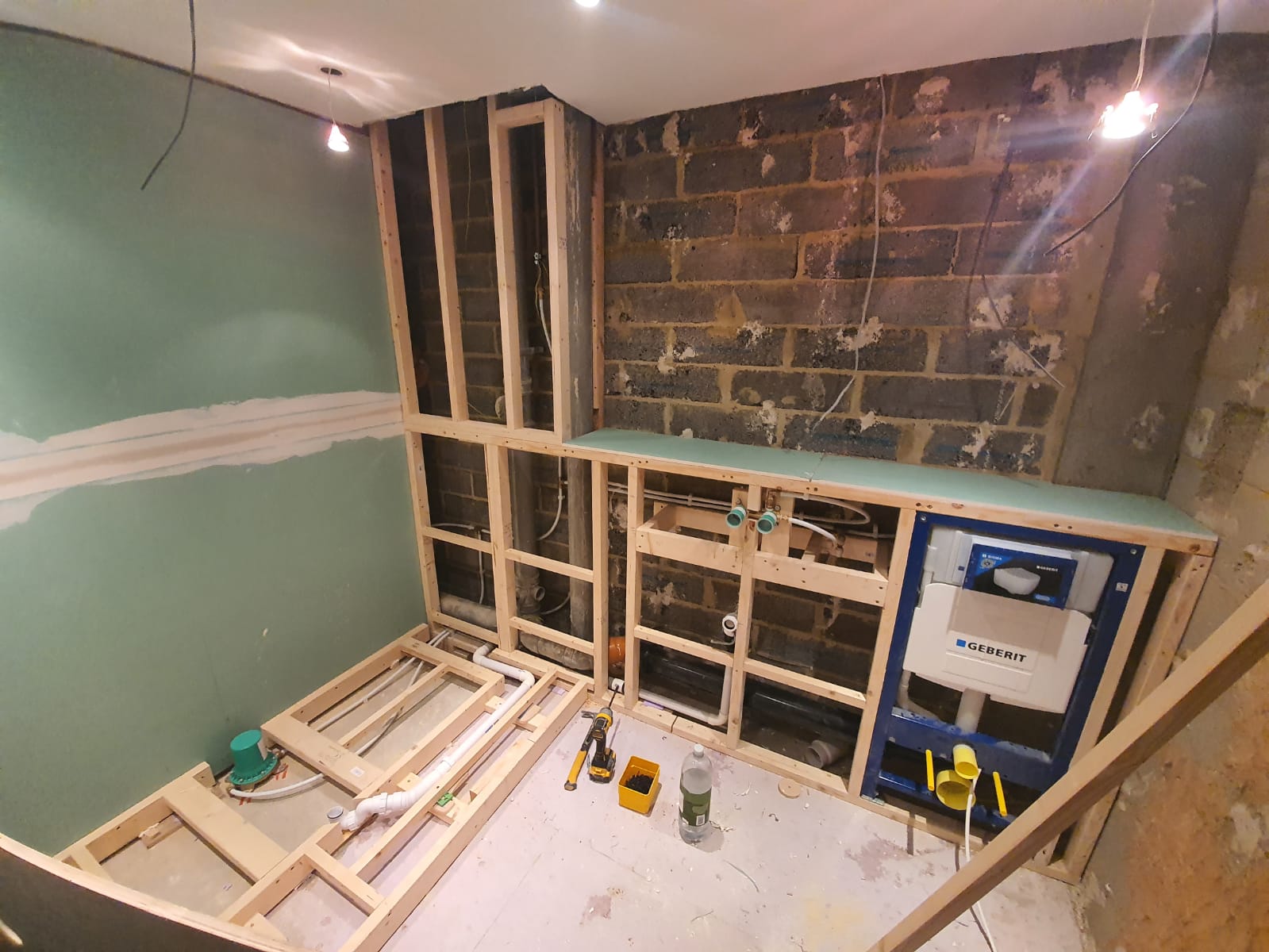 Let's have a look at how Buildiro can save you money
Buildiro is a unique platform that allows customers to save money on building materials and tools for any construction or DIY project. By comparing suppliers and merchants in the UK, the customer can save up to tens of percent on materials. This is a significant amount of savings that can really make a difference when it comes to the cost of a project.
I had a chance to get a real bathroom estimate from a well reviewed company based in London. Although the company's name cannot be published due to competitors, the estimate is a reliable indicator of the labour costs that can be expected for similar projects. See how Buildiro can confidently plan and budget for your construction or DIY project, knowing that you are getting the best possible prices for materials.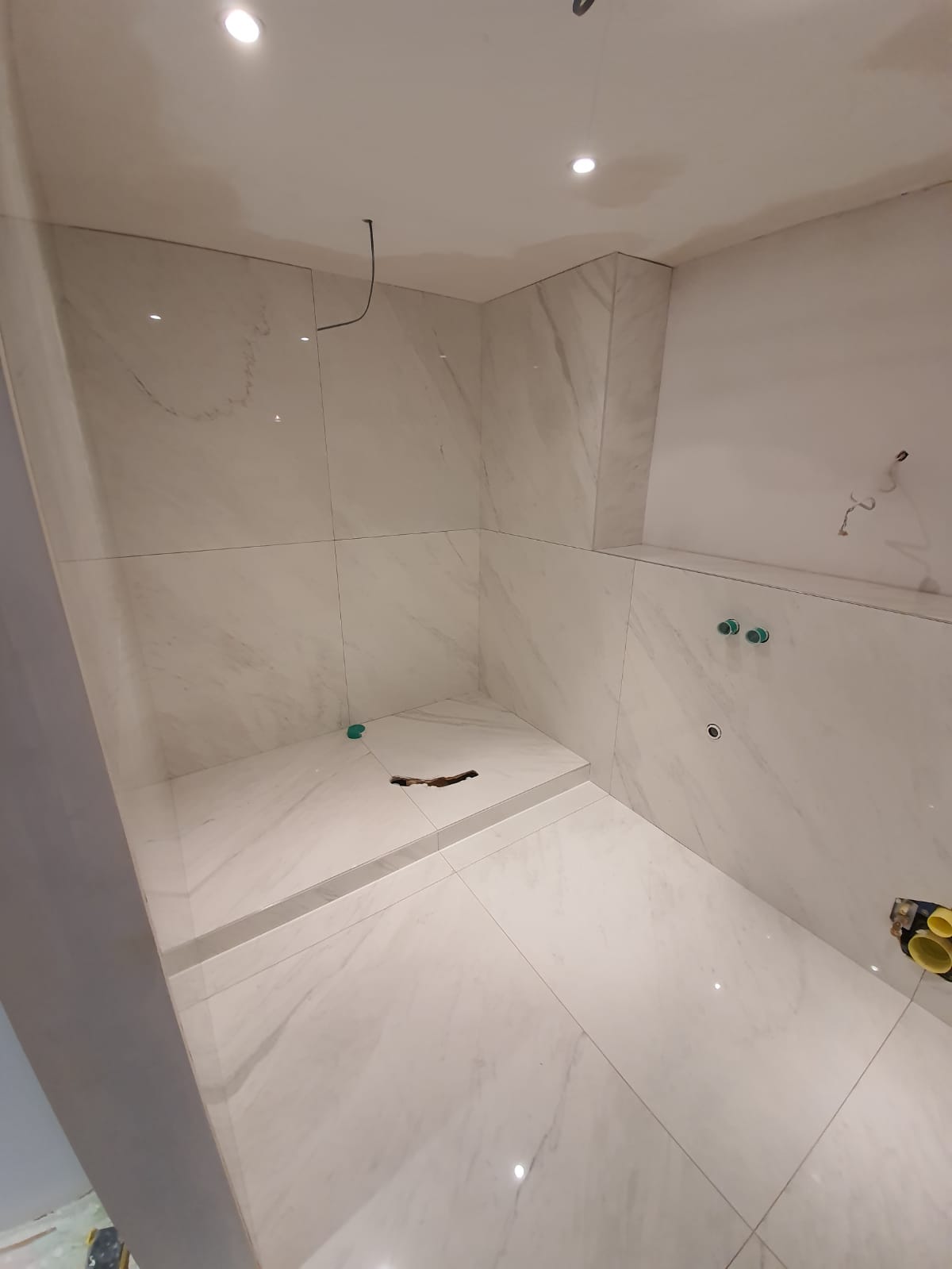 Labour
Floor protector applying
£85
Bath unit removing
£280
Stripping bathroom to brickwork, joists and studs
£760
Floor, walls and ceiling levelling
£745
Wall and floor insulation application
£95
Plumbing – water supplies, waste pipes, heating pipes
£980
Electrical works – new supplies 4x spotlights, extractor and niche light
£440
18 mm hardwood installation
£105
Durabase matting laying down
£115
Moisture resistant plasterboard installation – both walls and ceiling
£415
Waterproof tanking applying
£120
Plastering – ceiling
£312
Tiling walls, approx. 16 sqm up to the ceiling
£1,530
Tiling floor, approx. 3 sqm
£270
Grouting
£160
Bath unit installation
£280
New sealants applying
£60
Ceiling painting – 2 coats
£98
Labour total
£6,850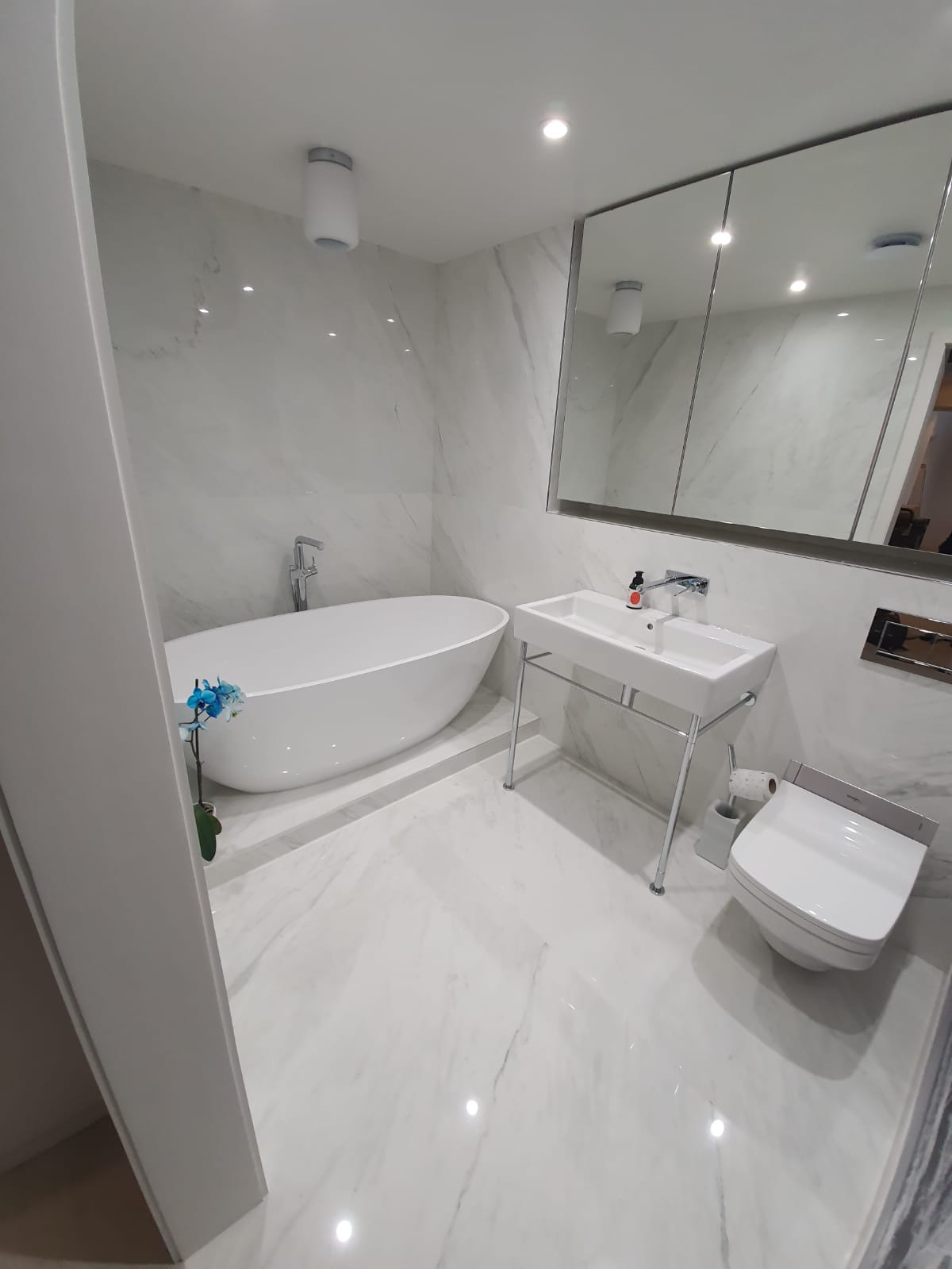 To identify potential cost savings for customers, I would often compare the cheapest option (on the left) with the more expensive one (on the right) to highlight the significant price disparity.
By clicking on the links, you can see that it's completely the same items.
See the significant difference below.
Materials
CLS timber 5x
£10 – £25
Moisture resistant plasterboard 2400 x 1200 x 12.5 mm 8x
£115.92 – £212
Plumbing – copper pipes, fittings
£324 – £465
Fire rated spotlights dimmable 4x
£48.36-61.56
Extractor fan
£48.99 – £52.79
Shaver socket
£20.49 – £21.51
Plywood 18 mm
£33 – £45
Insulation boards 8x
£182.24 – £392
Waterproof tanking
£58.21
Tile adhesive bags 6x
£71.70 – £72
Grout
£24 – £36
Sealant
£22 – £28
Plaster
£29.82 – £87.03
Cement
£16.76 – £20
Paint Dulux Easycare Bathroom
£26 – £33.04
Bathroom Mirror
£550 – £725
Bath Screen
£225.96 – £269
Freestanding bath inc. bath tap
£654.36 – £845
Wall hung basin
£279 – £331.95
Basin tap
£143.55 – £153.57
Geberit System
£196.95 – 266.49
Wall hung toilet
£189 – £198.45
Materials More Expensive OptionTotal 2
£4,635.60
Materials Cheapest Option Total 1
£3,396.47
Summary
This article provides an overview of the bathroom refurbishment process, highlighting the key considerations for homeowners looking to undertake a similar project. There is an importance of proper planning, identifying key features and materials that will be required, and selecting the right tradesmen for the job. The article also mentions that the cost of a typical bathroom refurbishment project can range between £10k – £14k, depending on the materials used and the tradesman hired. By following the advice and guidance provided in the article, homeowners can ensure that their bathroom refurbishment project is a success, and that they get the most value for their investment.