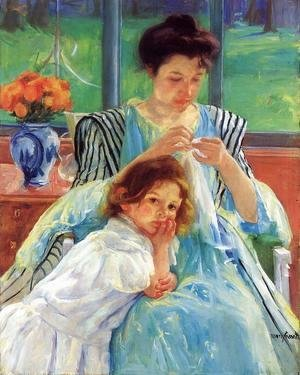 While many artists love to explore romance and abstract subjects, some prefer realism and straightforwardness. One such artist that is worthy of praise and recognition is Mary Cassatt.
Born in 1844 in Pennsylvania, Mary Cassatt lived in France to pursue her art career. It was in France that the work of Mary Cassatt caught the attention of renowned contemporaries like Edgar Degas. Soon Cassatt's artwork established a sense of impressionist art in the United States.
The artwork of the American painter Mary Cassatt depicts a common domestic setup that involves women, especially mothers and children. To study Marry Cassatt's drawings and the essence behind them, let us take a look at some of Mary Cassatt's famous paintings.
The Child's Bath (1893) by Mary Cassatt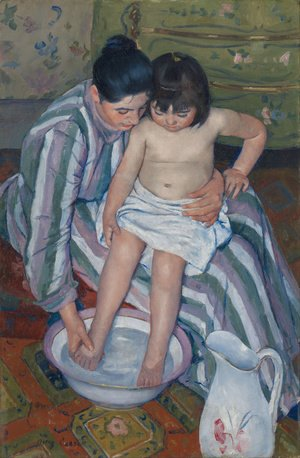 The Child's Bath – Mary Cassatt
The Child's Bath is an intimate artwork by the American painter Mary Cassatt. The painting shows a child propped up on her mother, sharing a close bond. The vivid imagery represents shades of purple and lilac. It extends from the woman's dress to the water in which the child's feet are soaked.
The way the mother holds her child's feet shows gentleness and love. And this gentleness is at the core of a relationship between a mother and a child. Working around this loving bond is one of the stark features of Mary Cassatt's artwork.
For a viewer, it might be an everyday day-to-day routine. But for Mary Cassatt, the painting draws light on bringing out the more profound affection that forms the basis of a mother-child relationship.
To learn about Mary Cassatt's famous paintings, one must understand that Cassatt differed from her male counterparts. Mary Cassatt always adhered to showing a more private, indoor setting in her artworks. This was in line with the common societal concept of patriarchy and the consequent role of women.
Breakfast in Bed by Mary Cassatt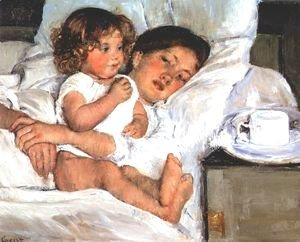 Breakfast in Bed – Mary Cassatt
A recurrent conceptual and color theme is seen in Mary Cassatt's artwork. This is also visible in one of the most famous paintings, 'Breakfast in Bed.' It is undoubtedly another intriguingly intimate piece by the painter Mary Cassatt where the affectionate relationship of a mother and a child is shown. This is also noticeable through the warm tones of the painting.
Waking up to tea on your side might be one of the best feelings one could imagine, but this state automatically enhances when the warmth of your child accompanies it.
As the mother-child duo snuggles in a soothing environment, the mother's protective gaze is bound to gain the viewer's attention. The child, like any other child, is carefree and relaxed. This is a standard action adorned by a child, usually in the presence of her mother.
Woman Standing Holding A Fan by Mary Cassatt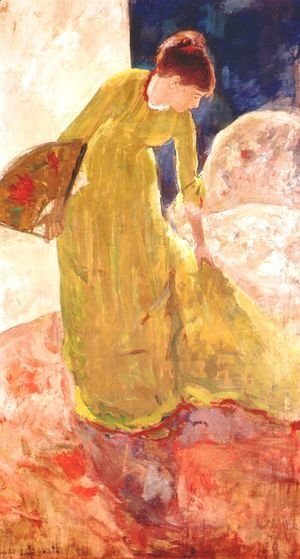 Woman Standing Holding A Fan – Mary Cassatt
The American painter Mary Cassatt was known to be a modern artist belonging to the 19th century. Mary Cassatt's drawings and techniques were influenced by Japanese work. Also, Degas influenced Cassatt greatly as both were interested in experimenting with new techniques. This is visible through the metallics used for this particular piece.
Woman Standing Holding a Fan is a canvas full of metallic green shades encompassing subtle and calm brushwork. This is said to be inspired by Japanese techniques of art that Cassatt loved to explore.
The artwork of Mary Cassatt brings about an air of feminism. Cassatt advocated for women's rights, and female power characteristics and roles have always been central to her paintings.
Young Mother Sewing by Mary Cassatt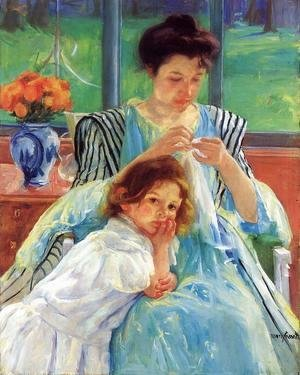 Young Mother Sewing – Mary Cassatt
Young Mother Sewing depicts the loving and inseparable relationship between a child and its mother. The camouflaging color shows the pair that goes hand in hand. It looks like warm, subtle tones were much loved by the American painter Mary Cassatt which can also be seen as a way to explain the soothing and peaceful relationship between a mother and a child.
Mary Cassatt's artworks are significant to the historic era because they are more of a window to society. Cassatt's drawings accurately represent what the painter experienced during her lifetime.
The painting Young Mother Sewing shows a child clinging to her mother, who is busy sewing. The mother is neither frustrated nor angry and seems to manage her work with her child. This multitasking ability is, in other words, a key characteristic describing women and their personalities. The painting also shows how concepts of women being committed to work or the essential house chore were deemed necessary along with child-rearing in the olden days.
Maternal Caress by Mary Cassatt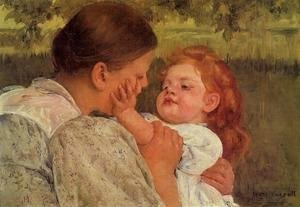 Maternal Caress – Mary Cassatt
Cassatt establishes a simple, warm tone in another famous artwork, "Maternal Caress." The painting is about a mother embracing her infant. Her expression shows how lovingly and responsibly the mother hugs and holds her child tight.
Mary Cassatt's artworks show realism. However, the artist began to observe the mother-child relationship more closely as she paid attention to the relationship between her sister and nephew.
The furniture details are elaborate that do not hide the main characters of Mary Cassatt's drawings. Her work presents explicit details of the 19th century, the era Cassatt belonged to.
Conclusion
Mary Cassatt played an essential role in the impressionist movement, and her work depicts the passion involving her struggle to pursue a career in arts. Cassatt took the routes of simplicity and straightforwardness that were shown through her artwork. Women, especially the mother-child relationship, were the central focus of her paintings.
Mary Cassatt's love to explore led her to great places opening doors to several opportunities. Soon she was seen to sponsor young artists and began to influence many. However, during the 1920s, Mary Cassatt struggled with her eyesight and let go of her passion. Although the great artist is not amongst us, her artwork truly speaks of outstanding achievement.