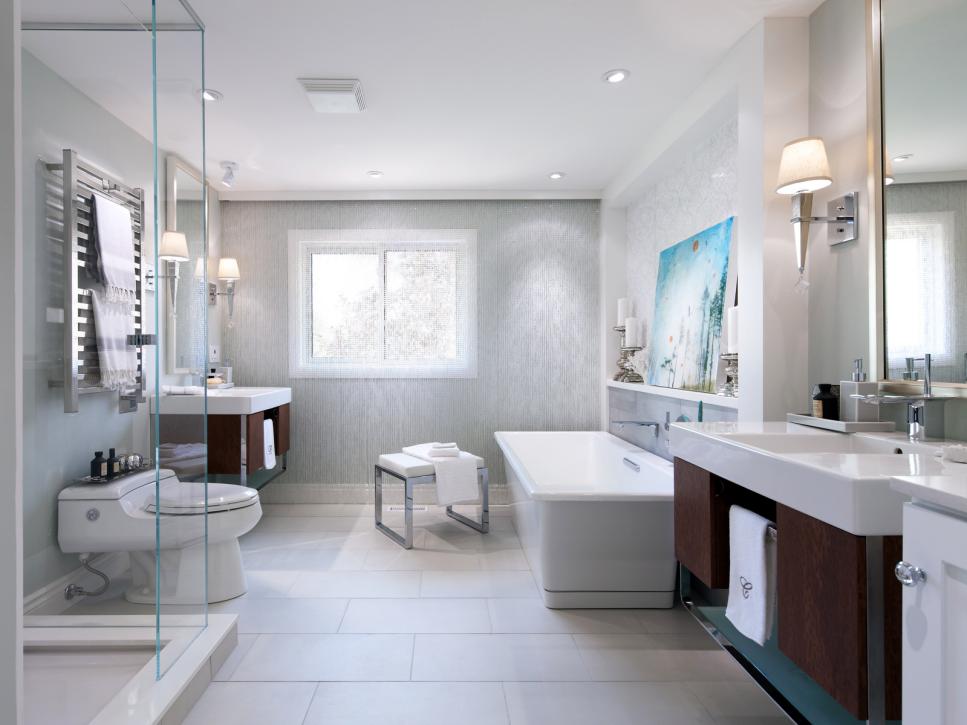 We all enjoy using luxurious bathrooms and showers?
Seven star hotel rooms have most beautiful and luxurious bathrooms which we enjoy using during our trips. Nothings is better than relaxing in a hot tub of water. But every time you want to enjoy using a nice bathroom, are you going to visit a hotel?
It's better to have your personal luxurious bathroom and shower to relax without spending money on hotel room.
After you come back home from a hectic day at work, you can just relax in your personal comfy bathroom and relive tension by taking bath or shower with hot water.
Luxurious bathroom are not only comfy but also beautiful and clean.
In this article, we will discuss about designing a modern and comfy bathroom for your home.
Luxurious Bathroom:
Bathroom is that part of home which has lots of water. Styling and maintain bathroom is a hard job. Use tiles for floor and backsplash tiles for the walls of your bathroom. Water droplets evaporated and leave water spots on mirror and walls, cleaning tiles is much easier than repainting the wall of bathroom.
BELK Tile offers wide variety of floor and glass backsplash tiles for bathrooms.
Bathroom Walls Ideas:
Choosing right type of tile and appropriate theme is important to have a stylish bathroom.
Tile Material:
Bathroom tiles come in different materials. Every material has its own unique property with different prices. Check the list of materials below:
Ceramic tiles are least expensive, easy to maintain and most commonly used.
Porcelain tiles are similar to ceramic tile but an expensive option.
Glass tiles are of unique design and best quality. These tiles are easy to maintain and clean. They are bit expensive but glass backsplash tiles worth spending money.
Stone tiles is best if you want rustic-style bathroom but they absorb moisture and spoils very easily. They are very expensive too.
These are most common backsplash tile materials, to learn more about backsplash tiles visit BELK Tile that provides high quality tiles with unique designs.
Style:
Choosing appropriate tile according to your desired style is also important. Here is the short guide about styles and appropriate tiles for them:
Rustic style – tiles with stone, granite, slate, or wood finishes
Modern style – tiles with grey tone with metallic details
Cement style – contemporary style uses cement tiles.
Nordic style – straight tiles with minimal designs and light tones.
Classical style – marble-style porcelain tile or cement tiles.
Color Distribution:
Although most bathrooms either modern or classic have similar type of tiles for both floor and walls but if you want an aesthetic look then you can choose different tile for a single wall which matches the rest of tiles used in other portion. If your bathroom is narrow then to make it look spacious use a light color tile for side wall and dark for the rest of bathroom. Another option is using two suitable color tiles for bathroom walls. For half portion of walls, you choose one color tiles making a boundary and for other half use another color tiles. You can also replace tiles for second half with a high quality paint. You can also choose glass backsplash tiles which look most beautiful on bathroom walls. They are super easy to clean as well.
This is the general guide to design your bathroom. If you want to buy unique high quality backsplash tiles for bathroom and shower at reasonable rates then check BELK Tile for wide variety of options.