The latest update of the society is their Harmony Block. In the last event, Habib Rafique had launched Harmony block. It is the new block of Capital Smart City located next to the executive block. This new block is consisting of 3.5 Marla residential plots. These plots are available at the lowest rates which are affordable to everybody.
Low rate does not mean low quality, every smart facility which is available in other areas of CSC housing society are available here. Harmony Park is providing equal opportunity at low cost for the investors who desire to invest in the innovative housing project.
What is a capital smart city?
Capital Smart city wishes to cop up with the growing housing demands of the twin cities in an ecological way. Consequently, it is Indicating the finest hi-tech techniques to produce the very first smart city in Pakistan. This society will handover over clients with a shocking number of smart facilities which are according to international development standards round the world.
Location
A capital smart city is located at the prime location near the new Islamabad International Airport. The society is located at M2 motorway (Islamabad – Lahore motorway) in Capital Smart City. The location of a smart city has many benefits for locals and also for overseas people.
5 to 7 minutes' drive from Islamabad International Airport
Devoted M-2 Interchange
Near to Blue World City
Easy access to the twin cities
Strategically situated along the Eastern route of CPEC
What does it offer?
Capital Smart City is presenting a combination of residential and commercial opportunities that are organized most finely to evoke sustainability and luxury. The following are the property options that people can consider.
Residential plots
5-marla plot
7-marla plot
10-marla plot
12-marla plot
1-Kanal plot
2-Kanal plot
Commercial plots
4-marla plot
6-marla plot
8-marla plot
This is not all, this new step is taken by developers of Capital Smart City to provide the potential customers a chance to become a vital part of Capital Smart City Islamabad, who previously were not able to have a chance to buy a plot as properties in society are of higher cost mostly. And this new step in Harmony Park.
Developers of Harmony park block
Harmony park block is under development by the same team as that of other blocks of CSC Islamabad. Habib Rafiq (Pvt) Limited with an alliance of Folding Holding Developments are developing and constructing this Harmony block.
Capital Smart City Islamabad also works as a bond between Future Developments Holdings (Pvt.) Limited and Habib Rafiq (Pvt) Limited. HRL, a renowned name at the actual estate industry of Pakistan, they are also developers of Bahria Town, DHA at Islamabad, and many other famous endeavors.
Also, they have successfully implemented their home societies in Sargodha, Multan, and Sahiwal by the name of Royal Orchard Sargodha, Royal Orchard Multan & Royal Orchard Sahiwal.
They are also launching and developing the next Mega smart- city at Lahore by the name of Lahore smart city.
Size of plots in Harmony park
It has 3.5 Marla plots with dimensions of 20 X 40 or 90 Sq. ft.  these residential plots are strategically and well placed at the "The Harmony Park block" of Capital Smart City.
You can see the anticipated location of the harmony park block from the given master plan of the housing society.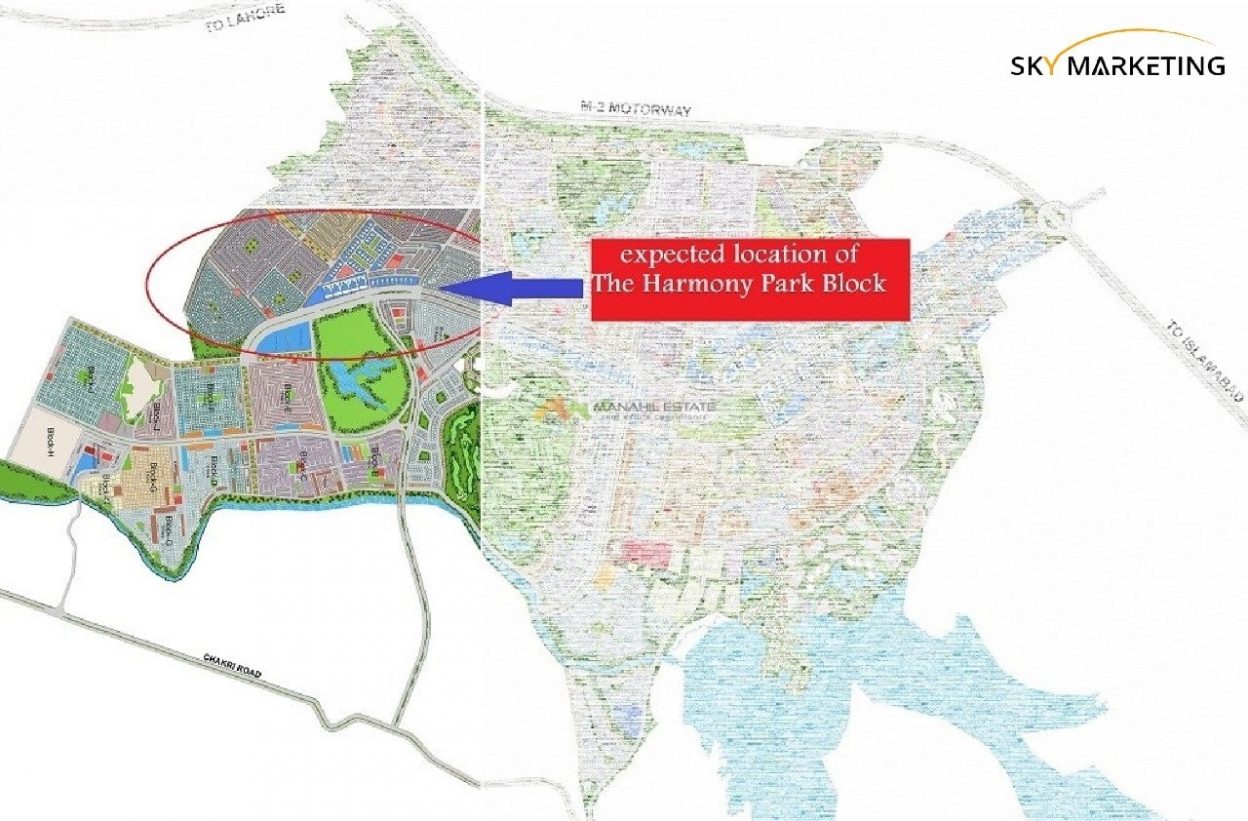 Facilities and amenities of the block
This newly launched Harmony Park will have the same amenities and development criteria as the rest of the housing society but at a comparatively lower cost. These facilities are the following:
Gate Entries and security system
Wide and carpeted roads and streets
Cinemas and entertainment centers
Hospitals and medical centers
Mosques and religious centers
Freedom of creating your house architecture
Educational institutes
Warehouses and shops
5- Star Hotels and Restaurants
Bus and Public Transport (BRT) Stations and Electric Bikes
Shopping Mall and Complex
Load Shedding free environment
CCTV with Facial and Object Recognition Cameras
Water and Sewerage Treatment Plant
24 hours supply of electricity, water and suigas
3.5 Marla Plot at Capital Smart City Price and Payment Plan
The plots in Harmony Park are offered on a 3.5 – year easy installment plan with only PKR 14000 /- monthly installment.
Important Note:
A 5 percent discount will be given on a 50 percent payment and a 10 percent discount on full payment.
Prices are exclusive of development charges.
15 percent Extra charges apply to the selection of plot on Main Boulevard (100' or above).
Capital Smart City Islamabad Presents the Villas Apartments
Capital Smart City Islamabad has established first of its kind The Villa Apartment using a vision to present contemporary and integral facilities into its Harmony Park Block.
All these Villa Apartments are perhaps not merely inexpensive but are, also, an exceptional opportunity for one who wants to be part of the innovatory housing job and experience luxury living.
Capital Smart City has combined in their expertise, resources, and vast experience to complete this innovative residential apartment. These apartments are once in a lifetime opportunity for you to eventually become part of an authentic urban lifestyle at the most inexpensive rates.
Location of the Villa Apartments
The apartments are located at The Harmony Park at Capital Smart City, a delightful yet very reasonable residential block specializing in the Villa apartments and 3.5 Marla residential choices.
Now you Could locate the place of this Harmony Block of the 3.5 Marla residential property and villas given by Capital smart city.
Types of Villa Apartments
Capital Smart City Islamabad is presenting two kinds of Villa apartment which are
5 Marla One Bed Villa Apartment- 660 Sq ft.
5 Marla Two Bed Villa Apartment- 856 Sq ft.
The external and internal structure of the apartments is shaped as Villas hence it is named The Villa Apartment. These apartment villas will have 3 floors, i.e. ground floor, first floor, and 2nd floor. Each house will have 2 adjacent apartments, so each building will include 6 separate units.
The given below are the Floor Plans of every villa for your understanding
3.5 Marla (650 Sq ft.) Villa Apartment Floor Plan: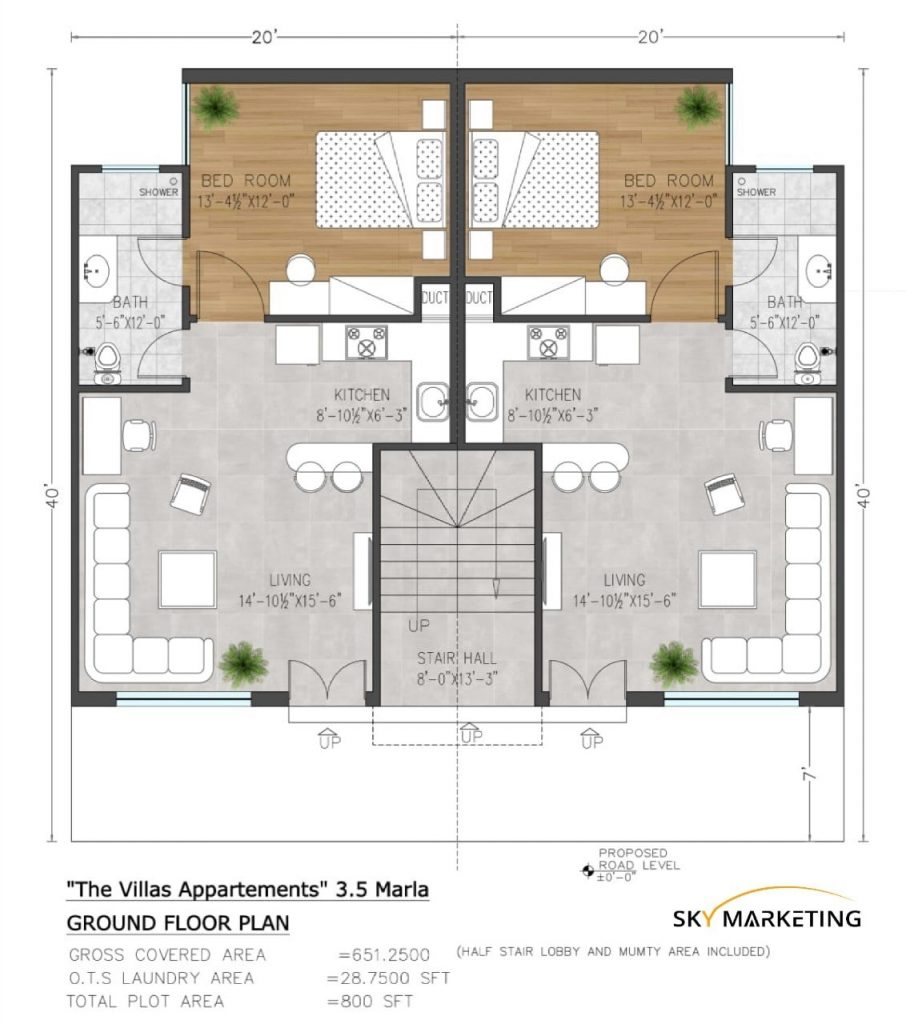 5 Marla (856 Sq ft.) Villa Apartment Floor Plan: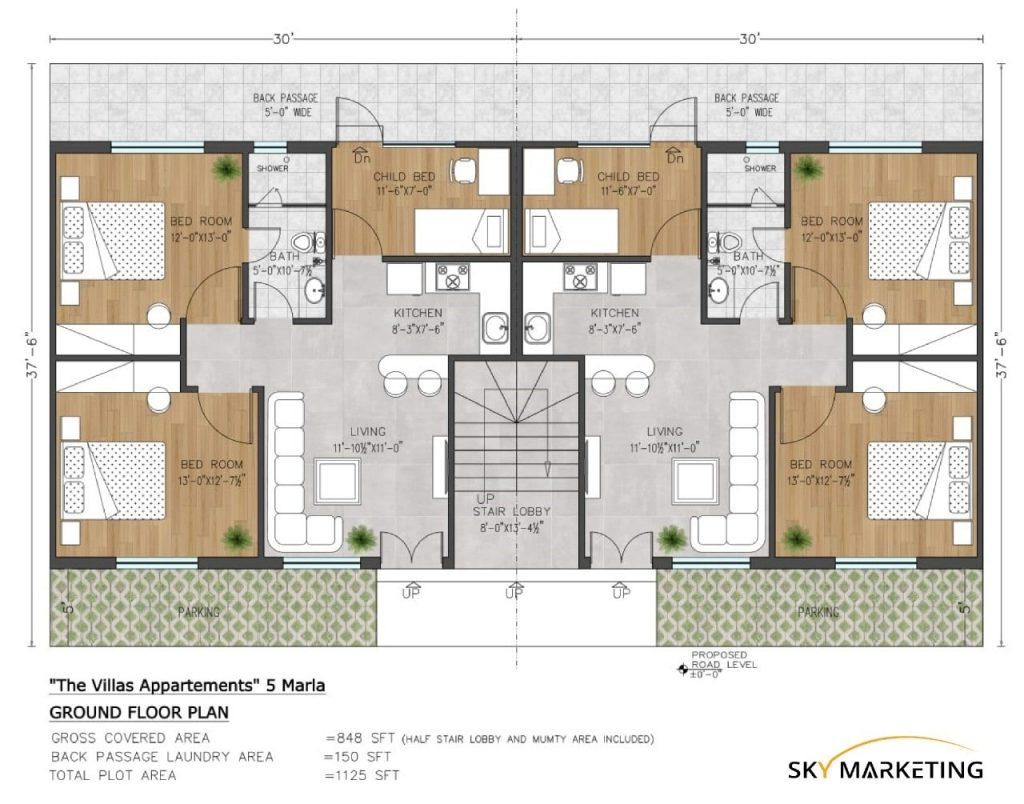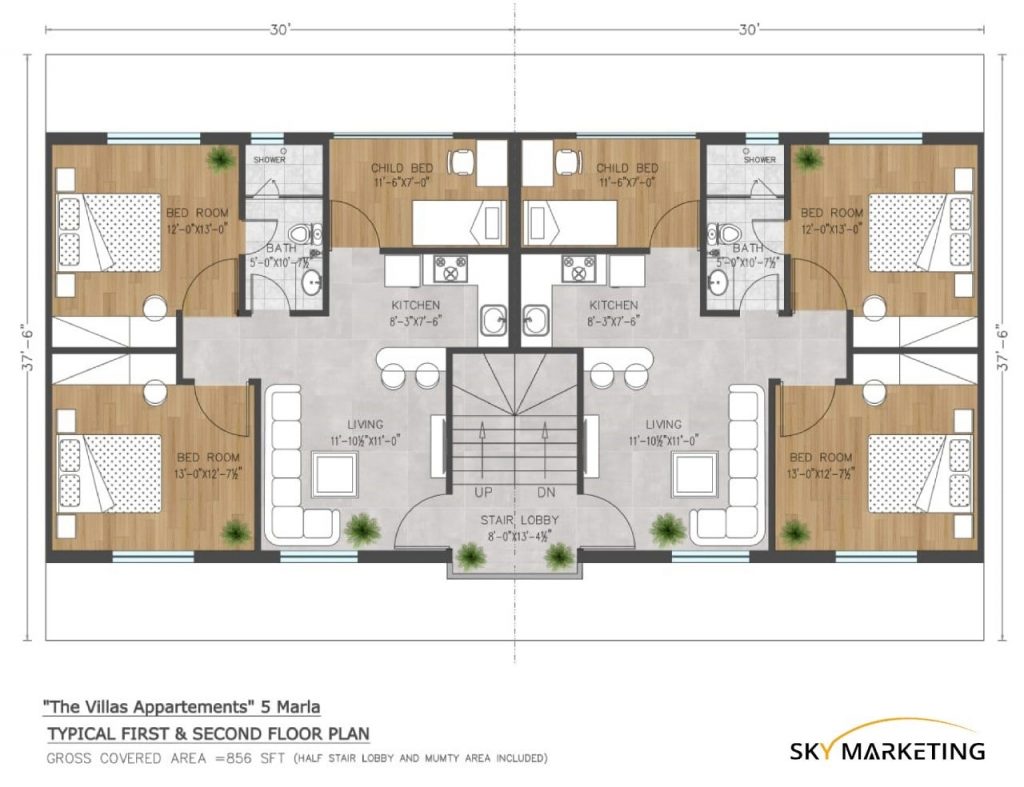 Prices and Payment Plan of the Villa Apartments
The Harmony Park Villa Apartments in Capital Smart City are offered with a convenient payment plan of 4 years. The Bookings starts from only 10% down payment followed by 10% confirmation charges after 30 days while the remaining amount is payable in monthly and quarterly or semi-annual installments according to your feasibility.
You can find the comprehensive payment plan in the given picture: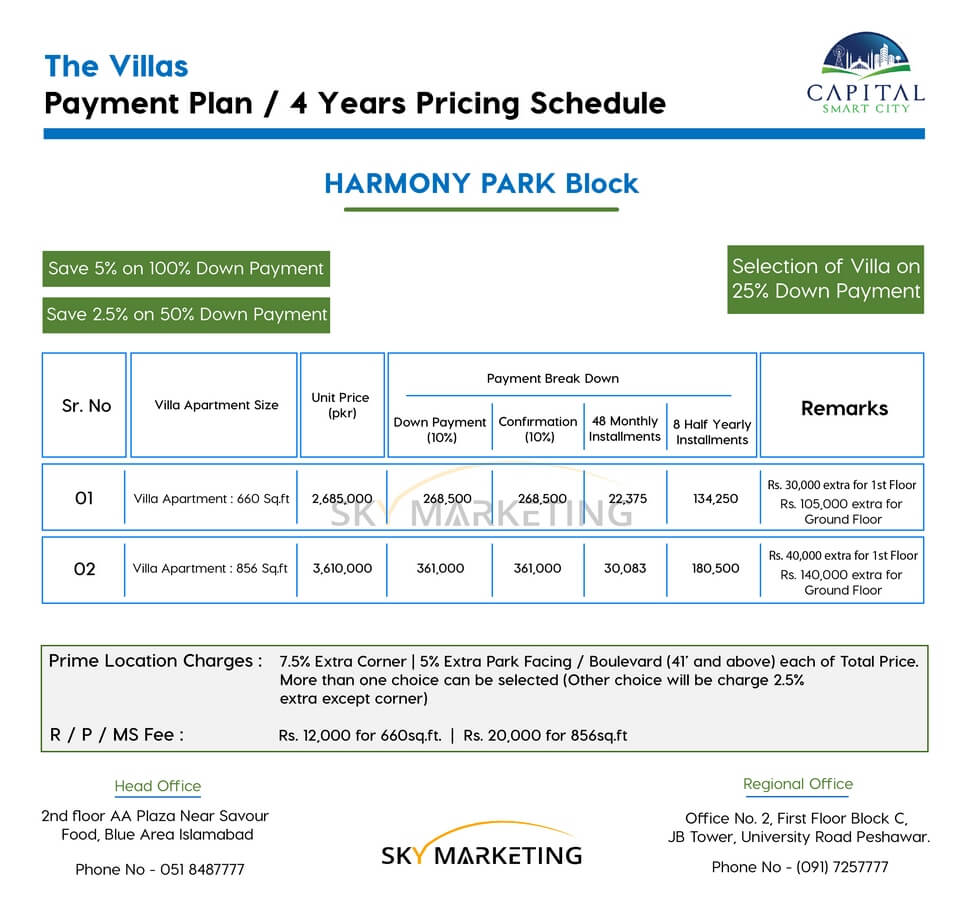 Important Note:
2.5% discount is given on 50% payment and 5% discount on full payment.
These prices do not include development charges.
Extra charges apply on the selection of category plots i.e.
7.5% extra charges for a corner, 5% extra charges for Park facing, and Main Boulevard.
You can also select the location of the Villa from the provided map but with only a 25% down payment.
These Villa Flats and other residential plots are offered in a limited number but at incredibly low costs. They are offered only a limited time. That's why we recommend that do not miss out on this once in a lifetime chance and book your Villas or plot now.
How to book your plot in Harmony Block Capital Smart City?
If you want to book a plot in Harmony block of Capital Smart City Islamabad, then you will be requiring the given documents and contact SkyMarketing Islamabad
2 Copies of your CNIC
2 Copies of your Next to kin (father / mother / brother / wife / sister)
2 Passport size photographs
Booking amount (Cheque / Pay order / Cash)
After a month confirmation amount also
Why you should invest in this block of Capital Smart City?
This low budget scheme is also a fruitful investment option for the investors and also for the buyers. Its excellence in development and also future scenarios shows the future of capital gains which will be quite high.
Some of the investment benefits of the housing project are:
First and innovative smart city concept in Pakistan
Smart traffic and utility management systems
Affordable and reasonable prices
ideal location with dedicated M2 Interchange and access to Islamabad International Airport,
Signifying high returns of profit in the near to medium future
Remarkable health, education, and recreational facilities
Developed by internationally renowned companies- Surbana Jurong group, and Future Development Holdings (Pvt) Ltd
Conclusion
Capital Smart City is the first smart city in the country. This endeavor provides supreme amenities. It has the most recent technology in evolution to achieve certain residential standards to have a luxurious lifestyle in an ecological and more reasonable method. It will be soon the best housing society in Pakistan